There are lots of docks and start-alike menus made for AmigaOS. You can find all of them on Aminet and even in the Dopus Magellan 5.82 Workbench replacement package. But did you know about WBDock 2 from Tom? This is a quite new dock that arrived for AmigaOS back in 2021. It is now one of my favorite docks for AmigaOS 3.2 that I use daily and I want to share the experience with you.
This is all my personal verdicts about this docker for AmigaOS 3.1 and up.
WBDock 2 for Classic Amiga
WBDock 2 is available for AmigaOS 3.1, but the docker also works fine on the latest AmigaOS 3.2.1 from Hyperion as I can verify that it runs fine on my Amiga 1200 as you can see from the screenshots in this article.
The WBDock 2 dock is not available on Aminet, but it is available for free from Tom's website which is in HTML only. This means that the website works nicely when using the latest version of iBrowse. Ain't that amazing? However, an Aminet release would be perfect too. Also, it is easier for people to download addons from Aminet too which is a known place for downloading applications and tools for AmigaOS.
On the very same website page for WBDock 2, you can also download Tom's WBDock that works on AmigaOS 1.x but I don't have any Classic Amiga to test it on for now.
WBDock 2 is Free to Download with Tons of Awesome Features
Once you have downloaded the dock. Unpack the archive and install it. My advice for beginners is to copy the WBDock icon to the WBStartup folder where you have installed Workbench. Once installed you can start using it and you can config it a lot by right-clicking on the icon and going to the Icon area.
When loaded up. You have a very nice dock. Just look at the different looks you can have. Just take a look here: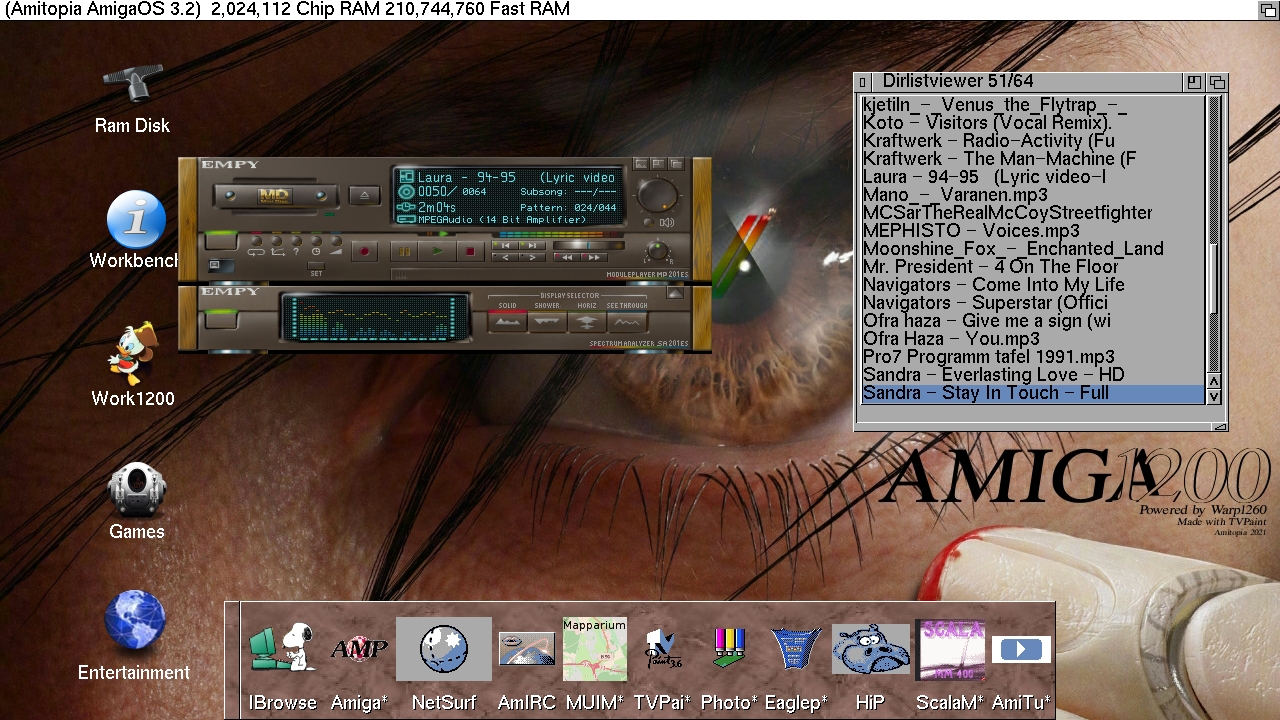 The WBDock 2 offers tons of Possibilities
Fully configurable dock that is Easy to Change the look and setup You want
With the help of the intuitive menus when you right-click on the dock. You get options that are very useful. But that's not all. If you right-click on one of the icons you also get another menu.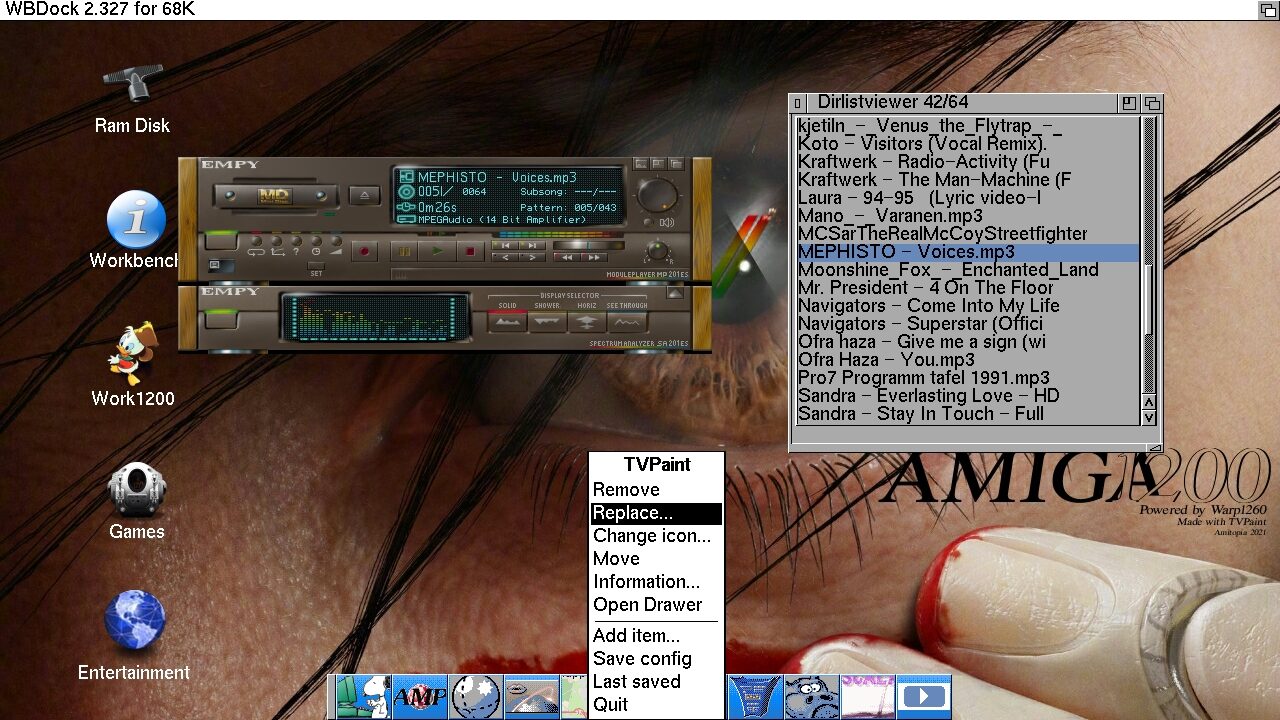 With the menu that opens above the icon, you click using the right mouse button. You then have the options to select Remove, Replace, Change icon…, Move, Information, and even Open Drawer where the application is located at.
If you want to Move the icons in the way you like them, you need to select choose Move in the menu. You can then move the icons around by using the cursor keys to move the icon such as my "TVPaint" icon in the image above and then press Enter when you are done. WBDock 2 scores a lot having really good intuitive menus and explanations.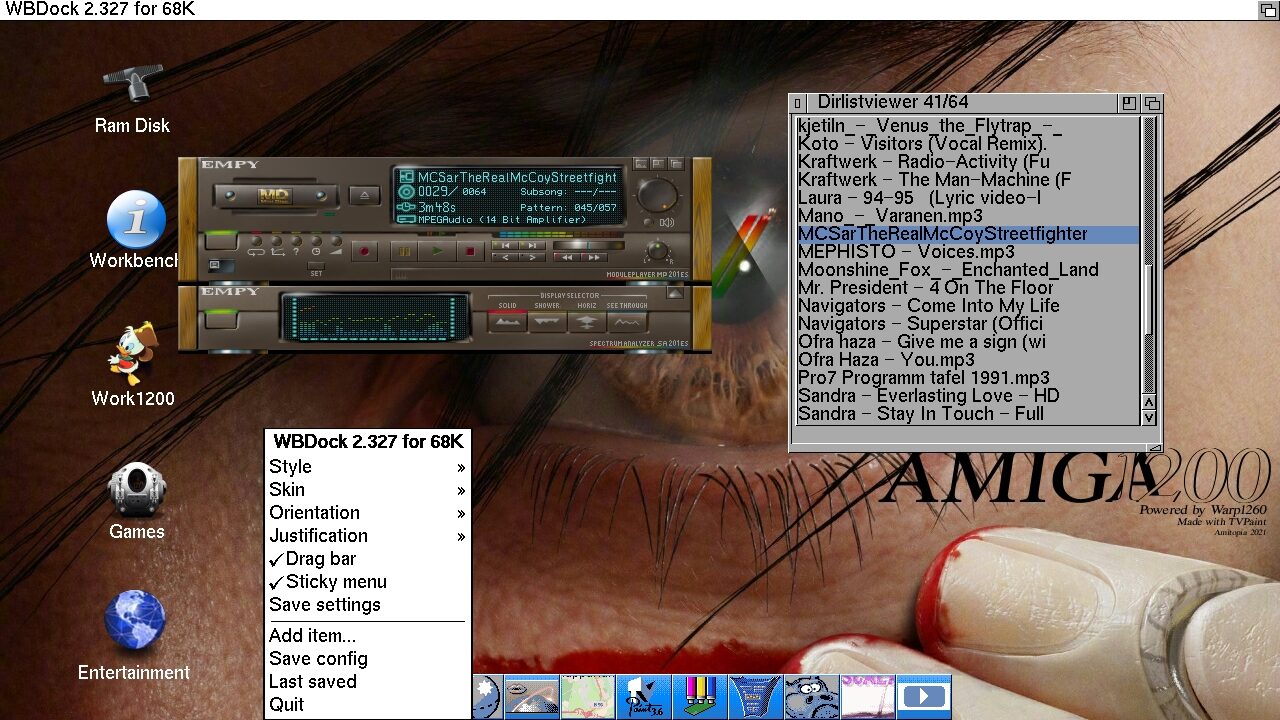 Improvements to Save settings and config Please
WBDock 2 is all very easy to understand once you get used to how it works. However, if there is a thing that I would like to comment on. Then it is on the Save functionality of the dock. I think it is not as clear as it should have been because, in the beginning, I had issues with understanding what Save Settings and Save Config did. I think that the Save options in the menu should be more clear as frustration can arise when you think that you have saved the layout and it's not.
Save settings should just save everything in my view without the need for another Save config option. But it is not all bad at all. Once you figure out how the Save function works, you will not forget it. Because the best part of the menu system that WBDock 2 got is brilliant.
Score: 7/10
Got Various Styles and Looks for both Custom Chipset and RTG
The Style can easily be changed from the menu between 4 modes which is a huge bonus for such a free dock. These are:
AmiDock -Similar to the one coming with AmigaOS 3.9. Text can be altered
ToolManager -MUI alike dock with text below the dock icons. Text can't be altered
Funny -Animated icons like on macOS. Many functions
MagicWB -dock like in Dopus Magellan
You can alter Skin in MagicWB mode that includes options for frame, bevel, and recessed style of the dock icons in this mode. There are also adjustment options when you select Orientation, and Justification in the menu.
The choices are endless in WBDock 2. There are even options for Drag bar and Sticky menu options too.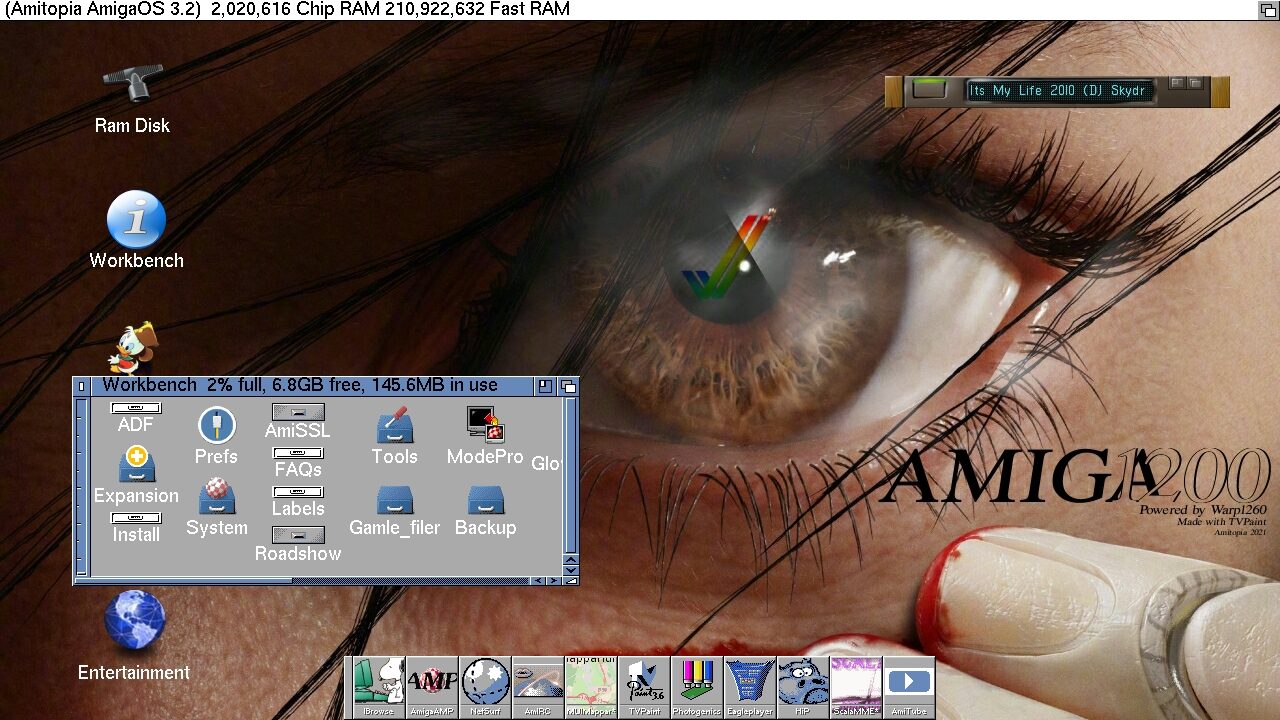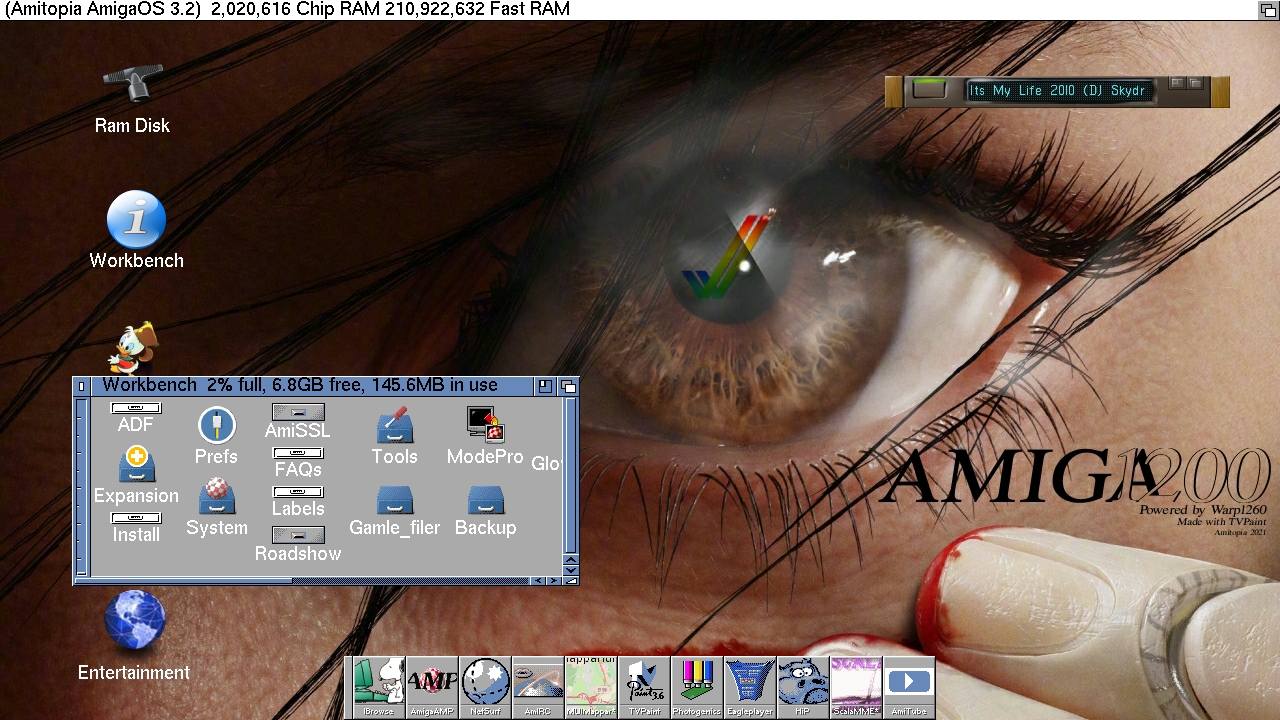 WBDock 2 looks great both on AGA and RTG when I tested the dock on various screenmodes. On the RTG screen, the icons can look really good. I think this is one of the best good-looking docks for AmigaOS. Both AmiDock and Funny got nice transparent options too if you like that.
Score: 10/10
Supports External Dock applications such as a Time dockapp and CPU gauge meter
Tom seems to give this dock lots of life by letting external applications run on the dock. The time.dockapp that comes with the release is a nice example. This is not an icon, but info showing the date and time on the dock. There's also a cpu.dockapp showing how much of the CPU is used when using AmigaOS.
This feature is fantastic I think. Weather information next? Stock info in the bar? AmiTube video download bar? Endless ideas popup here.
Score: 10/10
Conclusion to this WBDock 2 Review
There are many awesome docks and start menus released for the AmigaOS and WBDock 2 is no exception. In fact, I like it a lot. It makes AmigaOS easier to use and even sexier to look at. WBDock 2 is a dock that I strongly recommend as it is not too difficult to set it up. Adding and Removing icons from it is also one of the most intuitive functions of any dock application that I've seen for AmigaOS.
It is amazing to see that WBDock 2 life for AmigaOS began in 2021 and it's become my favorite dock to use for now. I haven't noticed any crashes with it since the first release in January 2021. That's very good! Tom is a hero in my book and I hope my arguments paves for even better WBDock 2 releases in the future.
Total Score: 9.2/10
WBDock and WBDock 2 are made by Tom. It is both available for AmigaOS 1.x and AmigaOS 3.x. It is a Simple dock bar for WB 1.3 and an Extended version for WB 3.1 and above. Get the versions you need from Tom's website here.