The AmiDev Team Presents AmiTube: ALB42, MCDOPE, and AMIX
Thanks to all the beta testers in the Amiga Community. Get in touch on our Discord channel
THE LATEST AMITUBE RELEASES ARE ALWAYS ON ALB42 WEBSITE OR CHECK FOR NEW UPDATES IN AMITUBE
Introduction to CDXL and AmiTube!
Before YouTube, DivX, MPEG, or even QuickTime. Commodore launched the CDXL video format! This format came out for the very first time with the launch of the Amiga CDTV Multimedia computer in 1991. It was ahead of its time by making it possible for any 68000 Amiga to show video. It wasn't good compared to today's standards, but it did its job at that time!
The fall of Commodore in June 1994 led to similar or better video formats on Mac and PC such as QuickTime, RealMedia, and MPEG gaining attention. Amiga went from a mainstream computer to an underground computer within months only. So, the CDXL was nearly forgotten outside of the Amigaworld. Only a small note here and there.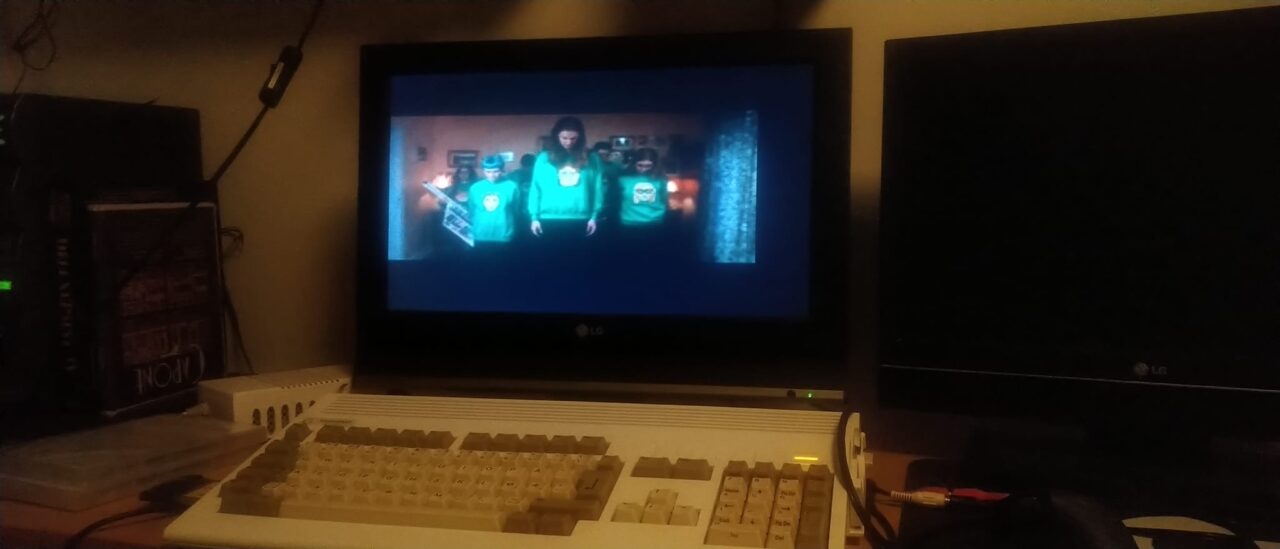 CDXL video format is a motion video file format developed by Commodore. It is notable for being one of the earliest formats created for motion video playback from CD-ROM. It was also made standard to read in AmigaOS 3.x, so that any Classic Amiga can show video-
The AmiTube idea?
My idea behind AmiTube was to save this monumental computing video format history! I always felt that CDXL always deserved to be seen much more and when I saw what AGABlaster CDXL video player can achieve.
I am certain that CDXL could have a much better future if the fall of Commodore didn't happen. It is obvious to me now that the AmiTube project makes people way more aware of what Classic Amiga computers can do. And for this, I am forever thankful to alb42 that said yes to doing this idea to a working product that anyone with an Amiga can use.
Thanks to AmiTube, Now everyone can see how monumental the CDXL video format was and still is. AmiTube is a dream that's come true! Not only for me but for thousands of Amiga users worldwide.
What is AmiTube for?
AmiTube is for Classic Amiga users that want to watch YouTube clips using the CDXL video format. With it, you can search, browse, convert, and download YouTube clips so that any Amiga that can play CDXL video format files can play them.
You can also read all of the info related to the YouTube clips.
Why should you use AmiTube?
You should use it to promote the CDXL video format. Also, the CDXL video clips show how well CRT monitors were used to their advantage. You will also get to know more about how much different Multiview and AGABlaster CDXL video player software plays the clips.
No Classic Amiga can display YouTube clips in a web browser like in modern web browsers such as Wayfarer or Firefox. They lack CPU and RAM. So, Classic Amiga users got the option to use the AmiFox browser which is also made by the Amitopia AmiDev Team.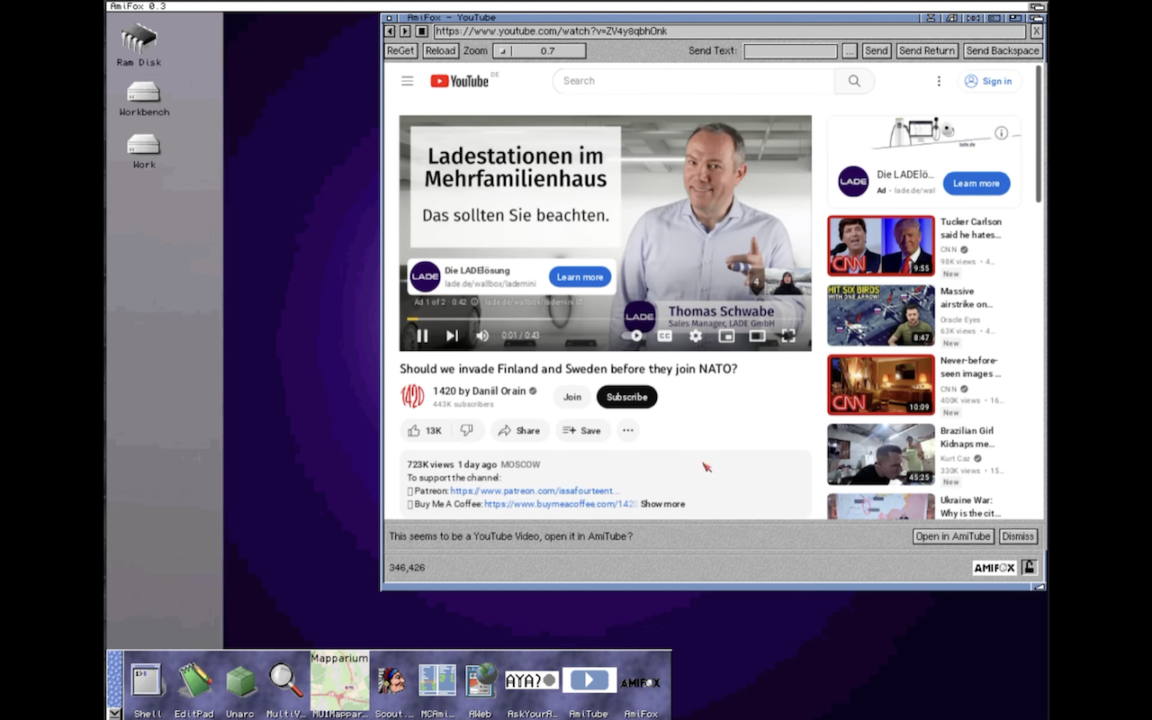 You can also use our AmiTube together with AmiFox as you can see above. You can browse YouTube sites with AmiFox and configure the browser so that AmiTube can be launched when you want to watch a YouTube clip.
How does AmiTube work?
You can search by keywords or youtube URLs for your favorite short films. Then the Server that AmiTube uses will download them and convert them to CDXL video format or MPEG1 for faster Amigas.
Video format options in AmiTube
OCS/AGA/RTG Amigas 32 colors CDXL
AGA/RTG Amigas 256 colors CDXL
AGA/RTG Amigas 256 colors CDXL+ (68030+)
RTG Amigas 256 colors MPEG1 (68060++)
You can configure AmiTube so that you can get YouTube clips that you can play on your Amiga home computer setup. Every Amiga with AmigaOS 3.x or higher got CDXL support so you can use Multiview to watch them. However, for the MPEG1 you need a fast RTG Amigas to watch them.
CDXL Players Tested with AmiTube
Multiview
– Plays all 4:3 clips on native Amigas nicely
– Got RTG support! It is capable of playing clips in 16:9 Widescreen, but can struggle
– Huge load so Compact Flash or MicroSD should be used
– Comes with AmigaOS, so no need to get it
AGABlaster
– Plays all 4:3 and enhanced 16:9 Widescreen clips really well
– No RTG Support! But very fast on native Amiga!
– You can use the player on OCS Amigas by using the additional option 'FMODE=0'
– Must be downloaded from the AGABlaster website
You also need the MUI 3.8 package. The minimum requirement is 68000 OS3.0 8MB RAM MUI 3.8 and 68020 for the other version that comes with the AmiTube package.
Create your own AmiTube compatible Server
Check all the important details on how to set it up on alb42 website here.
Download Info