Got issues with creating archives on Amiga? Or how about Extracting archives and manage them? RNOArchive for AmigaOS 3.x, MorphOS, AROS, and AmigaOS 4 solves all of those issues in one awesome application that is totally free to download and use
RNOArchive is the graphical archive manager to have for Amigans that struggle with archives. Fantastic Amiga News for users got issues. A fantastic gift for Amiga users worldwide.
This application can extract, modify, and create archives. Extraction in RNOArchive is handled by the XAD system and the program has built-in support for writing ZIP archives. Writing to other formats relies on separate Shell commands and their availability and compatibility.
Features of RNOArchive
Reads and extracts all archiving formats supported by the XAD system
Write and modify support for ZIP and LhA archives
Write and modify support for Tar if MorphOS SDK is installed (experimental, but supports Amiga file attributes)
Batch extraction for multiple archives
Automatic sub-directory creation for batch extracted archives
Archive browsing and file viewing
Filetype editor for configuring file viewers
Intelligent drag & drop support
Recursive adding of files/directories
Create new directories inside archives
Delete files and directories
Handles UTF-8 filenames in archives
Extensive file selection options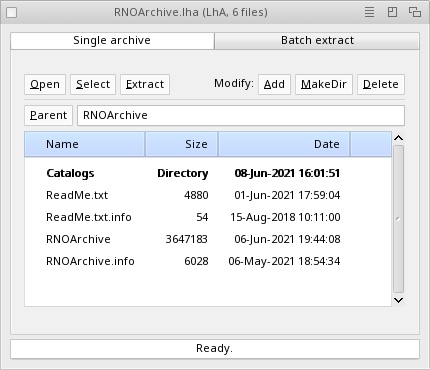 Needed Tools, Libraries and Requirements for using RNOAarchive
Requirements: AmigaOS 3.0, MUI 3.8, 68020, and 8 MB RAM
RNOArchives is available at:
The AROS Archives, MorphOS Storage, Aminet and OS4 Depot,
or install via Grunch on MorphOS.