All of the Warp accelerator cards from CS LAB s.c. will soon have a New Firmware available for Download. The new firmware adds support for using MicroSD slot as a bootable device which gives amazing results. Transfer speeds up to 20 MB/s are impressive and much more Fast RAM available. The release is estimated in summer 2021, but be patient. Warp will Fly with this update!
Since the time before the Amiga34 event in Neuss, Germany. I was given the best gift in my life ever from the amazing people at CS LAB s.c. in Poland. They reached out to me and told me that Amitopia Amiga Magazine will be given a Warp1260! I was soo happy. Finally someone saw the Amiga energy that I have for promoting and making their product even better.
MicroSD Warp Amiga News
With the new firmware, you can use either the internal IDE or the MicroSD as a boot device. They can also be used together too which is a nice bonus. The totally new warpSD.device that you find inside the firmware archive introduces the ability to format a MicroSD card with the Amiga file systems such as FFS and PFS3.
Here are some Copying tests that are done from the Warp Discord channel. See the differences between the internal IDE controller, Compact Flash card using the Warp IDE controller, and the Warp MicroSD slot.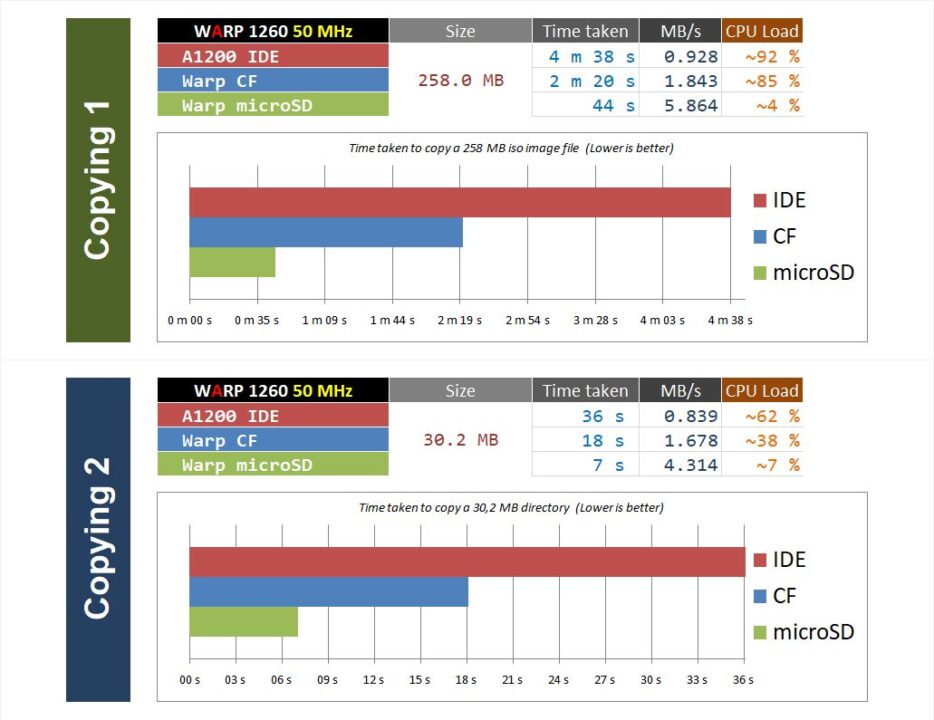 The speed difference between the Amiga 1200 IDE controller and the MicroSD card reader on Warp is a breakthrough for everyone wanting to get a Warp card. The pricing of the card might be strict, but when you know you will get AmigaOS in 1920×1080 RTG mode and 16-bit audio out, including the ability to use a 100MHz 68060. It is a very nice gift for Classic Amiga users. You can look at this as a full Amiga upgrade.
Warp1260 is in the same category as Warp560, Warp4060, and even Warp CDTV limited edition. It is a 68060 upgrade that any Classic Amiga owner should consider.
Full overclocking power Directly from AmigaOS
All of the Warp cards come with a great ARM/FPGA feature in AmigaOS that lets you control the 68060 overclocking through the app named WarpDiag. You have full overclocking power directly from AmigaOS, so you can overclock any 68060 from 50MHz to 105MHz if it supports it. This feature is perfect for a magazine like Amitopia Amiga Magazine where it is very useful to see the speed differences of various software such as FPS games.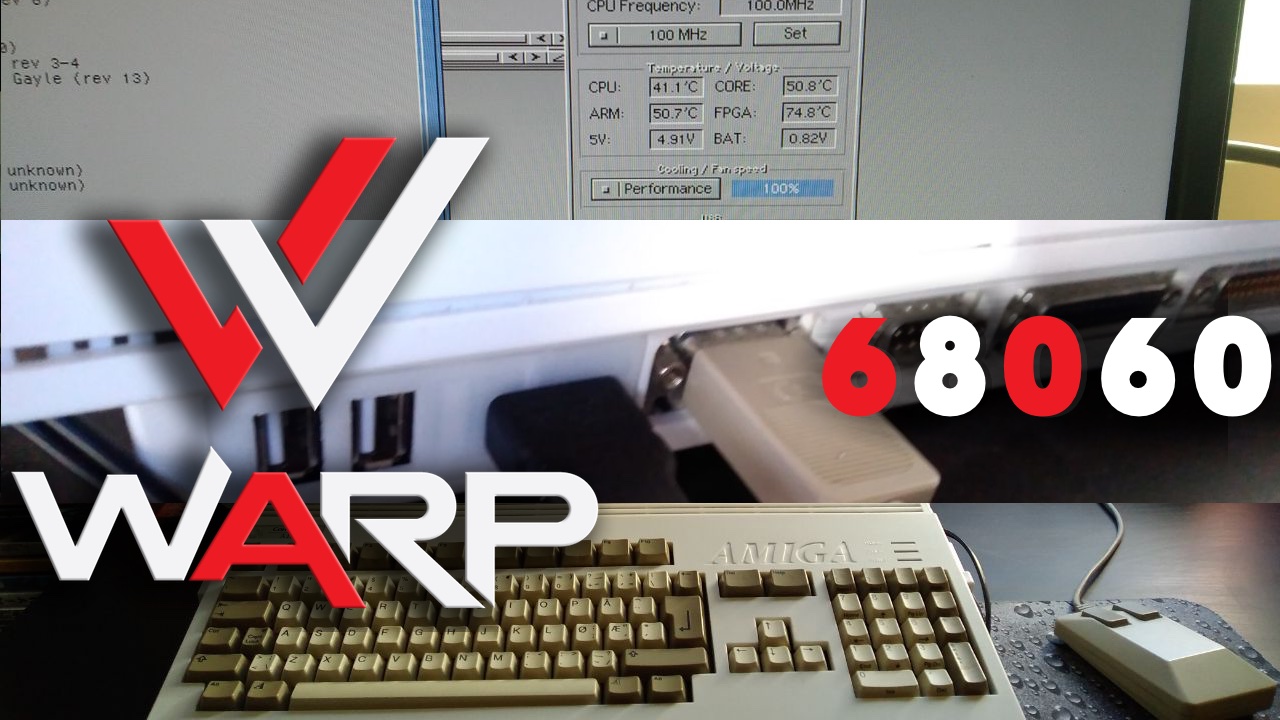 In the WarpDiag you can also see the heat that the various CPUs make, edit the various Kickstart ROM slots and see if the USB device that is connected is detected,.
Here are all of the Warp Firmware v1.10 Features
MicroSD can be formatted as FFS, PFS3
Amiga can boot from MicroSD.
Transfer speeds up to 20 MB/s
224 MB Fast RAM!
MicroSD is PCMCIA-friendly
MicroSD and Warp IDE can be used simultaneously
When the release date reaches Amitopia Amiga Magazine, I will provide with all of the details. If you however want to order at Warp card, goto their Discord channel. Do not be afraid for waiting as this will be the chase as the Warp cards is not the main task of CS LAB s.c.
If you have any questions regarding Warp accelerator cards, you can ask them also in the Classic Amiga Software Facebook page.
May the Warp Speed Be With You!…