Finally, the Newest AmiTube is out and now it is available for MorphOS! The 68k version of AmiTube worked before but there's something about having it native.
With the 1.0 release of AmiTube a lot of changes also comes with the MorphOS version of the application. As shown before now AmiTube application contains a Download queue to start more than one conversation/download job which is processed one after the other.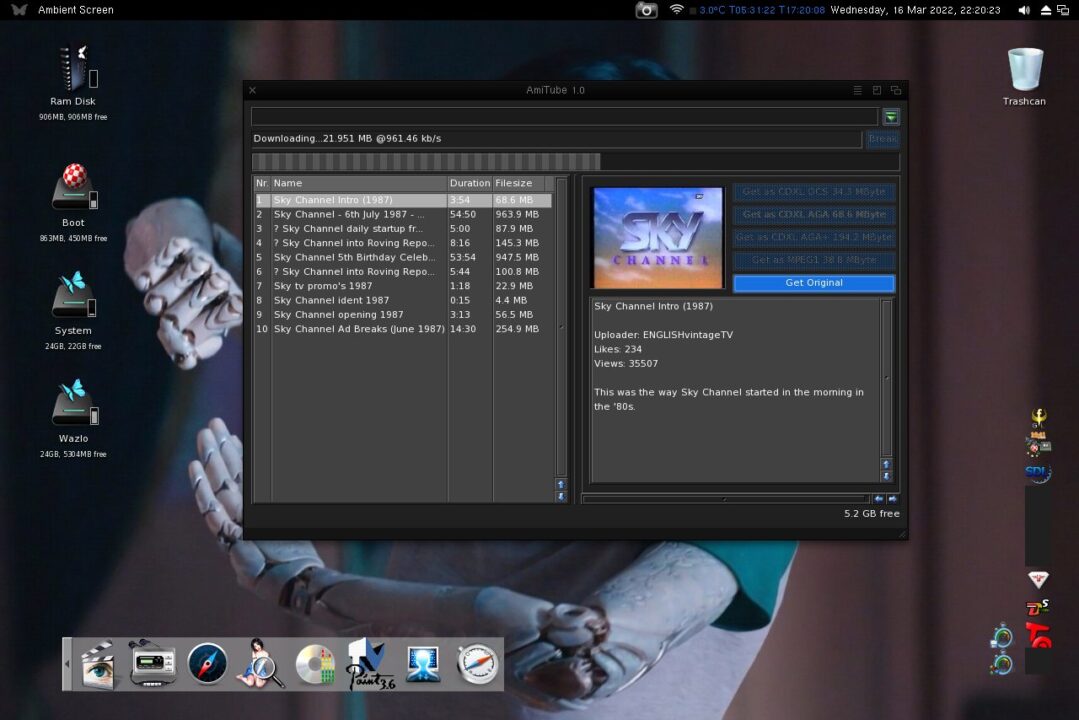 AREXX support in AmiTube
AmiTube also got a typical Amiga thing which is the AREXX script language. All good programs have it for AmigaOS, therefore AmiTube needs that as well as an obvious thing. The AREXX libs can be copied from the AmigaOS 3.2 CD to be used with MorphOS! There are also added commands to search and to start a convert job and play a movie.
Including AREXX support, AmiTube can also download original files related to the clip you've searched. There's also a HISTORY function so you know where you have been. AmiTube for MorphOS also supports local files and I do recommend using and putting the MPLAYER app for MPEG1 downloads in Preferences. AmiTube is getting transformed into a nice player frontend for YouTube clips played on any PowerPC hardware that MorphOS supports.
Perfect for slower MorphOS PowerPC systems
AmiTube is a must application to get for slower supported computer setups to play YouTube clips that MorphOS supports. This includes the Efika, sam460ex, PowerMac G4 (Cube), Pegasos G3, and Pegasos II G3 setups. You need a PowerPC G4 1.3GHz or higher to be able to browse and stream from the web using the Wayfarer WebKit browser. So, AmiTube helps lots of MorphOS (and AmigaOS 4) users to watch YouTube clips.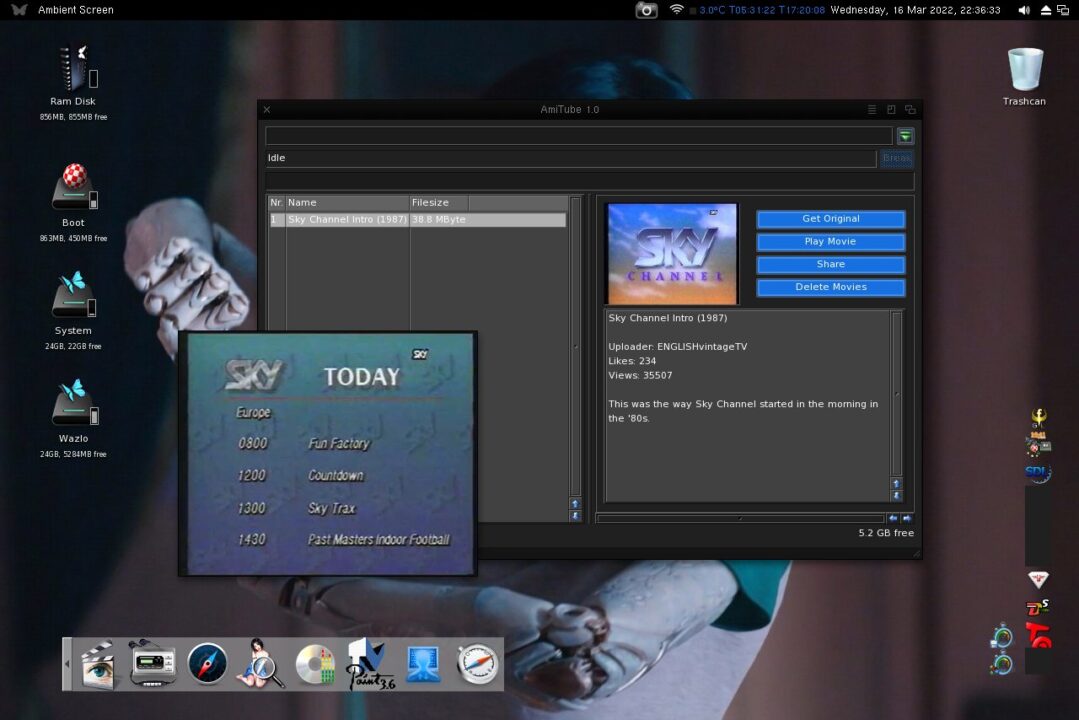 It's all about preserving the hardware that Nextgen AmigaOS systems are running on by releasing AmiTube for MorphOS. Making Amiga applications, not war is our moto for AmiTube 1.0 release and I hope tons of users will have fun getting and playing YouTube clips on MorphOS.
Another cool feature about having this application on MorphOS is that you can download CDXL clips and transfer them to your OCS Amiga that is not online eventually. Then you can use MorphOS for downloading. Ain't that cool too? I think so!
All the Changes for AmiTube 1.0 overall
History for search
Download in audio-only format for slower Amigas: 8svx
Download in audio-only format for faster Amigas: mp3
Dual PNG Icons by AmigaSystem
Download Queue
Improved AutoPlay
AREXX interface
Dutch Translation
The original idea for the AmiTube program is by Michal Bergseth who wanted a YouTube client for Amiga because of his love for the CDXL video format.
Read all about it in a dedicated article on Amitopia explaining all about what AmiTube is about and Download the program from the AmiTube page on its page here.
Marcus aka alb42 is the brilliant coder behind the project. Visit the Discord AmiTube room here. Suggested programs to be used together
with AmiTube is AGABlaster for CDXL clips and RiVA for MPEG clips.

AmiTube is the first YouTube client for Classic and Nextgen Amiga