YouTube is an American online video sharing service that thousands of Amiga users worldwide cant use. Classic Amiga uses Motorola CPUs such as 68000 up to 68060. Because of the hardware limitations that Classic Amiga got, I wanted to make this application for many years now. In the end, alb42 said yes! And now AmiTube is here. So, what is AmiTube all about?
It is all about bringing YouTube to all Classic Amiga computers made by Commodore and ESCOM as they are all capable of playing video clips. The world's biggest library with video clips should be available for every computer that is able to show video clips and AmiTube adds it to the Classic Amiga computers. This social media platform is owned by the company owning Google. It was launched on February 14, 2005, by Steve Chen, Chad Hurley, and Jawed Karim. It is the second most visited website, right after Google itself. Now Amigans with the required specifications can do it too.
What can you do with AmiTube?
AmiTube is all about giving the CDXL video format by Commodore a hand in computing history. It was one of the pioneers as it was launched together with the Amiga CDTV computer in 1991. AmiTube is also aiming at giving the world of Amiga users access to millions of video clips that can be played on every Classic Amiga. This app lets any Amiga computer ranging from the slowest 68000 7.14MHz to the fastest at 68060 105MHz and up with 1MB of RAM or more play YouTube clips. Get those cat videos out!
You need a 1X CD-ROM or a Hard Drive for reading the CDXL clips. The speed must be greater than 1X CD-ROM speed. Using any Hard Drive as a choice is perfect for OCS Amigas. Upgrading to the latest Kickstart 3.2 is also recommended as, since Kickstart 3.0, CDXL is supported in the AmigaOS datatypes system.
AmiTube makes it possible to play YouTube clips on any Classic Amiga computer. AmiTube is able to create 3 different video formats out of YouTube clips that you download:
CDXL in 32 colors for all OCS Amigas with 1MB RAM or more. This one also works on RTG Amiga
CDXL in 256 colors for all AGA Amigas. This one also works on RTG Amiga
MPEG1 for AGA Amigas. This one also works on RTG Amiga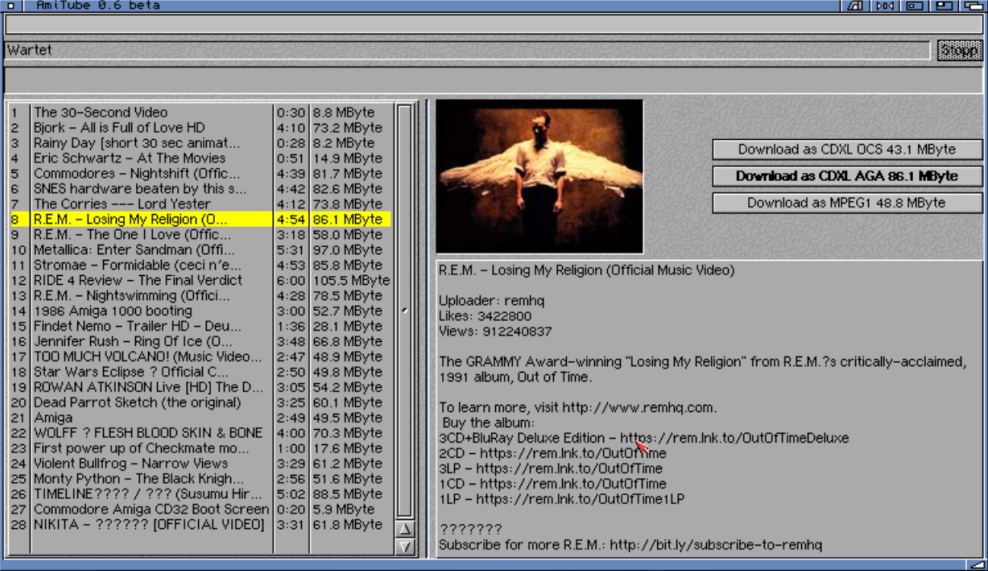 The CDXL in 32 colors is compatible with OCS Amiga and AGA Amiga machines. You can play those YouTube clips once downloaded on any Amiga with 1MB RAM or more. It is best played on any Amiga connected to a CRT monitor. It is mindblowing though and that's also why this project is done. To show that YouTube clips are possible to be played on Classic Amiga.
AmiTube converts the YouTube clip that you want to download first. Then when done, AmiTube downloads the clip in CDXL for OCS Amigas, CDXL for AGA Amigas or MPEG1 for 68060++ Amigas. Once AmiTube download is complete. Then you can play the clip. You can always set in the Prefs if the clip will be played once downloaded or played by clicking on the play button.
What type of Amiga hardware and software do you need to run AmiTube?
With AmiTube, there are two versions that you find in the same folder. One that is lighter for 68000 and one for 68020+ and up. Both of the versions require AmigaOS 3.x 4MB RAM and MUI 3.8.
In the video above you can see how the 68000 version of AmiTube works. Amiga 500 68000 with ACA500+, 512KB + 8MB RAM, and X-Surf 500 for networking used for testing AmiTube 68000 version and also showing that CDXL 32 Color video is working. Credits go to Tobias Bäumer for the video.
The aim of this project is that any Amiga can show the clips with 68000 7.14MHz 1MB of RAM or higher.
Who is behind AmiTube?
Coding is done by alb42 using Free Pascal. The idea is from Amix. Together we decided to make AmiTube which is something special that the Amiga community can use for free. It's a gift to the Amiga community and a big thanks to Commodore for making video clips possible on Classic Amiga. We need to thank the entire Commodore team that made CDXL available.
Where to get AmiTube?
The latest AmiTube can be downloaded from the alb42 page. All info about it can be read on Amitopia and seen on Amitopia TV. The application also requires MUI. Only download it if you don't have it installed.
IMPORTANT DOWNLOAD LINKS
How to make AmiTube play clips on Classic Amiga?
First, you need to search for the clip. Choose from the list. Click the Download button and then the converting process starts. After a few seconds, AmiTube then downloads the clip to your AmiTube folder located in AmigaOS.
Then when downloaded. You can activate play after download and the chosen player will play the clip after downloading it.
What are the best CDXL and MPEG1 players to use with AmiTube?
You need to find your favorite CDXL and MPEG1 player for Classic Amiga. Check out the video above how CDXL and MPEG1 clips can be run instantly from AmiTube. You can adjust in the Prefs which CDXL or MPEG1 player you want to use. These are the players that I recommend:
CDXL: MultiView comes with AmigaOS 3.x and up! Get AmigaOS 3.2 Here! It is good, but I can also highly recommend getting AGABlaster! This is an enhanced CDXL Player for Amiga. Also works with CDXL 32 color clips! AmigaOS 4.1 can check OS4depot and MorphOS users can check MorphOS Storage for CDXL Players useable on the Nextgen Amiga operating systems
MPEG1: RiVA is the most modern one. However, if you do have access to FroggerNG player. You might need to use these legal keys for FroggerNG. AmigaOS 4.x users can use MPlayer. MorphOS users can also get MPlayer that is a fantastic player.
IMPORTANT DOWNLOAD LINKS
What is the specifications of the video formats that you Download using AmiTube?
CDXL OCS: 160px 32 colors 12 fps Audio: mono 11040 kHz 8 bit; for OCS Amiga
CDXL AGA: 160px 256 colors 12 fps Audio: mono 11040 kHz 8 bit; for AGA Amiga
VCD MPEG1: 320px, 24 bit colors 24 fps, Audio: stereo 44100 kHz 16 bit; for fast RTG Amigas
Downloading a 30 seconds YouTube clip to your Amiga takes some space. CDXL OCS takes about 4.4MB in size, CDXL AGA takes about 8.8MB in size and VCD MPEG1 takes about 5MB in size. So, make sure you have a Hard Drive with free space for video clips. If you do FFS, make sure to get the latest AmigaOS 3.2. If not, I recommend getting PFS3 or SFS for the partition using AmiTube.
Where is it possible to discuss regarding AmiTube?
You can join the Discord server here. Be nice and gentle.