Finally, here it is! The official launch of AmiTube 1.0 has tons of positive changes. This YouTube application is developed by alb42 and supported through the idea and beta testing by Amitopia.
Now AmiTube contains a Download queue to start more than one conversation/download job which is processed one after the other. So, now you can choose the clips you want to download and have a cup of tea! When done downloading the videos you can have lots of Entertainment on your Classic Amiga!
AREXX implemented into AmiTube
A typical Amiga thing is to implement the AREXX interface, which all good programs for AmigaOS have, where the AmiTube now belongs. The AREXX addon makes scripts easy to make for those that need them. There are commands to search and to start a convert job and play a movie too.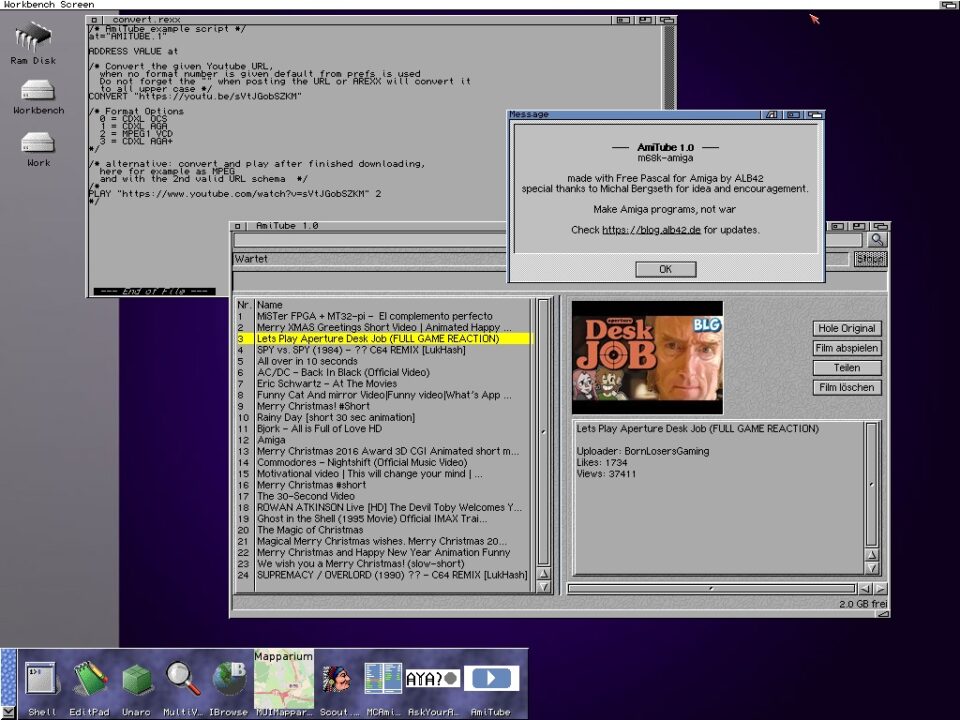 For this new version, alb42 also supplies a Version for AmigaOS 4 and MorphOS due to popular demand. For the preview images, you need a JPEG Datatype installed. You can get them from Aminet. For watching the CDXL clips, AGABlaster for Classic Amiga is recommended. There are also other CDXL and even MPEG1 players such as MPlayer for Nextgen Amiga systems MorphOS, AROS, and AmigaOS 4.
Search History implemented in AmiTube 1.0
Next to the search bar is now a Button that opens the search history. This means that the searches you do will be remembered. Ain't that cool? AmiTube 1.0 is a fantastic gift to all Amiga users. The idea is to give every Amiga user the possibility to watch CDXL clips and now AmiTube extends this to an extended CDXL file format and even MPEG1 for Warp and Vampire users.
But the awesomeness doesn't stop here. With 1.0, the Nextgen Amiga users also got their native versions of the program. AmiTube 1.0 is also released for MorphOS, AROS, and AmigaOS 4. This means that AmiTube from now on runs natively.
Welcome to AmiTube 1.0 all Amigans. Now it is your turn to search and download what you want. Alb42 is just a remarkable coder using his spare time developing this awesome application for Classic Amiga. I can't thank him enough for bringing my wild idea to life. AmiTube proves that Amiga was the First true Multimedia computer for sure that Commodore's Amiga CDTV multimedia computer should have got much more attention about! AmiTube proves that video clips are fun to watch even on 68k CPU Classic Amigas and on slower PowerPC / x86 CPU computers that the Nextgen Amiga platform supports.
Got the previous AmiTube 0.8 installed?
You can download AmiTube 1.0 from alb42 page or you can download it by using the previous AmiTube version. It got a Check for Updates function. So, you don't need to goto alb42 page to download it. Ain't that cool?
It's time to search for cat videos using your Classic or Nextgen Amiga! AmiTube 1.0 is here!
Download the latest Versions here