With the newest MorphOS, the newest Wayfarer 1.10 is also out to a wider audience replacing the OWB browser. So, I decided to give Wayfarer a try using it. Is it possible again and how is my experience by doing it?
In this MorphOS usage experience article I am going through all the steps I do when writing articles and checking the Amitopia website. My testing machine is an iBook G4 1.33GHz 1GB RAM laptop and a PowerBook G4 1.64GHz 2GB RAM laptop with the latest MorphOS 3.16 version installed. I have divided each section by pros, cons, and a verdict.
Using Analytics for Amitopia Web Traffic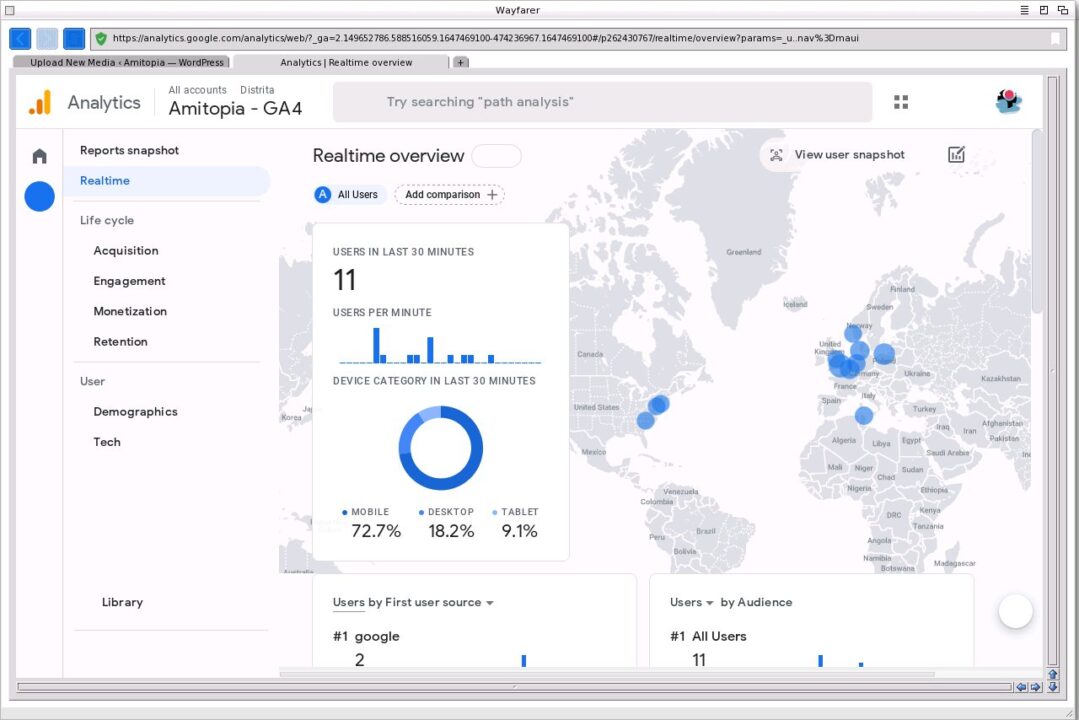 When I work with Amitopia. I am not so into the analytics part. The reason for this is that I know that Amitopia is a niche site about Amiga and also because the content I post is what writers of the magazine want to write about. Time is also vital here as I don't have time to post articles all the time so the popularity of the site goes up and down. Google Analytics is however nice to follow to see what topics people are interested in and what I can learn from those articles that are doing good versus those ones that got low readership.
My dream, in the end, is that I can use MorphOS for everything related to Amitopia or anything WordPress-related in the end. So, I've been very interested in the development of Wayfarer. So, here is my experience with Google Analytics in my first verdict.
Google Analytics Verdict
Pros: The fact that Google Analytics works on my PowerBook G4 1.64GHz is just cool. It is awesome to see that for each Wayfarer, this WebKit browser shows really great progress. Not just under the hood but above it too.
I could log in without issues. Browsing between the different Distrita sites that I can see in the Google Analytics account is also great. When the Google Analytics page is loaded up, the live update of users on the site is working well too. It doesn't slowdown MorphOS user experience too which is good.
Cons: Google Analytics seems to be way too power-hungry still even for a PowerPC G4 1.64GHz. Even though Wayfarer is now faster than the previous version. It is still slow. It doesn't affect the MorphOS usage, but it makes the Google Analytics experience not too good for now.
If you switch between the Wayfarer tabs, the loading of Google Analytics increases a bit. For me as an Amiga user, I can live with this speed but I know that this is not for everyone at all.
Google Analytics also doesn't open fully as it should. I wonder why?
Verdict: The improvements in the latest Wayfarer 1.10 can be felt from Wayfarer 1.8 or even Wayfarer 1.9. Yes, it is faster! But that doesn't mean its useable for people that can't stand to wait. Also, it is worthy to mention that Wayfarer got some issues reading Google Analytics 100%. I tried to change so Wayfarer can be seen as Chrome but this didn't help at all.
Checking Google Analytics is finally possible at an Amiga level of acceptance. It does work! But for others, I wouldn't recommend other than just trying it out.
Score: 3/10
Using WordPress for Work
I have been using WordPress since 2006. It's been the CMS platform that I am most used to and I've landed on using it for a very long time. The first webpage with WordPress was Distrita which I launched together with Trond Grindvold in 2009 and since then it has been the web platform that I wanted to focus on. I like it because of its overall feel. I've been to many WordPress Camps and Meetings since the launch of Distrita and the community is really amazing like the Amiga community. Which I like.
Then in 2016, Amitopia Amiga Magazine got its own home here at www.amitopia.com. From that moment I've been using Odyssey Web Browser for uploading media and writing articles on MorphOS. But OWB couldn't coup with the development pace that the WordPress dev team did at, so my MorphOS usage doing Amitopia did fall apart more and more until Wayfarer got launched. The WordPress experience on OWB was great and so it was nice to see that Wayfarer also managed to log in to my WordPress Desktop environment.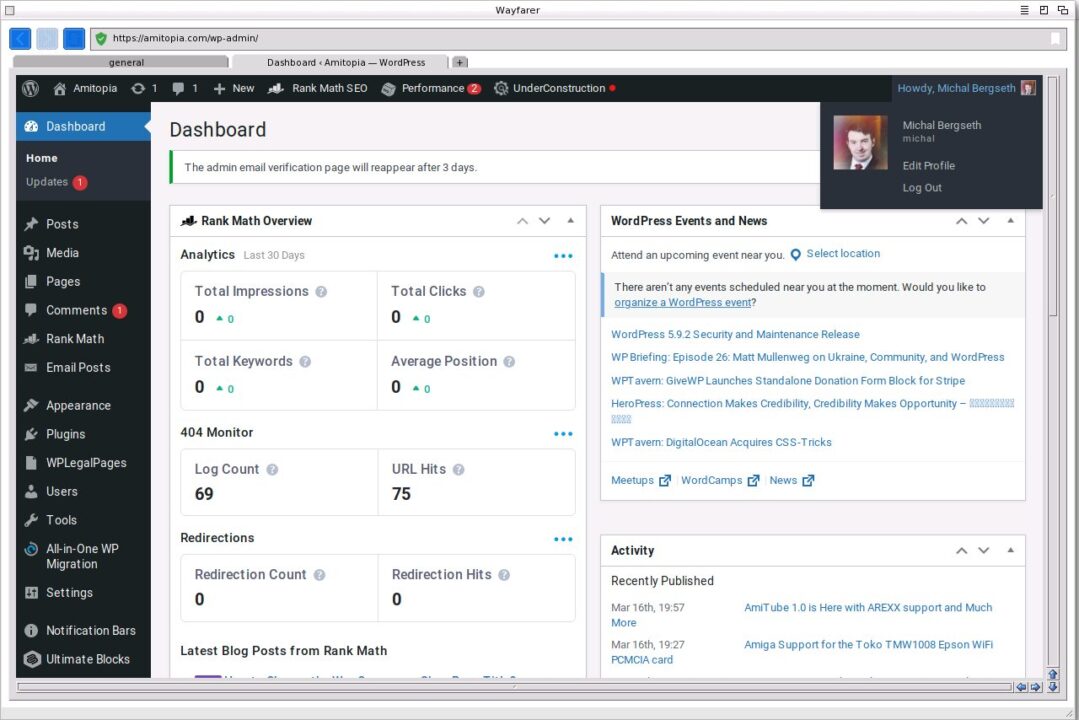 But, in my view, it's taken time for Wayfarer to reach OWB in speed and now with Wayfarer 1.10 released to the public, I wanted to see how far Wayfarer has come in WordPress usage.
WordPress Full Verdict
Pros: WordPress works really nice now. It is much faster at opening everything now. It is almost at a modern computer speed which is totally acceptable.
Writing articles and using the Text feature is much better now. The images that you add to the editor issue using OWB are gone too. Also that the speed doesn't affect when having Google Analytics or even Facebook in the other tabs at the same time. I am impressed by this.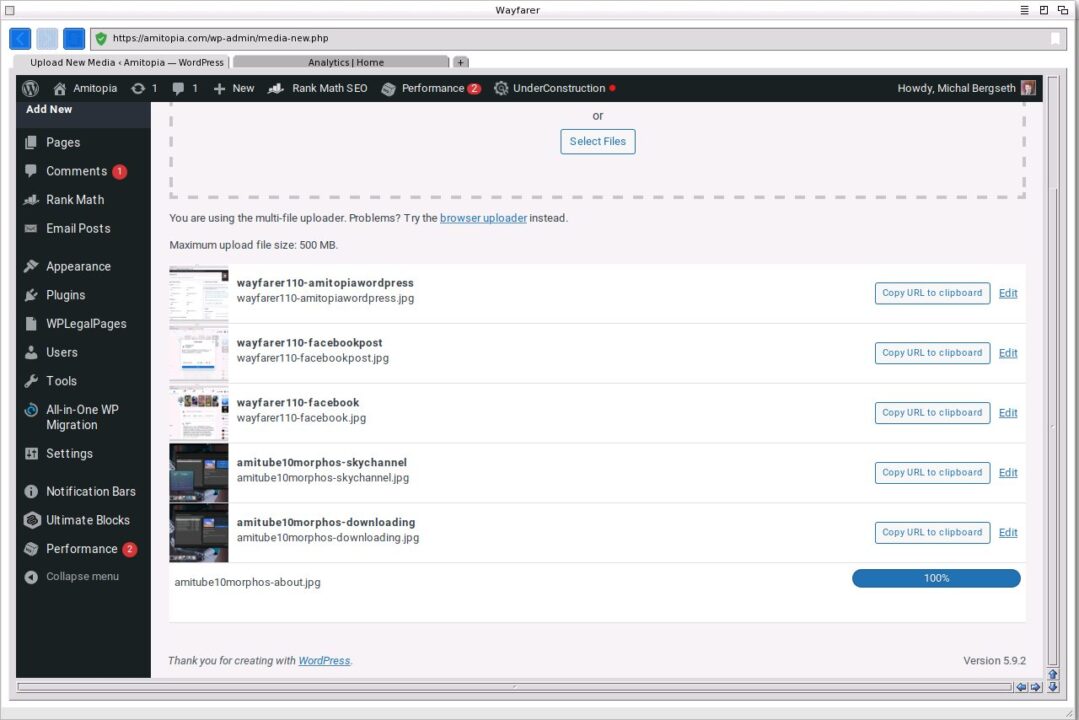 Uploading lots of images at once using its Media feature works really well too as you can see above. Choosing lots of pictures or files to upload works really great. There's no lag when doing so. Yes, even on my iBook G4 once WordPress is all loaded up.
Cons: There's a huge difference between iBook G4 and PowerBook G4. I still get some lags on my iBook G4 but they are less than before. But once all is loaded up on my iBook G4 the speed is getting acceptable. On my PowerBook G4, it is on a modern computer level.
There are however some slowdowns still that I didn't have in OWB. It is like Wayfarer got its own mood for when it wants to be fast and not despite having one or more tabs open. Maybe it is a priority issue?
Verdict: Working in WordPress on MorphOS 3.16 is today totally acceptable. Especially on PowerBook G4 1.64GHz or higher. With an AmigaOne X5000, iMac G5, or PowerMac G5 the usage experience will improve too. Using WordPress in Wayfarer together with TVPaint, Brilliance, and Showgirls is fun and fast.
I am using WordPress on MorphOS today and my experience with is beyond perfect. Using MorphOS for today's work makes my life complete as I love the way AmigaOS runs and feels. The speed is perfect for anyone wanting to keep an iBook G4 or PowerBook G4 and you get your articles done.
Do I think that MorphOS is ready to replace MacOSX on the PowerPC platform regarding using WordPress? Yes! Finally, I can conclude that MorphOS is now as mature or even more than MacOSX. Also, by knowing that further updates will come. Then it is safe to purchase a MorphOS license. It is worth it. Helping MorphOS Team create one of the best Nextgen Amiga experiences is worth every penny. Especially if you want to keep your PowerPC macs!
Score: 8/10
Posting on Social Media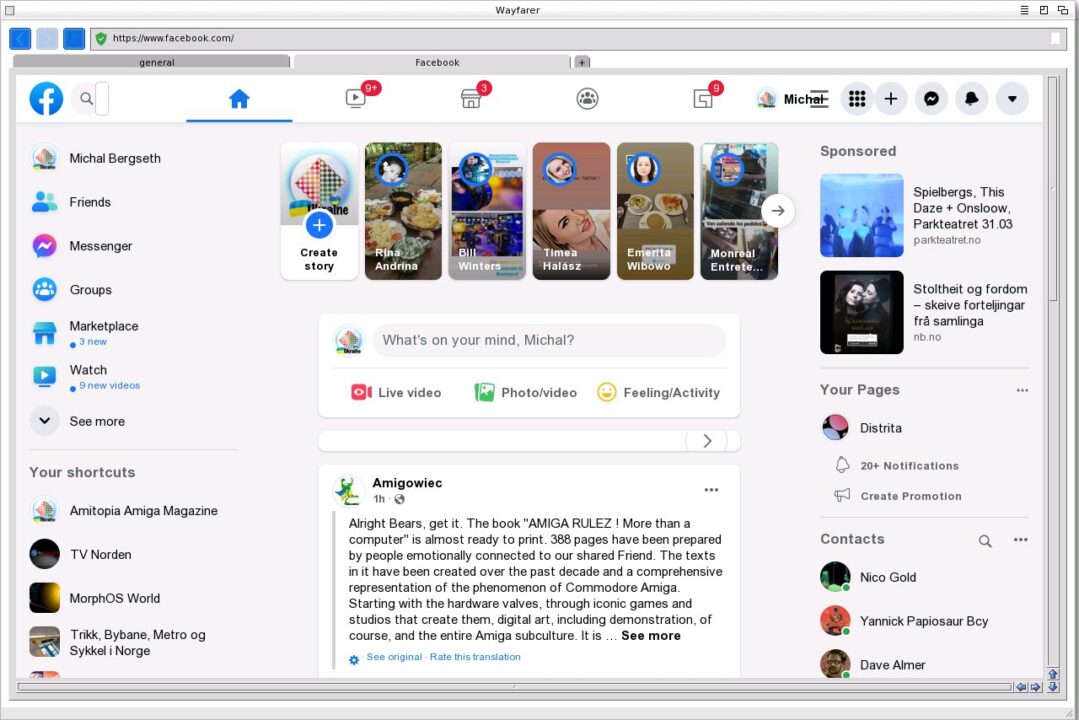 When doing a magazine online like Amitopia. It is nice to use social media for spreading the content. I am using Facebook for that. I am using the Classic Amiga Software group that's been growing with over 4300 members. It's amazing how people found it as I did almost no marketing of it until it started to grow. The group is made for people wanting to know about Classic Amiga Software which runs on both Classic and Nextgen Amiga systems. Also, the group rules are not to discuss regarding which platforms are best as that's not in my interest. I just want to feed the world with what the remarkable Amiga community is doing.
Testing out and finding out that Facebook works by using Wayfarer 1.10 was good. I even posted many pictures posted in the same post. I remember that I could do this with OWB too, but the update pace killed that possibility. I could use the m.facebook.com version which also works fine in iBrowse and NetSurf. But on iBook G4 and PowerBook G4, I sort of expect to see the full version working.
Pros: You can post posts, upload images and even watch videos! It works! You can chat with people too and the feeling is amazing on a laptop mac. I didn't expect it to work at all when testing, but this is a huge thing. Now I can post things from MorphOS directly about Amitopia articles and share creations that I do in TVPaint directly. Love it.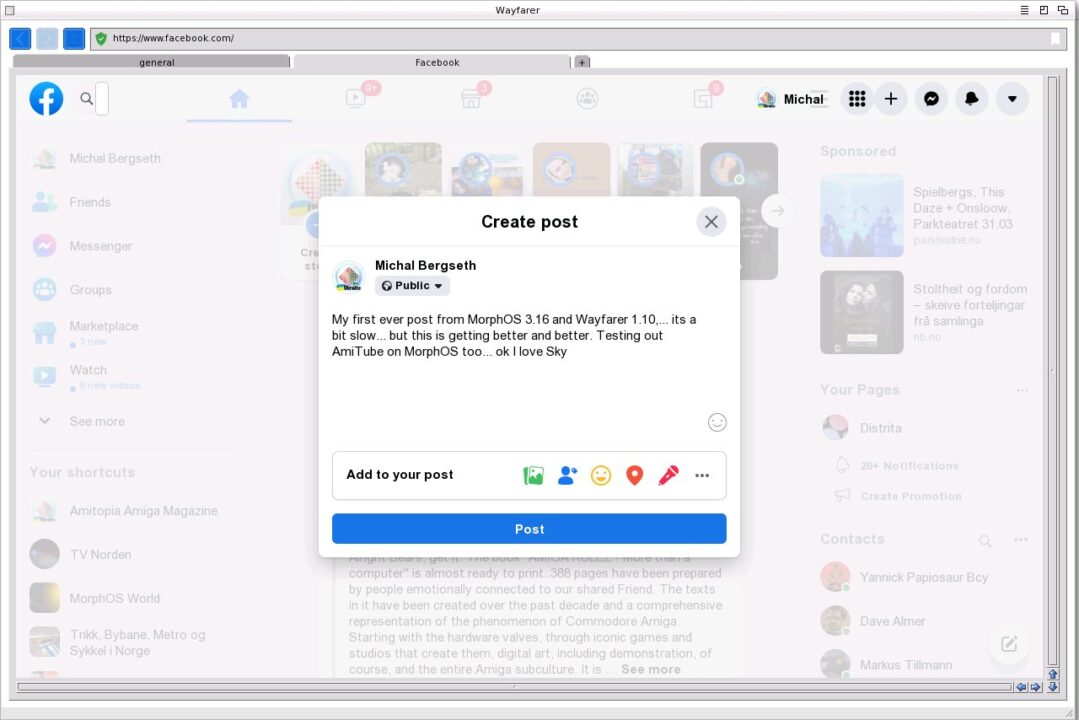 Cons: The speed of Facebook is a bit faster than using Google Analytics, yet I wouldn't recommend this to anyone beyond the Amiga camp. Doing anything takes time even though it works. The lag is less on my PowerBook G4 than on my iBook G4 but the difference ain't that big.
Expect to wait seconds for things to appear. However, once you can type it is not too bad. Uploading pictures works fine once you can do that. But it is those steps doing so that take time. Also, Facebook is me hungry. The page itself uses at times over 600MB. That is insane high. So, forget to try opening the full version of Facebook on your Efika with only 128MB RAM!
Verdict: Facebook works on MorphOS! It just works! It's amazing to see that the most hated and loved social media works. The fact is that it is still the largest one and I think that Amiga users should be able to share info directly in the full version too.
There are tons of Amiga groups on the network. You can use Facebook as a graphical Newsgroup which I do and I have to admit that for keeping the Amiga flame burning, Facebook is doing a lot. On Facebook you meet Amiga users, can talk about Amiga and you get to know fast when various Amiga events happen. Personally, I think it is a much better service than Twitter for that purpose.
Score: 6/10
It is really nice to see that MorphOS is getting more and more mature. The fact that I can use it for daily usage more and more for each release is great. I wish to be able to use MorphOS, AROS, or even AmigaOS 4 totally without the need for the main operating systems.
Using a niche OS doesn't mean it can't work with modern tools. I never got into using Linux. AmigaOS and MorphOS are the main operating systems that I use daily together with macOS for things I can't do on them.
It's been interesting writing about my MorphOS usage again. Amitopia will follow up this monumental operating system forever.