Including making the amazing Warp 1260 68060 accelerators for Amiga 1200. They don't stop there. Now they are also making this heatsink for their accelerators. It will be an external addon for the card that will be able to cool down the card.
Warp 1260 custom heatsink prototype design
This prototype of this type of heatsink is to emphasize and preserve silence that also will be available for purchase extra. Most of the Amigas didn't come with a heatsink. Especially the low-end Amigas such as Amiga 500, Amiga 600 and Amiga 1200.
You can buy a fan cooler but they often give a noise. So this will be a savior for users that want reduced noise when they use their Amiga.
The 68060 Rev6 CPU can be overclocked to 100MHz but the standard version will be 50MHz. You will need extra fans for keeping your accelerator cool enough. Also before this card is out we also recommend everyone to get a new PSU that can handle a 68060 card. You can read about such new Amiga PSU here.
68060 Power is coming very soon
All Amigas will be able to show 1080p screen resolutions because of the DDR3 RAM that is delivered with the cards. The video output on the card is just amazing. AmigaOS will be a very snappy workstation in high screenmodes for sure.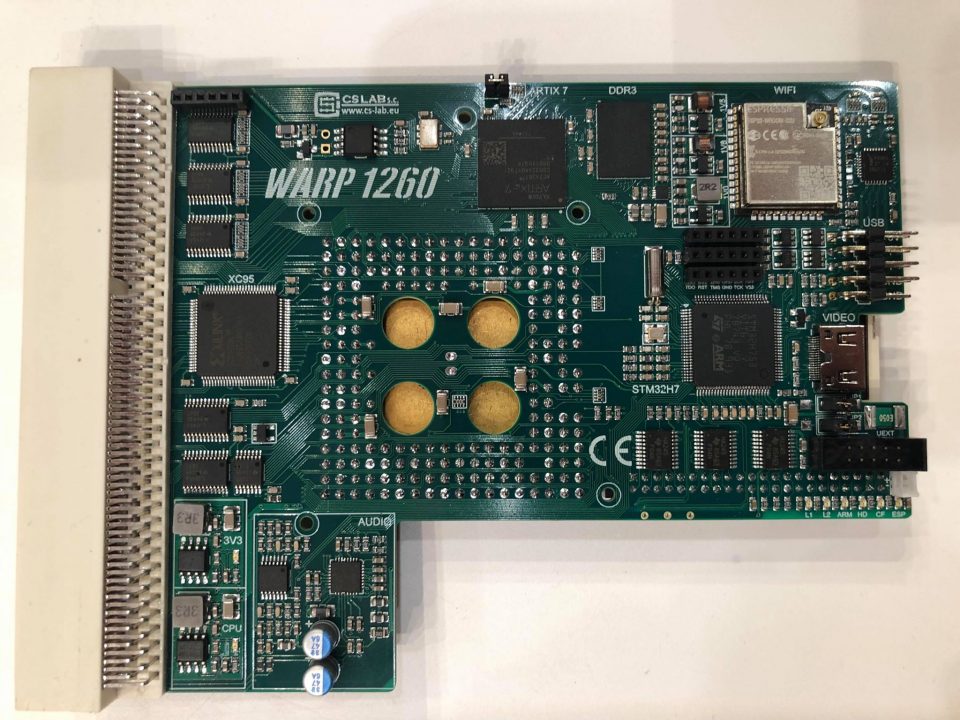 This Warp 1260 card (together with Warp 560 for Amiga 500 and Warp 4060 for Amiga 3000 and Amiga 4000) is for sure a true masterpiece engineering. It seems like the amazing creativity of the Amiga community got no limitations for CS-LAB S.C. which is fantastic. They do it because of their passion for the Amiga.
We understand that they need to make sure that they can earn profits out of sales. So it is smart to develop a heatsink addons for people that don't want to buy the most expensive package. Warp 1260 will become the new 68060 power horse. It will give a huge boost to AmigaOS as a Graphics Card capable operating system. People will simply be able to do more on their Amigas.
Warp 560 Production Focus on Amitopia TV
In the video above you can get a glimpse of how AmigaOS looks like when connected to Warp 560 which is the Amiga 500 68060 accelerator from them.
Let's warp together very soon! Amitopia Amiga Magazine will keep you updated!
Source: CS-LAB S.C. on YouTube