In the world of Linux and BSD. Many loves to be able to type like in the old MS-DOS days. AmigaOS on the other hand has its reputation that it is GUI only with icons-only like macos for 68k. But the fact is that the GUI of AmigaOS is named Workbench, and AmigaDOS is what is the main mechanism behind its power that sits there all the time in the background.
Surfing the web is also today known as the graphical window you're used to. But in the time before Mosaic was launched for macos. The web was all text-based-only. I remember downloading files from Aminet using a Links type of a browser.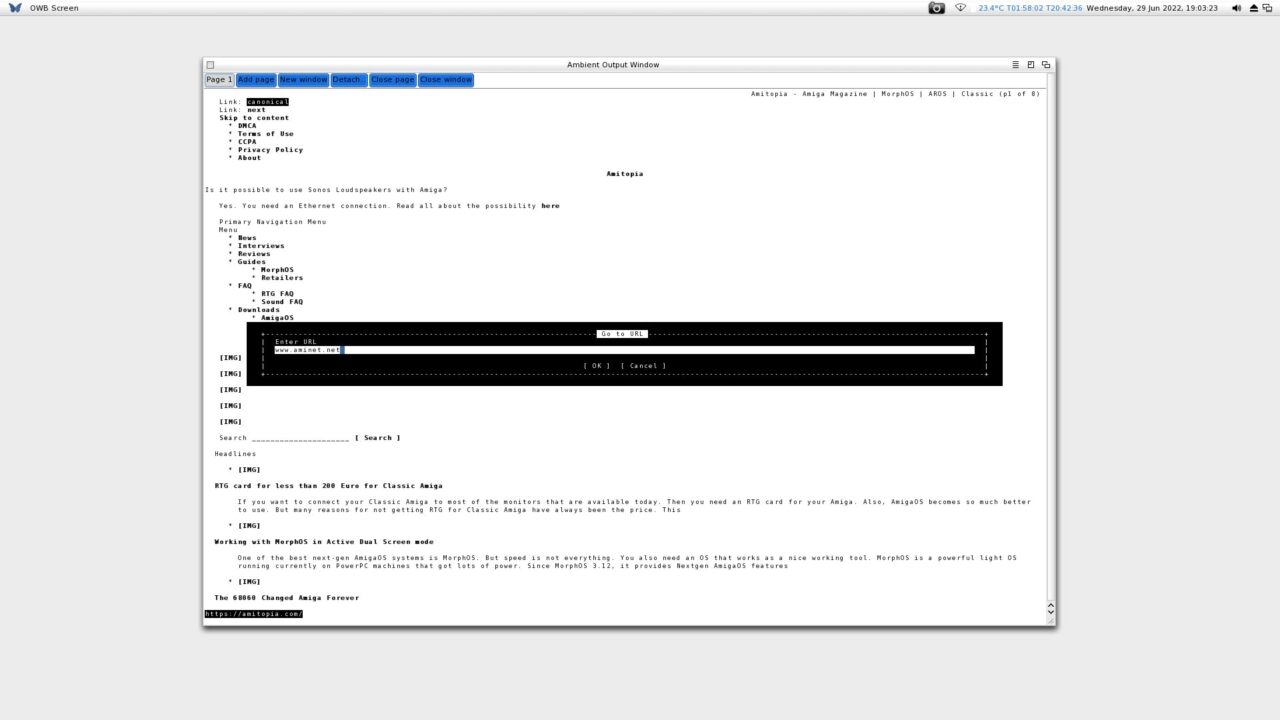 Now Links is out in a New version for MorphOS owners. It is a text-based-only web surfing application. So, don't expect it to show any images. However, it is really fast. You can read all of the text on the websites which is really cool. Here you have a browser that makes web browsing a relaxing experience for sure.
Installing Links onto MorphOS
You can use any graphical web browser to get Links for MorphOS. I recommend using the latest Wayfarer that comes with the operating system. Then you can download it from MorphOS Storage. Unpack the archive and move the program to where you want it.
I have installed Links into Applications. Once moved there and you're done. No need to install it at all. But make sure you're online when using the application.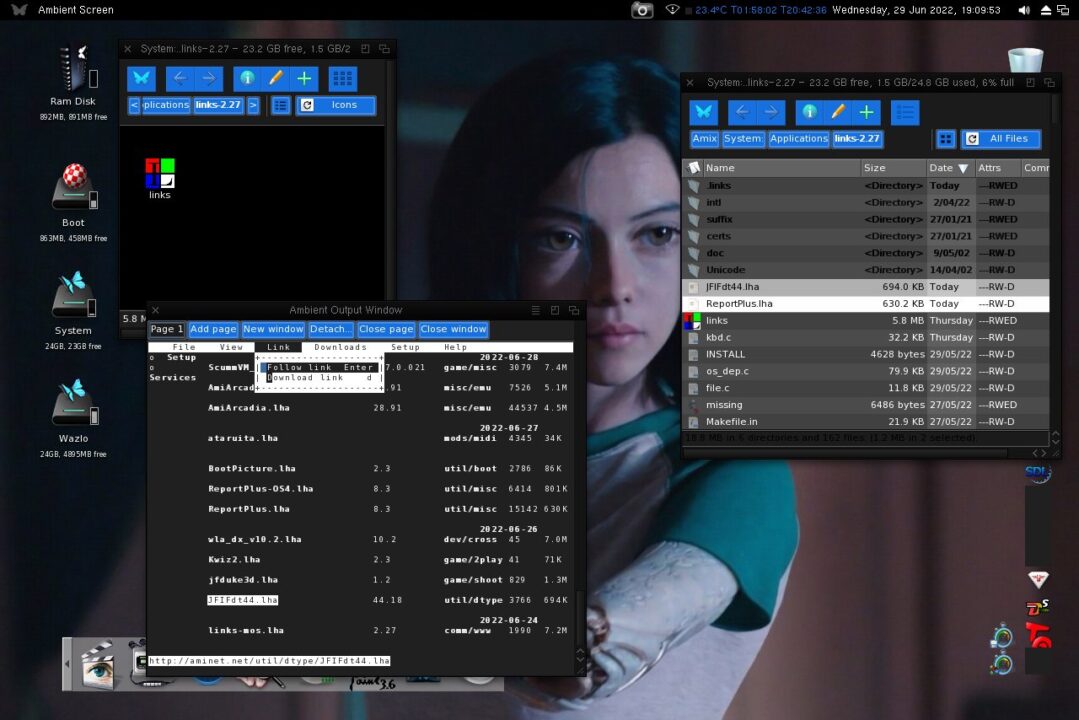 Using Links means that acts a bit Different in MorphOS
Once you've started up the program. You see a blank screen and you might think that there's something wrong with your Ambient Shell window. But it is not.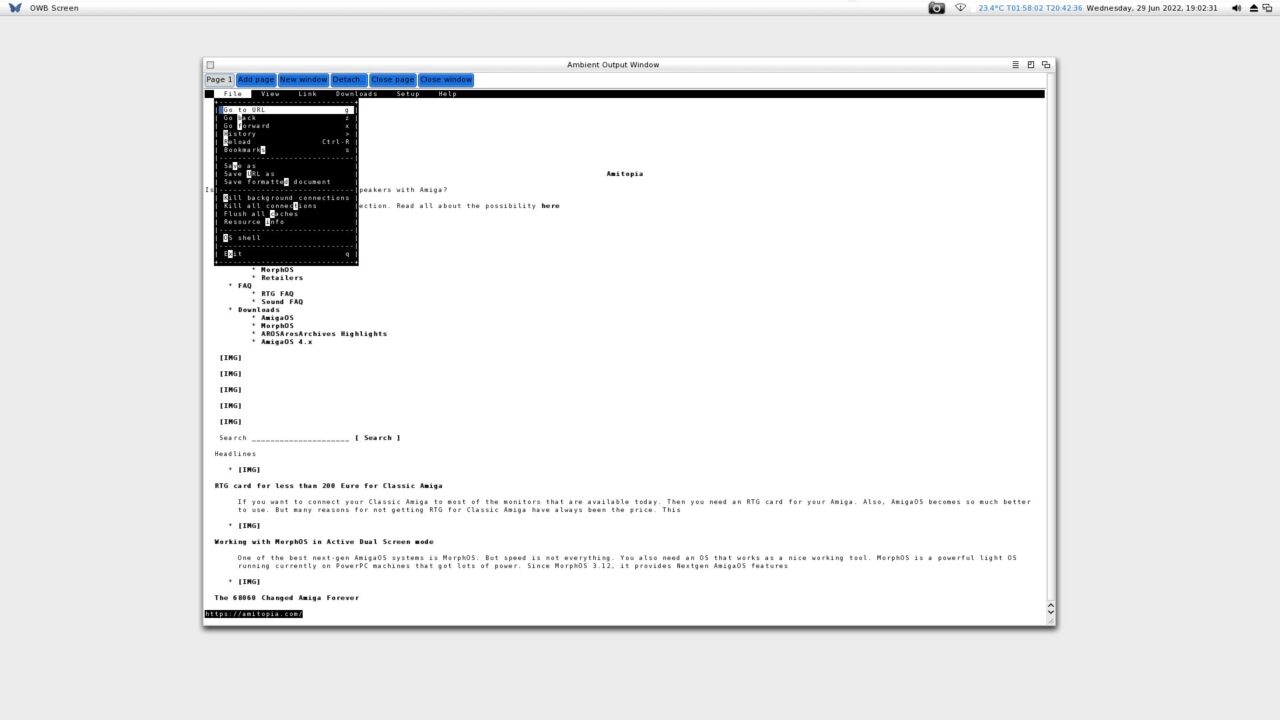 If you click on the top part of the Ambient Shell screen you notice menus. Yes, Links come with a real top menu that can be activated inside the Ambient Shell window at the top area of it. This will be a bit awkward for many Amiga users as you might expect the menu to come in the Ambient desktop environment of the screen. But that's how it is when a Linux-based application is ported to a Nextgen AmigaOS system like MorphOS.
From this menu, you have tons of options. It is here where you can activate it so you can enter a web address that will open after just a few seconds only. Links don't have the graphics of the web but it does have speed and that's what it's best at.
Fast text-based-browsing with Links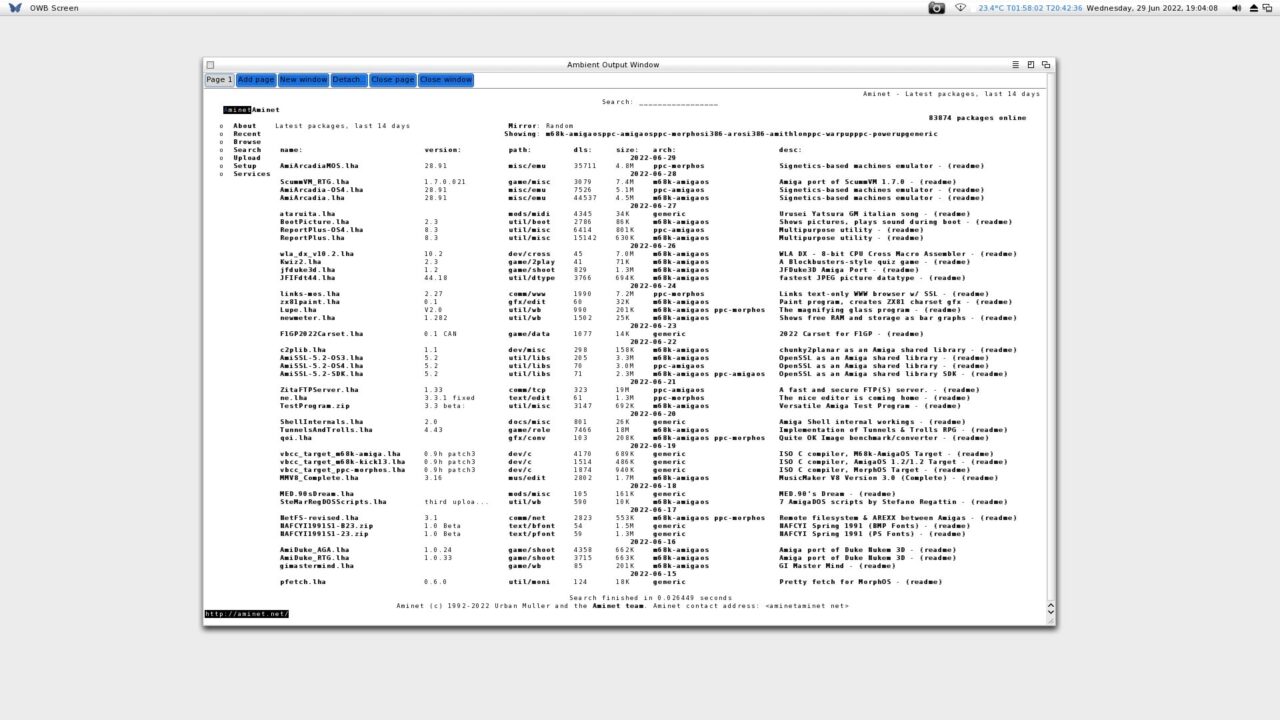 Using this web browser is fast. I tried Amitopia and Aminet with it. I tried to surf, read and even download. Everything went really smoothly.
The only thing that I am missing is a Download bar of some sort when you download something. I tried to download various archives from Aminet without getting any requester or info about where the files will be stored when done. I only knew the filename that was going to be downloaded. But the files that I downloaded weren't hard to find at all.
You can locate all of the files downloaded in the same dir where Links is located. The files get downloaded to the main directory. I think it would be nice with some more information, but I think that since Links is made for Linux it is like that.
Various Looks of MorphOS transform the look of Links
A nice thing about the Links version for MorphOS is that the look of the operating system can be altered for each MUI screen it uses. This can then be used for adjusting how Links look for you which is cool.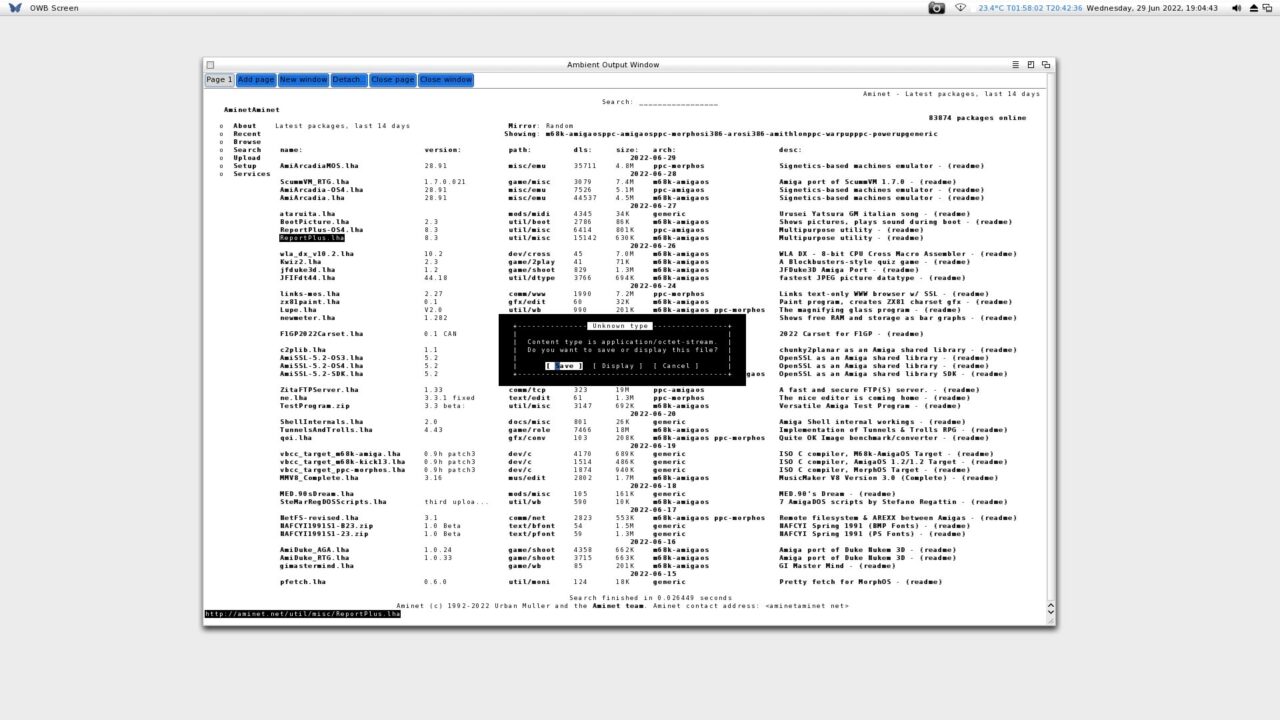 I really recommend anyone that just wants a text-based-surf experience to try this out on MorphOS.
Surfing the web using Links is not the same as using Wayfarer. That one is a rich WebKit browser to use. But features such as the possibility to quickly download stuff from various sites such as Aminet. It is a fun way of experiencing the web as it was and how it really is behind all of the images and videos that we can see today.
All of the sites in Wayfarer that you use are text-based. It is just the various engines that turn text into images and videos. Links don't have that, but it does have its own charm even on MorphOS. Especially for the ultra low-end setups like the Efika.