Big news for AmigaOS 4 owners. A new pack is out for ShaderJoy. A nice pack for AmigaOS 4 users with a lot of improvements and bug fixes is out. Also this time it runs over OGLES2 3.0 beta and the new Warp3D Nova 1.71 beta drivers which means that more complex shaders now work.
ShaderJoy 1.8 AmigaOS 4 demonstration
Fragment Shaders for AmigaOS 4
ShaderJoy for AmigaOS 4 is ported to the platform. It is a powerful tool written by Juha 'Capehill' Niemimäki which allows you to display and create ShaderToy compatible fragment shaders. Just take a look at the video above on how awesome it can be.
It's a native application that is supporting tooltypes, native AmigaOS 4 GUI, all sorts of verbose logging, inbuild editor (as well as the ability to set external one), fully controlled, and so on. This pack includes a big set of ShaderJoy compatible shaders in an archive. These shaders are stunning and a fantastic way of promoting a Nextgen Amiga operating system which AmigaOS 4 is.
Everything in this ShaderJoy package is grouped, sorted, noted original links to original shaders, etc. Read the full news post about this new ShaderJoy package for AmigaOS 4 here.
The Minimum ShaderJoy Requirements
Warp3DNova.library v1.83
ogles2.library v3.1
RadeonHD 3.7 or RadeonRX 2.4 (with Prefs:PowerManagment set to HIGH)
… Running …

You need to download ShaderJoy and make default icons for #?.frag and #?.sjp files. And that all. So:

1. Download ShaderJoy from http://osdepot.net as usual: http://os4depot.net/share/graphics/viewer/shaderjoy.lha
WARNING: Version 1.21 is 100% necessary and MINIMUM to make all works correctly. If you have an older version, UPDATE, or things will work wrong!

2. Download ShaderJoy_Pack from http://osdepot.net as usual (currently in the upload query).

— In the archive, you will find in directory "deficons" def_fragmentshader.info & def_shadertoy_project.info. Copy them to system:prefs/Env-Archive/Sys/
— In the tooltypes of copied files (in both of them, of course) change in the "default tool" path to your Shaderjoy binary (remember, it should be not less than 1.21 for now!)
— In the system:prefs/deficons create new macro class called "3D" and in it create new entries: "fragmentshader" with action: pattern #?.frag and "shadertoy project" with action : pattern #?.sjp.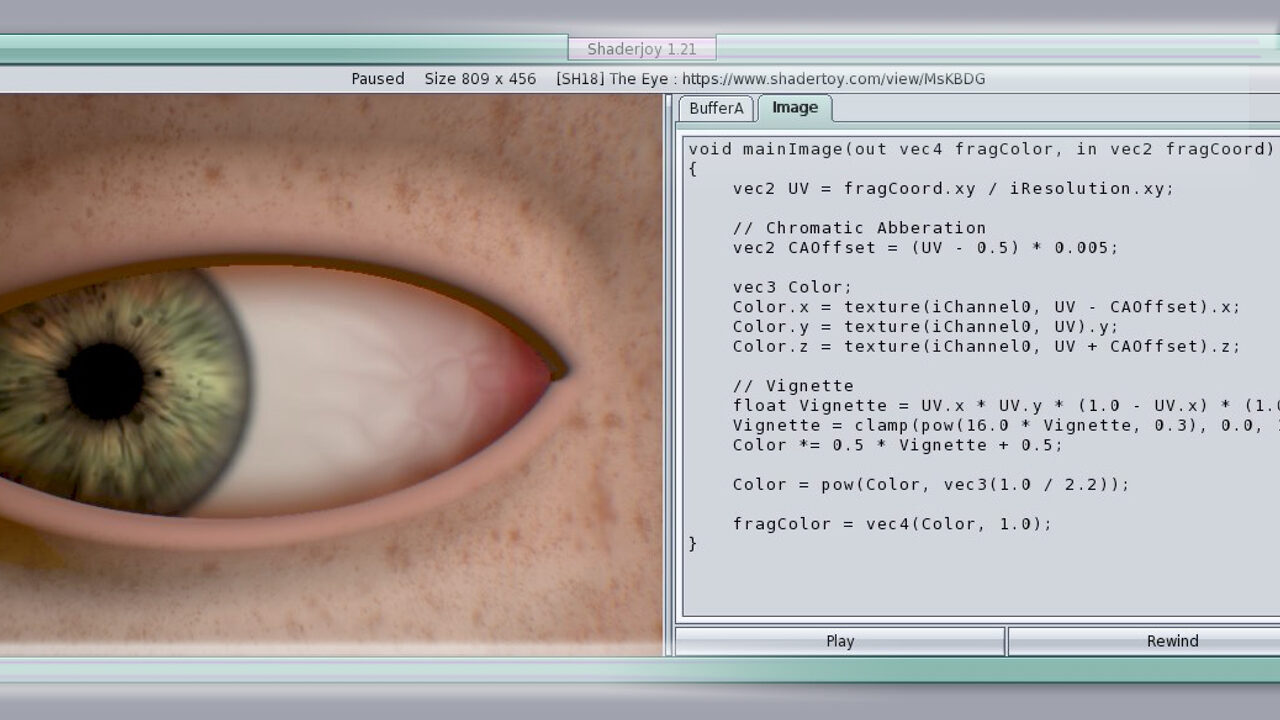 Promote AmigaOS 4 Everywhere
So, if you have the AmigaOS 4 hardware. Get this package and give the operating system the promotion it deserves. The video above is just amazing. If there were many more people out there posting videos like that. The interest for AmigaOS 4 could have been growing.
AmigaOS 4 is together with MorphOS and AROS a true Nextgen Amiga operating system. If you want more AmigaOS 4 content on Amitopia, please send me an email to amiga300 at amitopia dot com.