There are many parties that is related to Amiga interest! However, AmiParty in Poland is a almost Amiga only party that is held every summer where The Guru Meditation have visited. You can watch the video from the previous event a bit longer down on this page or just click here! Amiga Bill also made a quite nice article for Distrita about last years AmiParty, which you can read about on Distrita website here.
On parties like Amiparty XXI it is all about being social and meet lots of other Commodore and Amiga interested people. Here its all about having fun and I wish that I could have come, but I have no chance this year. Maybe next year!?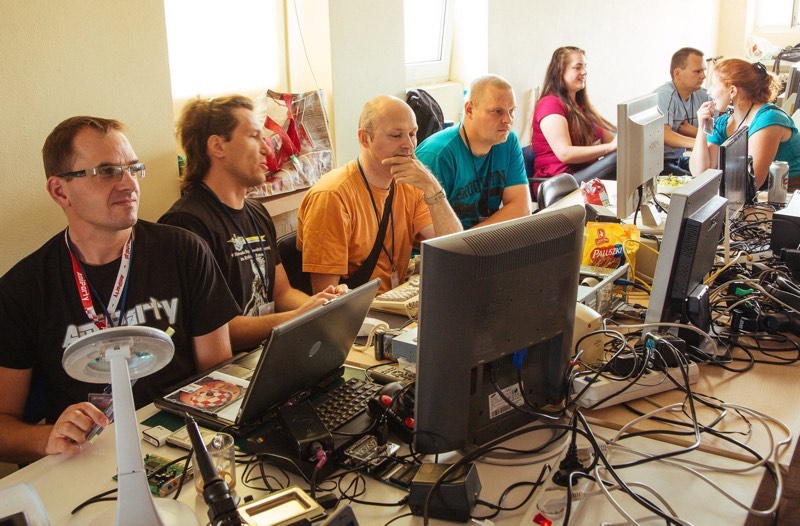 The 21st edition of Amiparty program is as follow
Friday (11th of August 2017)
10:00 – Opening
12:00 – Officially opening of the party
16:00 – Contest "LumberJack Reloaded" or other games etc.
19:00 – Showing demoscene productions on: Commodore VIC-20 – V0yager
20:30 – Showing demoscene productions on: Amiga 500 – Jenot
21:30 – Showing demoscene productions on: Amiga 1200 – MarioDJ (do rana)
Saturday (12th of August 2017)
12:00 – Contest "Sensible World of Soccer"
17:00 – Film project: "Sztuka przekraczania"
19:00 – Compos
21:00 – Winners Presentation
21:30 – DJ set MarioDJ (will be very Amigan style)
And here are some more highlights that will happen at the party! Both Trevor Dickinson which is the CEO of A-EON and David Pleasance which was the former Commodore UK CEO will appear on Saturday afternoon even! So, Amiparty XXI will for sure be a party where Amigans meet for fun and krmt.. some drinks 🙂
Get ready for Amiparty 21st edition
David Pleasance (Commodore UK CEO) and Trevor Dickinson (A-EON CEO) will appear Saturday afternoon!
all party place rooms are booked. You can still make use of your sleeping bag, but if you want to have a calm place to sleep consider contacting one of nearby hotels. More information is here.
we expect lots of guests so please keep in mind this rule: one 'party-san' – one computer, please do not even think of making hardware exhibitions. It can also happen that there won't be place on tables for everyone, so if you need one – be sooner here.
compos – deadline is near! – so draw, compose, code. Rules are here.
latest news on ChAL facekook profile (Polish) or Amiga United G+ community site (English).
This AmiParty edition will take place 11-13 August 2017 in Che?m, Poland.
How to get to Amiparty XXI in Chelm, Poland
[osm_map_v3 map_center="51.143,23.503″ zoom="15″ width="100%" height="450″ ]
if you are going to arrive by train, you should jump out on 'Che?m' station (NOT 'Che?m Miasto' station), then you just need to go across a footbridge and then you should go 300 meters in Dorohusk direction,
in case of any problems don't hesitate to give me a call +48 883 609 777.
in planning your journey from your homeland we suggest you to stick to following sites: skyscanner (flights), e-podró?nik (travelling across Poland). If you need any support from our side, just approach us! (+48 883 609 777, jenot@jenot.info).
lots of people will arrive from various areas of Poland. It's very possible that some of them will be glad to give you a ride. This is community thread where we discuss this edition of AmiParty. Feel free to ask about anything there in English. We'll be glad to make your stay memorable.
Watch the AmiParty report documentary from last years party on The Guru Meditation YouTube Channel
Have an awesome party at Amiparty! It seems that with the nice guests and all of the compos and krmt.. beer stuff. Amiparty will for sure be a nice place to be for everyone.