News just came that the new Classic Amiga compatible Vampire V4 motherboard is now offered with a Keyboard, Mouse, and Gamepad with everything you need to get started. Now, you're ready for winter 2020-2021!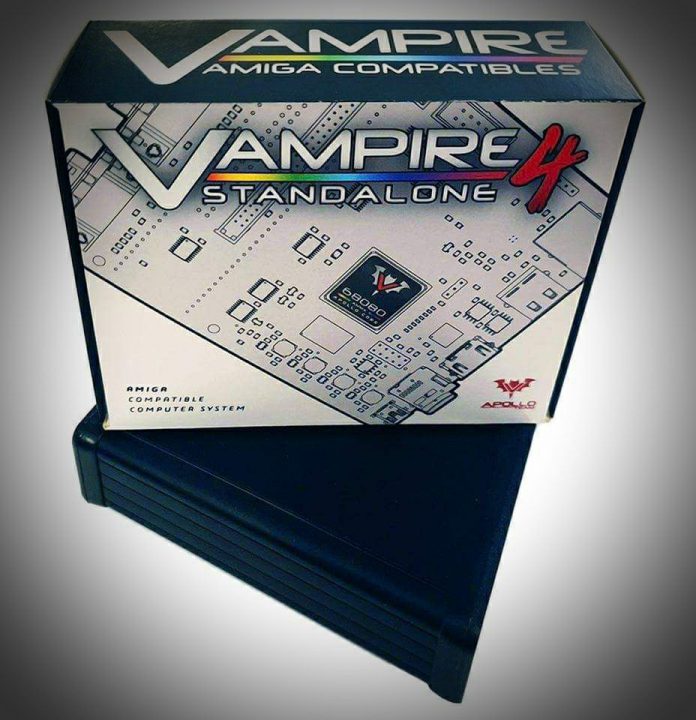 Powered Classic Amiga Software Computer with lots of Love
Vampire V4 is the world's fastest Amiga home computer that deserves attention. This new fast Amiga computer by Apollo Team runs everything from a special AROS distribution that is getting improved.
But now as you read in this news item. You also get a Keyboard, Mouse, and Gamepad to get started. Vampire V4 Amiga computer motherboard is a fantastic way of getting into the Amigaworld with a speed that you've never seen that a Classic Amiga computer can perform. Order it here!
This is the specifications of Vampire V4 Bundle sold Now
68080 CPU (160 MIPS/ 80 MFlops/ AMMX)
512 MB Fastmem
SAGA AMIGA Chipset
Anodized Aluminium case
Power Supply (EU/US)
Tested IDE/CF Adapter
Sandisk 32GB CF with AROS ApolloOS preinstalled
For all this, you only need to pay 589,- Euro! It is a good price, especially if you know how the pricing prices are in the Amiga world. Here you get a totally new Amiga computer that plays and runs Classic Amiga Software like no other.