There are tons of dock solutions for Amiga. With AmigaOS 3.9, the AmiDock saw a launch with the release. Dopus Magellan gives it to the system and there are various dock solutions. So, today I wanted to look at DockBot which had its last update in 2020 at the time of writing this review.
I wanted to give my AmigaOS 3.1.4 look a serious upgrade and so I searched for a dock that would work with PowerIcons that gives 32-bit PNG icons on the screen. I wanted it to give my AmigaOS a cool feel as I am an Alita Battle Angel. I went for DockBot by Andrew Kennan. So here is my verdict and a small guide to it.
DockBot makes the Amiga shine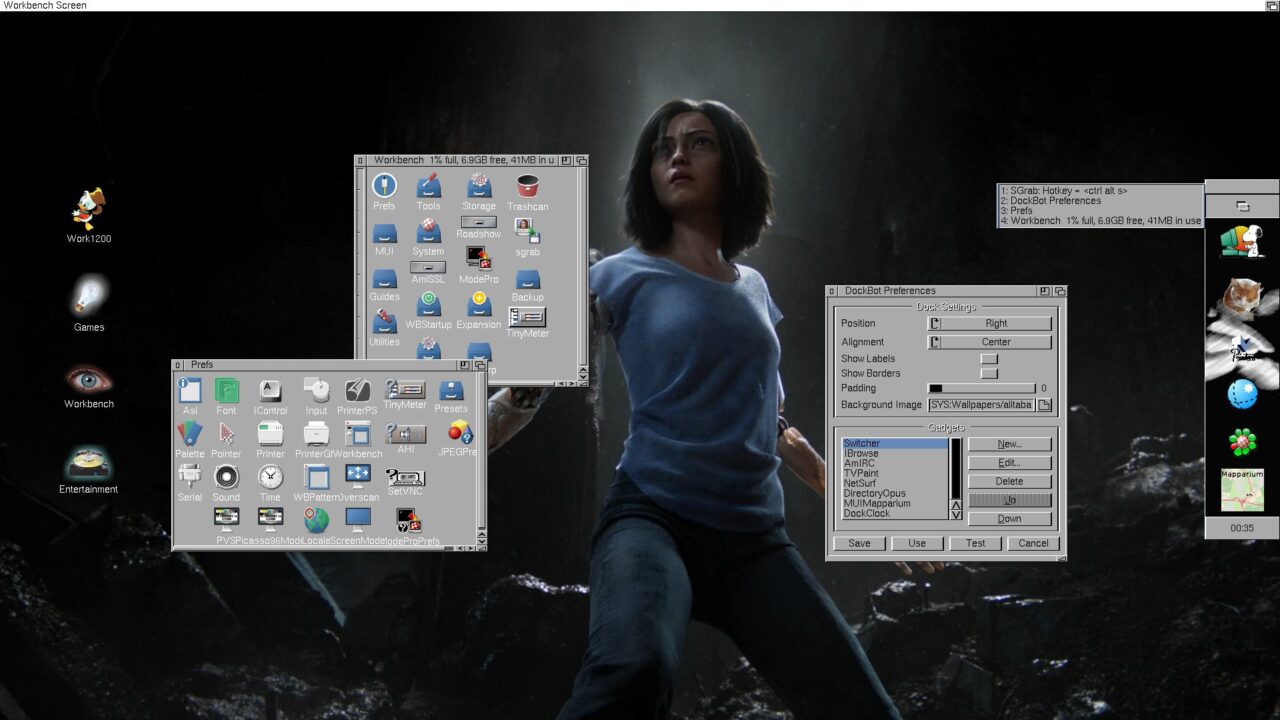 Without a good dock. You should have a very tidy AmigaOS setup so you can find the applications you have easy. However, when you mess it up then my advice is to get a dock that makes your AmigaOS us better. DockBot is a dock that makes AmigaOS shine and you will be able to do things a little bit faster too.
You can have the DockBot placed on various places on the screen. You can adjust the background to use a image too. However it lacks the ability to change colors or the ability to make it look as if it is transparent.
Needs the latest Icon Library
To use DockBot you also need the latest icon.library from Aminet by Peter. I tried it with the icon.library that comes with AmigaOS 3.1.4 but then the DockBot wouldn't show the icons at all. Only the MemStats, NetStats and the Clock.
However, if you use AmigaOS 3.1.4 with the latest icon.library from Aminet. It messes up some of the drawers for some reason. You won't be able to see everything in a drawer. The label Show All icons in the Workbench menu is for some reason activated without being activated at all. When I used Dopus Magellan 5.82, it could however see all of the files inside the very same drawer that AmigaOS 3.1.4 couldn't.
When I reverted back to the icon.library coming with AmigaOS 3.1.4, then the drawer content issue were gone. This is not related to all drawers. So, I need to investigate this issue further.
Includes an AmigaOS 3 window Selector
I can live with the new icon.library by Peter on Aminet as it is not a huge problem for me. I have reported the issue and hopes it can be fixed. Because DockBot got some really remarkable features and looks it. It would be interesting to see if AmigaOS 3.1 and AmigaOS 3.9 users got the same issues as I have.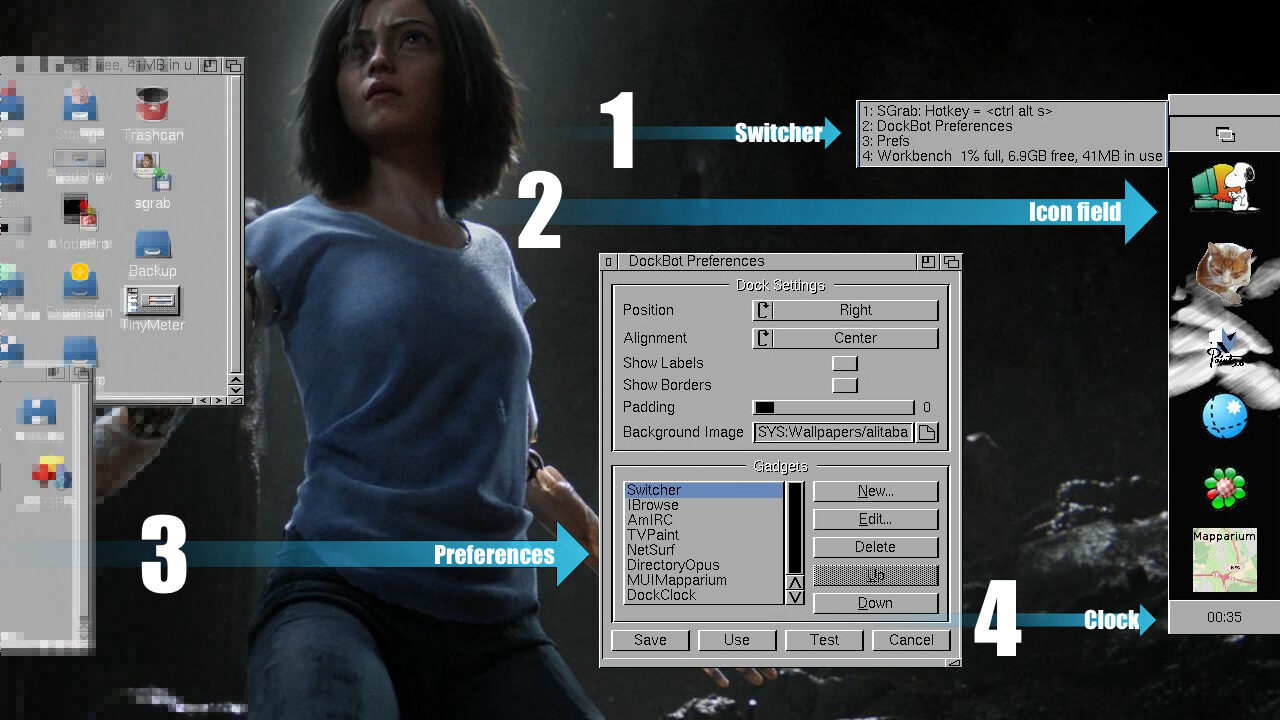 With DockBot you have several interesting additions that you can add to the dock beside the icons. In DockBot you also have Switcher, MemStat, NetStat, Clock, and even eyes following your mouse pointer addons for the dock.
The window Selector can be found as Switcher in the DockBot Preferences. The Switcher lets you choose AmigaOS windows that are open to being shown on top of the others. It is a very handy feature given for AmigaOS. Especially if you have lots of windows open on the desktop.
Configuration of the DockBot includes support for drag and drop
You can configure the DockBot either from the DockBot Preferences window or you can choose Edit from the menu and the dock becomes configurable on the fly. You can then move the addons and icons as you like without using the configuration settings windows. However, you can do all of this in the DockBot Preferences too. Great and Handy with many choices!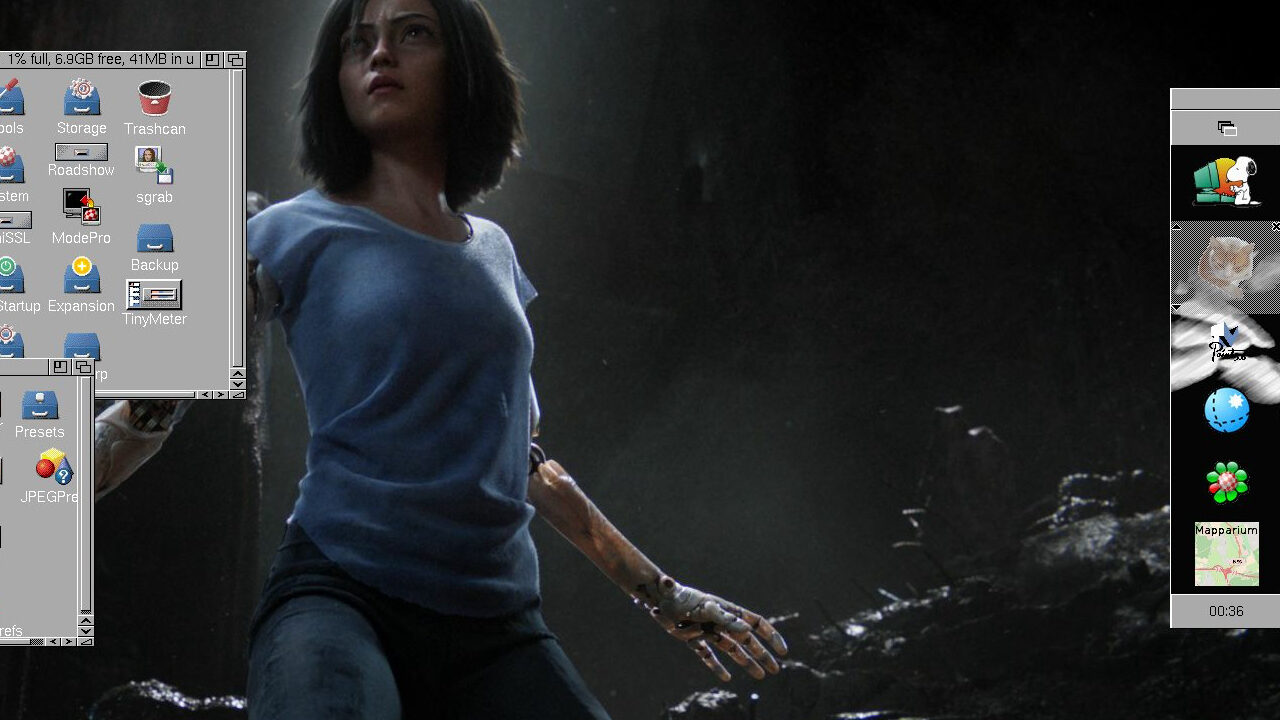 DockBot also supports drag and drop. Either to the dock itself or to the DockBot Preferences window. When you drag an app to it. You can then re-arrange where the icon should be which is a nice feature.
I personally think that there should be more options for if the icons should have the name of the app below the icon or not. Also as I've written above. The color option would be nice to have also. However, the fact that the dock adjusts itself automatically when adding icons in different sizes is a nice touch that works very well.
32-bit icons support on RTG screens
DockBot supports all sorts of icons that are added to it. MagicWB, NewIcons, Glowicons, and also 32-bit icons in PNG format works too after testing. I have Powericons from Aminet installed. They only work on RTG screens. On my Amiga 1200 with Warp1260 showing AmigaOS in 1920×1080 it really shines. So, when I saw it working in DockBot too. I had a tear in my eye. It looks smashing.
It is those small touches that can make a man cry out of joy. When something you love becomes even better without you expecting it to become better then that's an amazing feeling. It is really great to see the 32-bit icons in DockBot showing as they should. You can also mix them with Newicons or Glowicons.
DockBot is what AmigaOS needs
This dock application for AmigaOS lifts the experience of using it. DockBot does that little extra touch that makes AmigaOS so good to use and that freedom is something that other operating system is lacking. With the icon.library issues gone, this dock application would be given a perfect score.
I don't know why the new icon.library gives me the drawer issues. I need to investigate it more. Maybe there are some settings for the drawer that is not set so I cant see all of the drawers in it? Strange. DockBot is however used by me anyway.
Downloads related to this article