We have been mentioning about Mapparium here. A new OpenStreetMap viewer for AmigaOS by alb42. It is a very fast map viewer for Amigas worldwide and now the very same person have released MUIMapparium for Amiga! Even an AmigaOS 4.x version is also out. Read on!…
Mapparium opened a totally New World
AmigaOS web browsers aren't getting as many updates as those for Windows and OSX, which means that there is almost none or none Google Maps support for it. This app, however, adds something that was missing for AmigaOS. An app which allows you to search the world map of different towns and places on our globe with a very informative map. The app also lets you put Waypoints on it, so you can jump to your favorite Waypoint when you restart the app, etc!
Mapparium is actually a pretty vital program, that changes AmigaOS to become a useful operating system in 2017 for more than just Amigans! Who would think that would happen 10 years back?
MUIMapparium adds MUI Graphical User Interface
So, what could be done regarding Mapparium? Add the Magic User Interface GUI to it, was the developers idea. And it works!
With MUI, which is so integrated into all Amiga flavor. The map surfing which I thought was running fast already, now works lightning fast!
In the MorphOS version of MUIMapparium, which I used for this review. The feeling of the map zooming and scrolling is instant. There are no lags after more than 30mins of usage, which was my reviewing time. Now, this small but important speed increase makes my day way better! It really seems that small things in life can really change something to become much better! And MUIMapparium does exactly that.
The generic Mapparium interface is great, but with the extra MUI touch, alb42 from Germany shows how small changes just makes something that is already perfect to become outstanding. MUIMapparium is for sure one of the best apps ever created for the Amiga.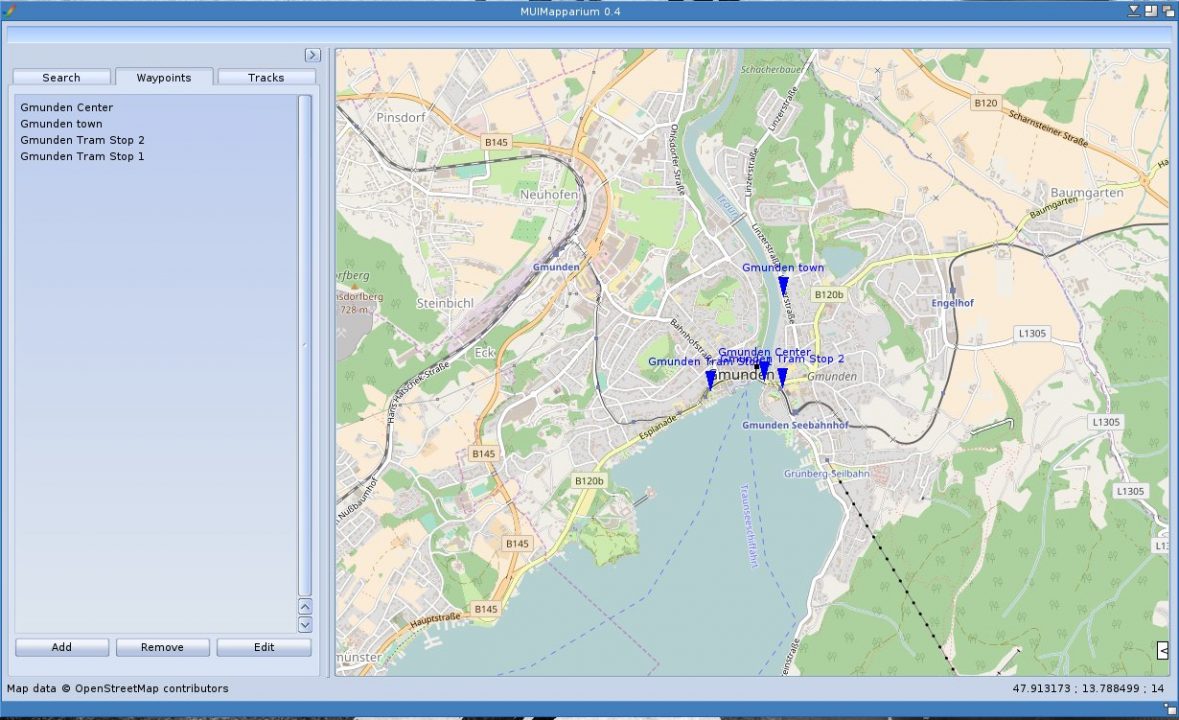 Very stable Map browsing on all Amigas with Graphics card installed
There is still no AGA support, so even AmigaOS 3.x users need to have a graphics card installed. All Amigas with Vampire installed can also use this app, which is really awesome. Now, there are more and more Amigans getting these FPGA cards that change the AmigaOS world for many users.
MUIMapparium is stable. I never managed to crash it! And that's even when I downloaded the first Mapparium version.
In this Review of MUIMapparium 0.4, I have tested Waypoints and how fast the map loads. It is instant and you can name the Waypoints as you want. In this way, you can go to your place instantly after starting up the program. The button for filling the whole window with the map is also nicely done and there is no issues regarding this switching neither.
MUIMapparium is one of those programs that just work. It is a perfect example of how nice and quick Amiga GUI is. This is what I call snappy happiness!
Download it from Alb42 Blogsite Here
[wp-review id="21167″]
Source
Amitopia Own Experience