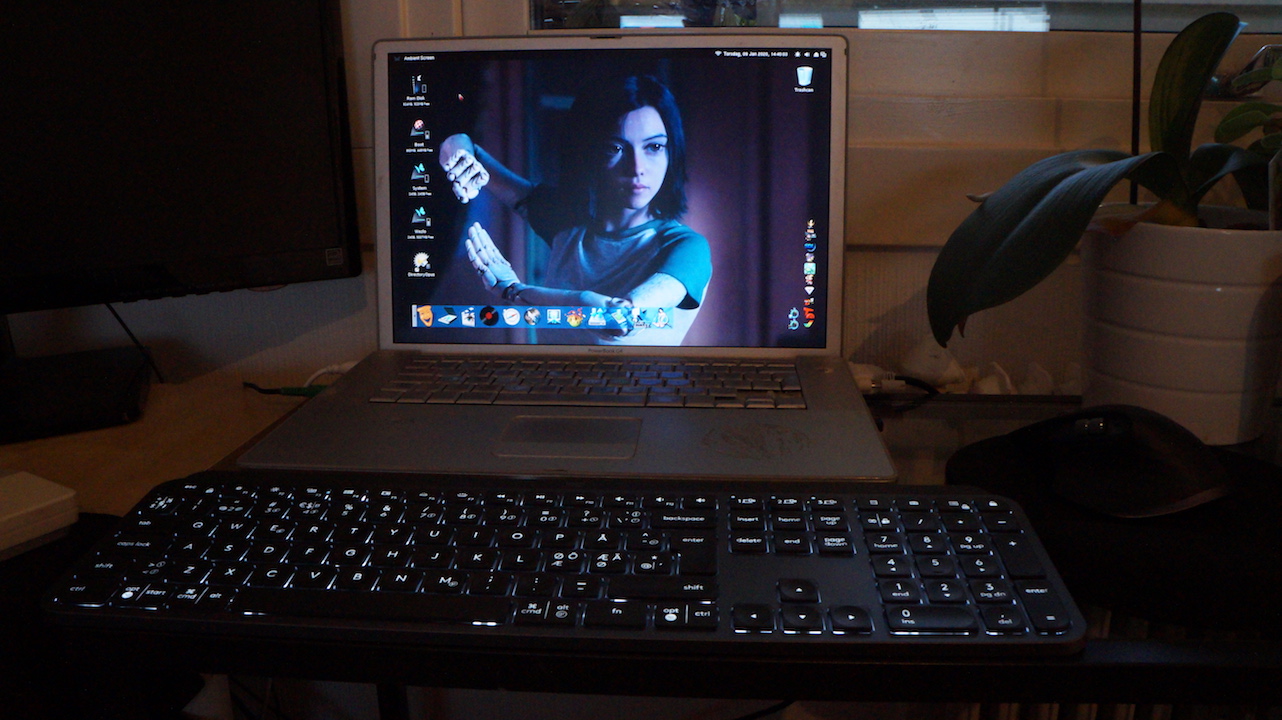 What sort of mouse or keyboard do you use with your MorphOS or nextgen AmigaOS system that uses USB? Do you use them with cables or wireless? What sort of experience have you got? 
In this review, Amitopia Amiga Magazine is looking at wireless MX Keys and MX Master 3 from Logitech that they sent to us. It is really nice to be a partner with them so they give us products for testing. It means they like our Distrita and Amitopia platforms which we thank them for.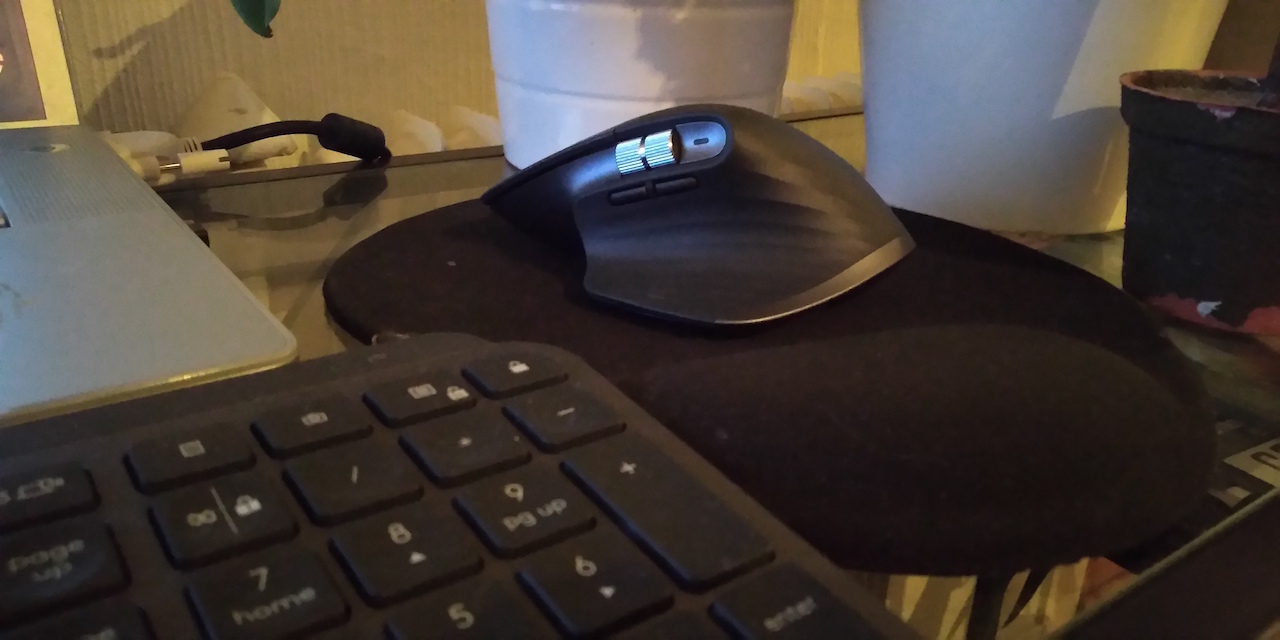 Most of the reviews on-line have reviewed these two MX products for Windows, MacOS and Linux. But what about MorphOS or AmigaOS? Let's reveal how the experience is on it. 
Connecting the Logitech MX Keys and MX Master 3 with MorphOS
With no Bluetooth support at all. All MorphOS users must rely on Bluetooth dongles that is used to get and send the data. This also apply for computers with older versions of Bluetooth such as the Intel Macs that isn't supported by Apple anymore. To use such wireless devices on MorphOS is very cool and satisfying.
We have to admit that it is really fun to be able to use wireless keyboards and mice with a nextgen type of AmigaOS like this. 
On our iMac i7 machine from 2011 at the office the Bluetooth connection with this product from Logitech is not possible. The software says that it doesn't support the Bluetooth version that our iMac i7 got. The software from the Logitech site is also not supported, which is sad.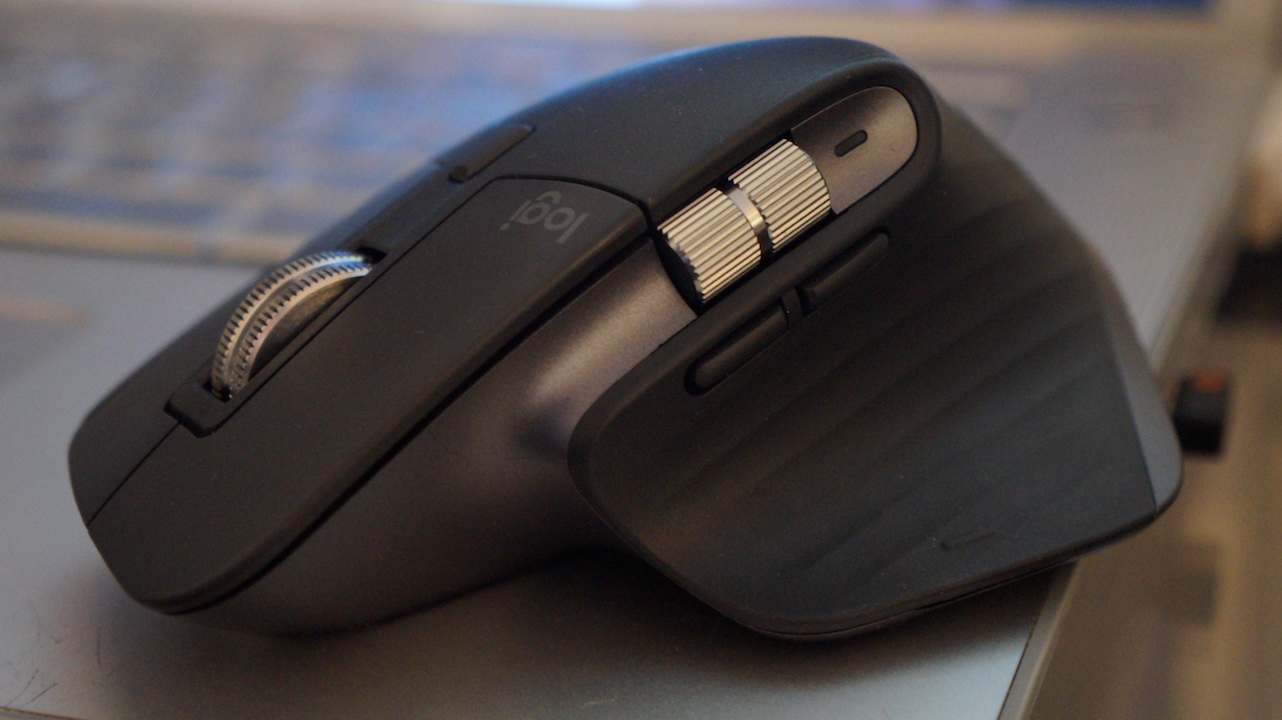 Without using the Bluetooth dongles. You cant use these MX products with MacOSX El Capitan. On Distrita website you can read about the issue with Apple and abandoning their products here.
MorphOS users on the other hand are very lucky together with the Amiga community since their products is still getting lots of software and hardware support. 
MX Keys and MX Master 3 USB dongle with MorphOS
For MorphOS it is a must to use the small USB Bluetooth dongles that comes with both of the products. But remember to charge them both with the USB-C cable that comes with the product. You can charge them with any USB-C capable charger.
The pricetag for both of the products are quite high. They both are priced at 111 Euro or more. So I think that it would be nice of Logitech to print the product names on them so its not easy to mix these dongles. They could have printed M or K on the dongle beside the Bluetooth logo as an idea. 
So, be aware! As long as you have order this will not be any issue that you will experience. Another thing I miss is a place underneath the mouse for the USB dongle.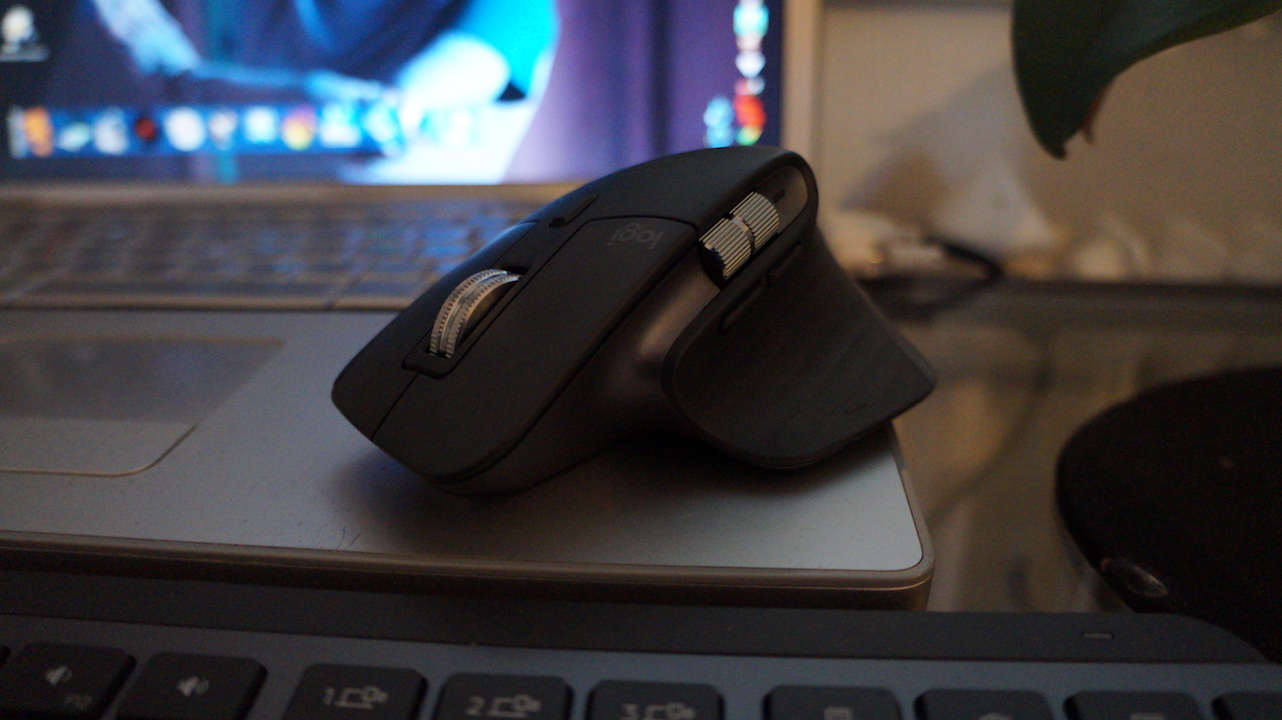 These two MX products can be used with 3 Computers at the same time
One of the biggest features that comes with these two products is that you can use both of them with 3 different computers at the same time (yes, also for the mouse).
So lets say that 1 is your MorphOS machine, 2 is your Bluetooth compatible computer and 3 is your Android Tablet? Then the MX series is perfect for such setup. Buying this one makes wives that hates cables happier for sure!
Both MX keyboard and mouse works really well together when switching between computers. Writing is also fast on it. Love it a lot.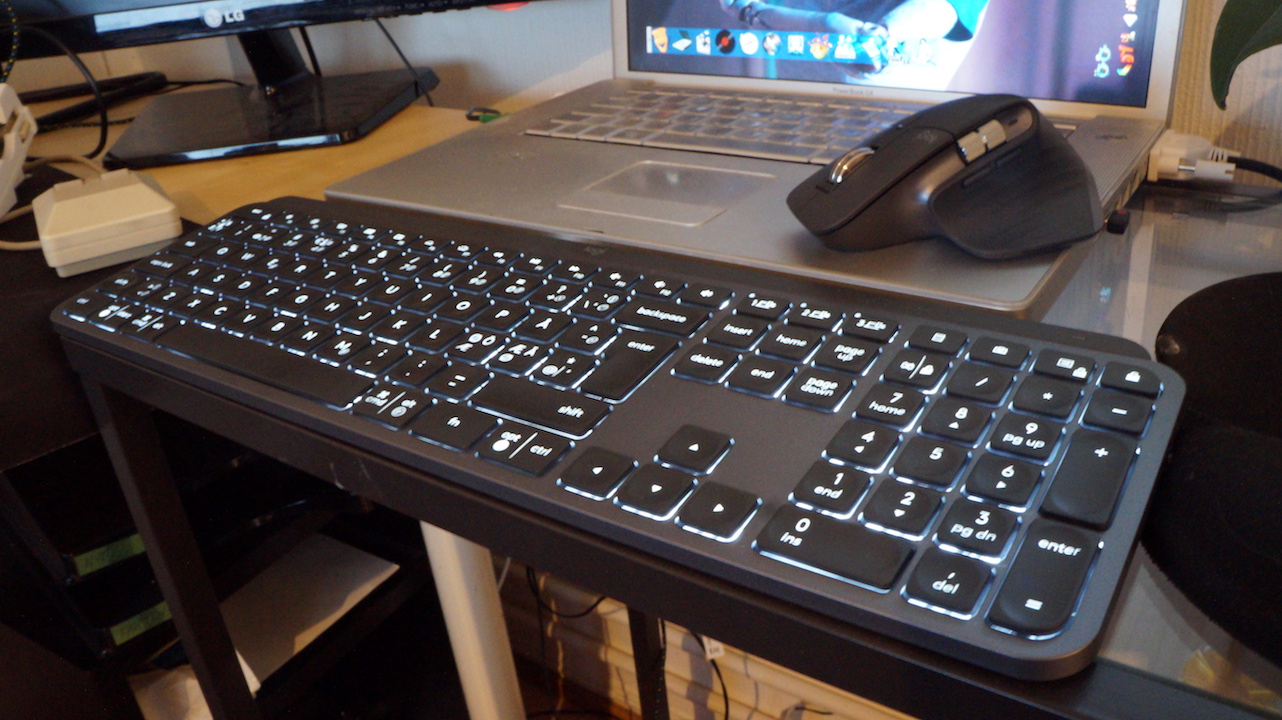 The design of the keys on this keyboard is so that all of the keys on it got a slightly down in the middle hill built in on all of them. This makes your finger thumbs hit the keys easier and you will see this on your writing speed a lot. But as a gamer keyboard I don't know. It works really nice when we tried Cities Skylines and Transport Fever 2 on our ASUS Windows 10 machine. 
MorphOS usage and TVPaint for AmigaOS tested
Amitopia Amiga Magazine tested our MX Keys and MX Master 3 products on our PowerBook G4 1.64GHz machine with the latest MorphOS 3.12 release and it works without issues other than if you want to use F1 to F12 then remember to hit the fn button first. If you don't the volume and LED light keys will work instead.
MorphOS as a AmigaOS compatible operating system detects both of the products without issues when using the Bluetooth USB dongles. No drivers needs to be installed as the smart Poseidon USB stack detects both of the dongles without issues.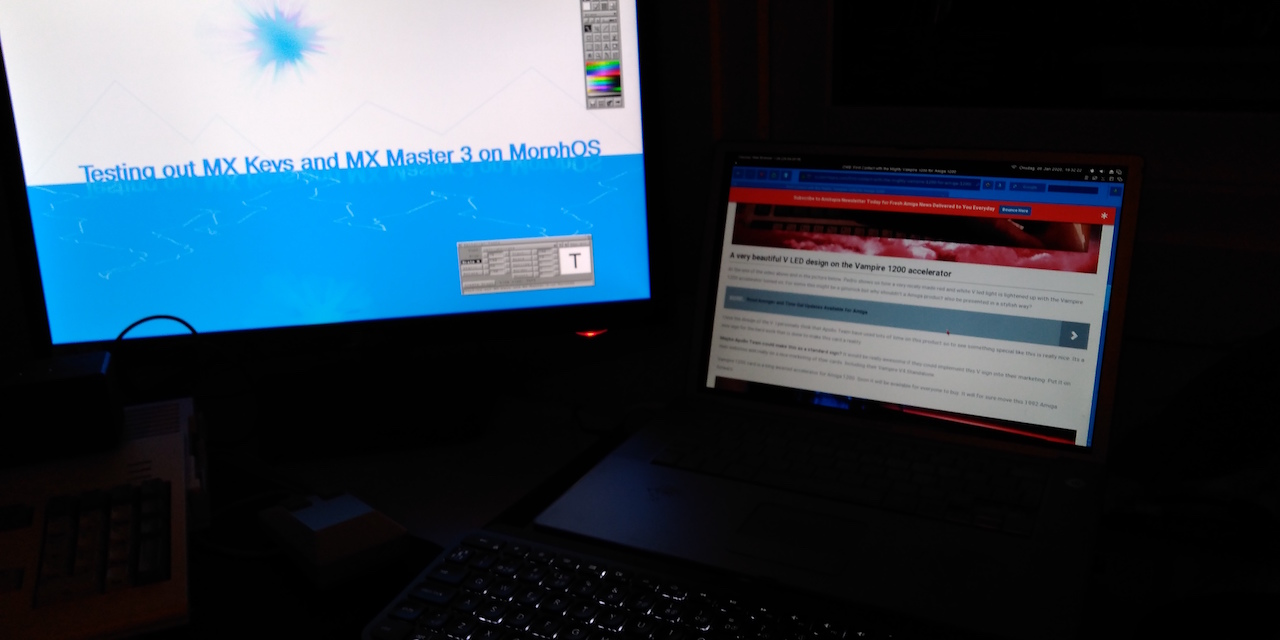 MX Keys as a keyboard is a must to have for all that loves to type fast.  I have been lucky in testing this product for many days now. I need to address that MX Keys must be one of the best keyboards that I've tested in a very long time. Its one of the better keyboards that I've tested. Also Logitech have placed the keys in a much more Amiga style of way. So for me which is used to use Amiga keyboards daily. The MX Keys feel better. Also the fact that the Amiga keys (cmd on right and left) are just beside of the spacebar on each of the sides. A nice keyboard to use together with MorphOS or AmigaOS 4.x for sure.
The MX Keys is fantastic, but what about the mouse?
MX Master 3 works really nice in MorphOS. It is a comfortable feeling to move icons, select files in a list, clicking on areas where you can type and painting using TVPaint is really great.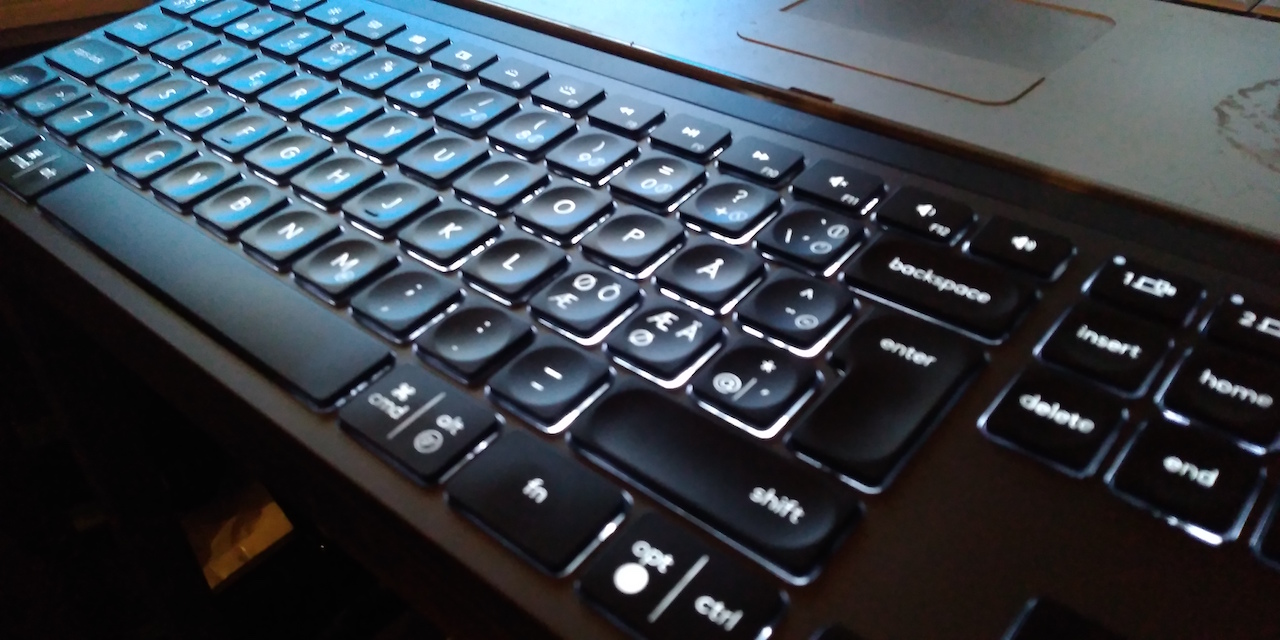 The MX Master 3 mouse feels very solid and thats required at the level of this price-tag that it sells for. But one thing is a bit weird that I noticed. When reviewing this mouse I knew about switching feature but I couldn't find it. I didn't remove the sticker underneath and when I found out that this switch is beneath. Then I had no issues with switching.
The switching between computers switch placement is a bit odd as the MX Keys got it on the keys on top which is very nice. It would be nice to also have this switch on the side of the MX Master 3 mouse. Also, I wish for a feature that let these two products join connections together. Its not a big deal to switch both on the keyboard and on the mouse. But if this could all be done on the keyboard. Now that would be a nice feature to have. 
But this is only details. You can't have everything. But this is something that Logitech should do for the next release? All in all. We think that MX Keys is a very good product while the MX Master 3 should have the switch. Other than that it is very comfortable to use as written above. It feels premium and we hope that our test device will prove that. 
[wp-review id="25665″]
Logitech MX Keys and MX Master 3 MorphOS FAQ
What MorphOS version do I need?
This product is tested on MorphOS 3.12 but it should work on earlier versions too. We urge everyone to update their MorphOS machines.
My MorphOS machine got slow USB slots. Will it work?
The USB slots on PowerBook G4 1.64GHz isn't powered. Both of the dongles is tested in both of the USB slots on it without issues.
Does MX Master 3 (mouse) work as it should in MorphOS?
Yes it does. No problems at all. No installation of any drivers. It works out of the box when using the USB Bluetooth dongle.
Will all of the AmigaOS keys combinations work with MX Keys?
MorphOS uses the standard AmigaOS way of switching between screens, copy and paste. This works without issues when using MX Keys. In fact it is very nice to have the A (cmd) keys on each side of the spacebar like on any real Amiga keyboard. Perfect!
Is there any lag in TVPaint when using MX Master 3?
No. I've painted a picture with it and didn't experience any issues.
Is it possible to use the MX Keys and MX Master 3 products while charging?
Yes. But on machines with less powered USB slots you should use a separate power. On PowerMac G5 this is not an issue though.
How many days does MX Keys and MX Master 3 from Logitech work before it needs to be charged?
Amitopia Amiga Magazine have tested the MX Keys for 7 days and it still works. Our MX Master 3 is only 1 day old but it still works.
Share and Like to help our Amiga Magazine articles if you like this type of reviews.

Tested on: PowerBook G4 1.64GHz Dual Screen (DVI) on MorphOS 3.12
Source: Amitopia Amiga Magazine own Review