It's not everyday that our beloved Amiga 1200 gets so much love attention like today.  Pedro Cotter just got a Vampire 1200 for testing for his Amiga 1200 and that made his Amiga 1200 very happy!
Vampire 1200 with lots of Features arrived
This is the first contact with the mighty Vampire 1200 for the public. Pedro got it today and he shared that experience with all of us thru his video that you can watch above. What a nice guy! 
In this video you can see that the Vampire 1200 comes with MicroSD slot, HDMI out connector,  3 expansion slots (where the last is a Ethernet slot) and a IDE connector. This means that all Amiga 1200 users will be able to have Fast IDE speed. The internal IDE connector doesn't work at the moment, but thats something which they will fix.
On the card you also find 128MB of RAM which is very handy. It is more than enough, but it should be much more. This is the only disappointment that can be noticed now except for the IDE connector placement. He might need to remove the metallic shield to place his compact flash to IDE adapter.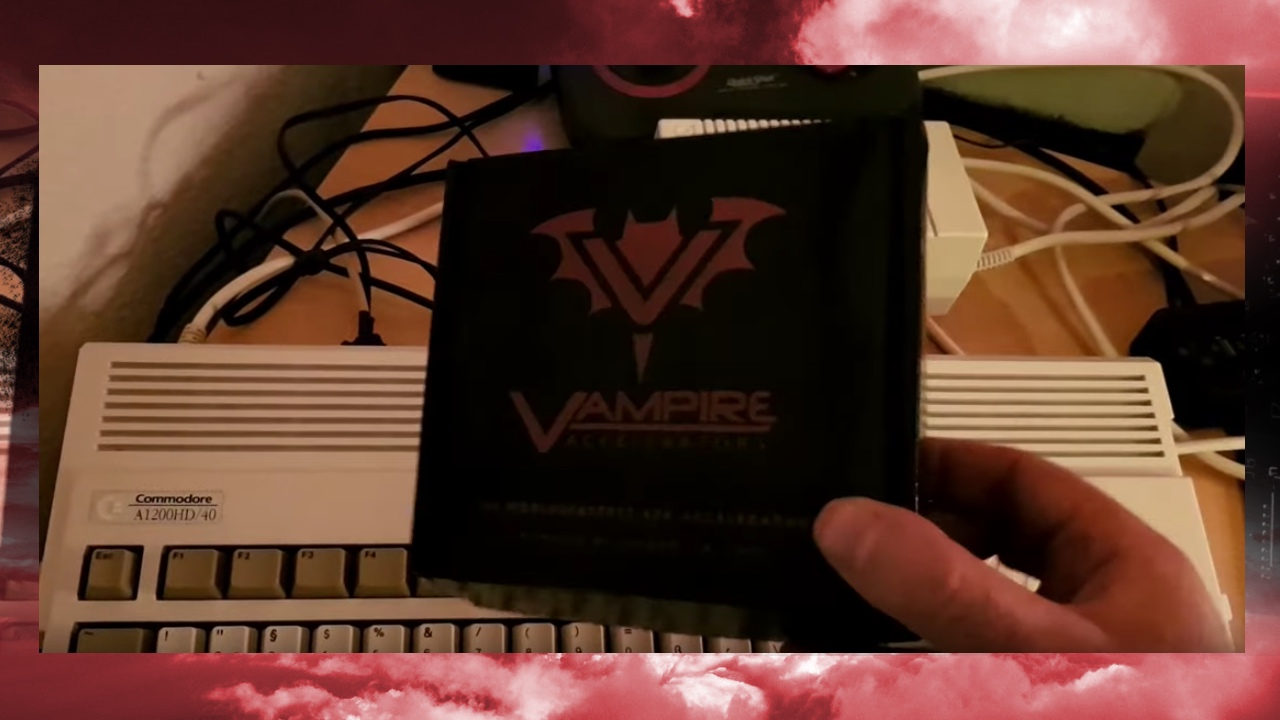 A very beautiful V LED design on the Vampire 1200 accelerator
At the end of the video above and in the picture below. Pedro shows us how a very nicely made red and white V led light is lightened up with the Vampire 1200 accelerator turned on. For some this might be a gimmick but why shouldn't a Amiga product also be presented in a stylish way?
I love the design of the V. I personally think that Apollo Team have used lots of time on this product so to see something special like this is really nice. Its a nice sign for the hard work that is done to make this card a reality.
Maybe Apollo Team could make this as a standard sign? It would be really awesome if they could implement this V sign into their marketing. Put it on their websites and really do a nice marketing of their cards. Including their Vampire V4 Standalone. 
Vampire 1200 card is a long awaited accelerator for Amiga 1200. Soon it will be available for everyone to buy. It will for sure move this 1992 Amiga forward.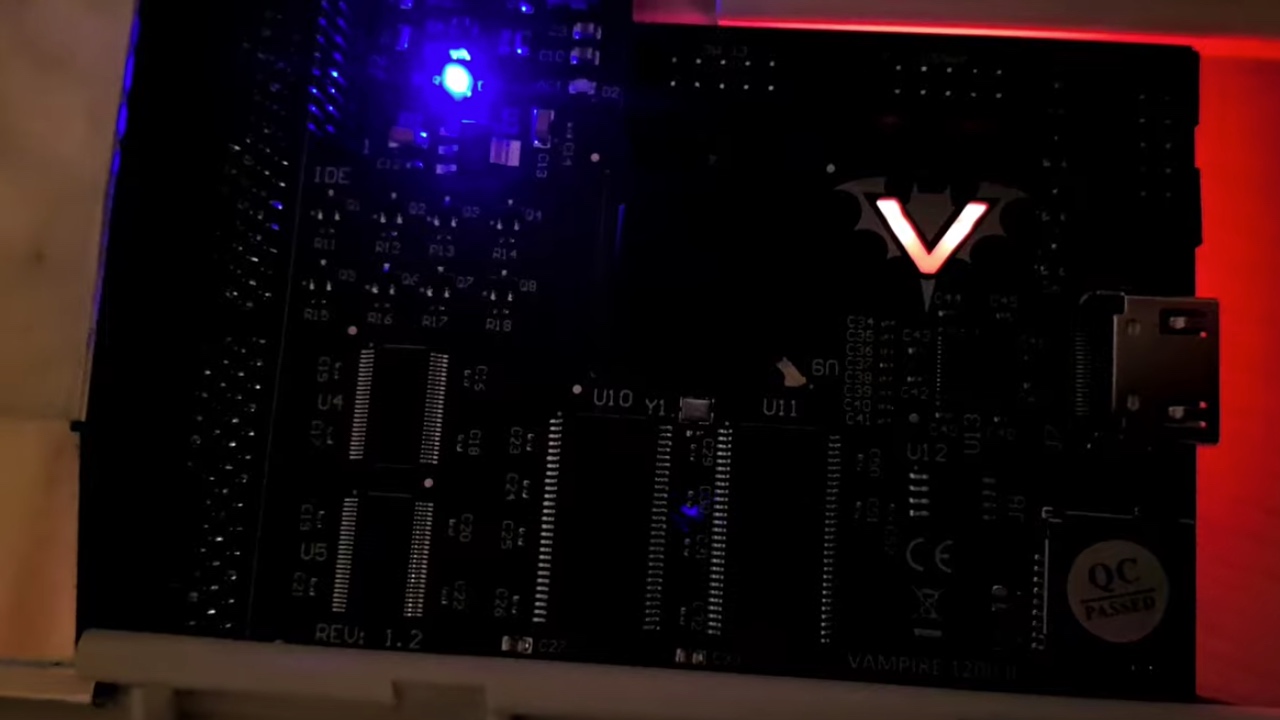 It will be an interesting spring ahead for many Amiga users worldwide. With both Warp team and Apollo Team releasing new accelerators for Amiga 1200. It seems to be a become a bright one and Amitopia Amiga Magazine will try to help out as much as we can.
Early Vampire 1200 FAQ
How to install Vampire 1200 into your Amiga 1200?
The Vampire 1200 card uses the main accelerator slot on the Amiga 1200. It is located under the motherboard.

If there is no accelerator card inserted there from before. You just push the Vampire 1200 into its slot for usage. On the Amiga 1200 there is no CPU to remove like on the Amiga 500 version.
What type of OS does it run?
The newest AmigaOS 3.1.4 from Hyperion works. Also the new AROS 68k distribution works and also AtariTOS. There is also a Coffin distribution for Vampire that is based on AmigaOS 3.9 but that one is illegal. The author of this distribution have also included free software without asking for permission to add them.

The choice is yours!
Will Vampire 1200 be able to show 720p thru HDMI?
By using the HDMI connector out. You can now connect your Amiga 1200 to any HDMI type of monitor. But be aware. You need to adjust this and therefore you should use some time on configuring this.

Once the SAGA driver is installed. You can use the HDMI out connector. It will show you a default screenmode that should be visible on your monitor. You can however configure it to show 720p but this depends on the monitor that you are using. On our Amiga 500 with the Vampire V500 V2+ I manage to get 576p out.

Our advice is that everyone should have a second monitor connected when you configure this. Especially if you install the older AmigaOS 3.1 or the newer AmigaOS 3.1.4 from scratch.
Where do I find all of the important info about Vampire?
Source: Pedro Cotter video on YouTube