Lots of fixes for AmigaOS 1.x users. Sliders fixed, window background pattern, font changing, and windows resizing added (also works nicely on AmigaOS 3.2 and MorphOS 3.17)
There are also new music formats supported to be added to HippoPlayer. Here are two of them:
#1 – Mark Cooksey Format
Eagleplayer "Mark Cooksey" by Wanted Team
Plays most Mark Cooksey modules that the author has found
Sample scopes supported
#2 – Art Of Noise 8 channels Format
Replay code by Bastian Spiegel (Twice/Lego)
68020 or better required
Sample scopes supported
Modland has a bunch of these, get them!
Modules PL also got some of these mods
This is great for users using soundcards with Amiga or if you have activated 14-bit mode. This can be used when using DBLPAL or DBLNTSC modes including a graphics card.
If you use an RTG card with your Classic Amiga, 14-bit mode can be activated using the Picasso96 tool. You also need a better CPU if you want to listen to MP3s.
AmigaOS needs to be opened in an RTG screenmode such as 16bit, 24bit, or 32bit mode. Then you must Open Shell/CLI and type this:
SetEnv EnvArc:Picasso96/AmigaVideo 31kHz
Remember to reboot. Now HippoPlayer will detect it automatically.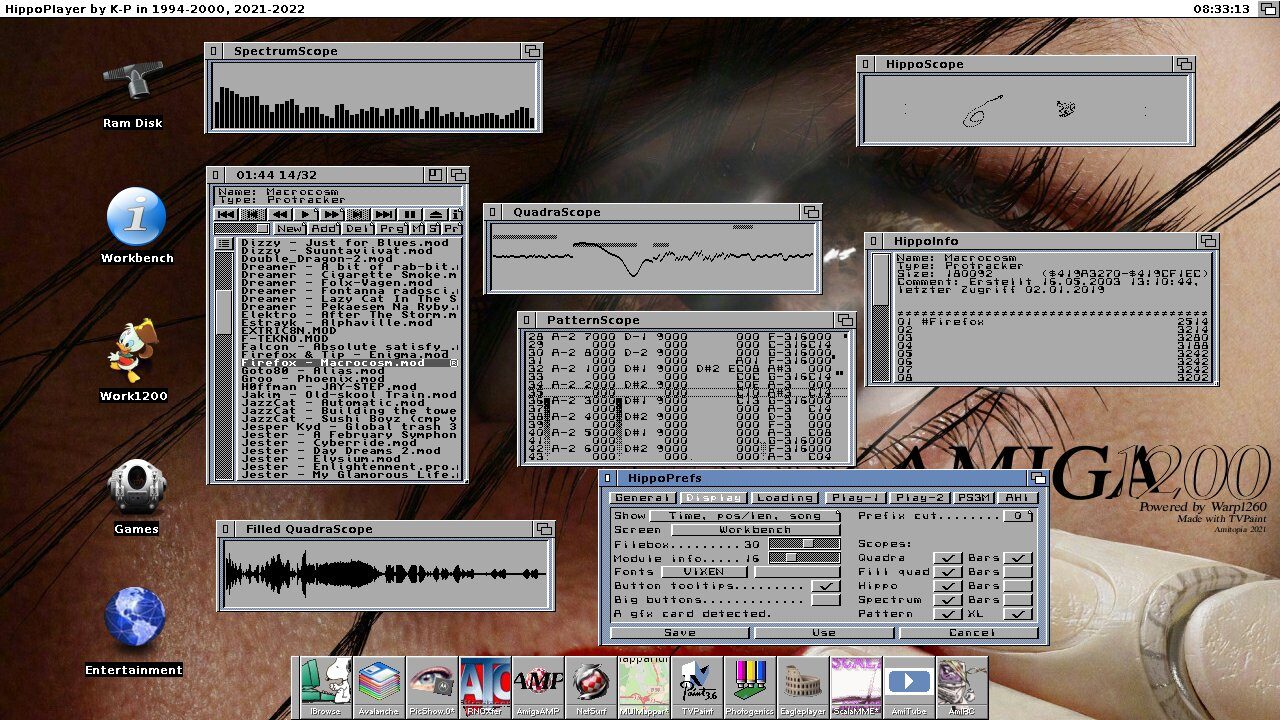 This Version of HippoPlayer is Tested by Amitopia
The newest HippoPlayer works nicely on AmigaOS 3.2.1 but on MorphOS 3.17 even if it's set to use AHI. It freezes for some reason when trying to play MP3s. HippoPlayer 2.54 loads up as it should on MorphOS now, so that's a huge improvement.
I've tested MODs and MP3s on my Amiga 1200 68060 100MHz (Warp1260) where the player is at its best. The program should however detect that you don't have Paula and work with AHI devices from the moment you load it up. The very first time when the application loads up it should ask the user if You use Classic Amiga or DraCo, MorphOS and AmigaOS 4. Then it can be used without the need to enter Preferences.
It is awesome to see that HippoPlayer is under development again. Great applications deserve Love!