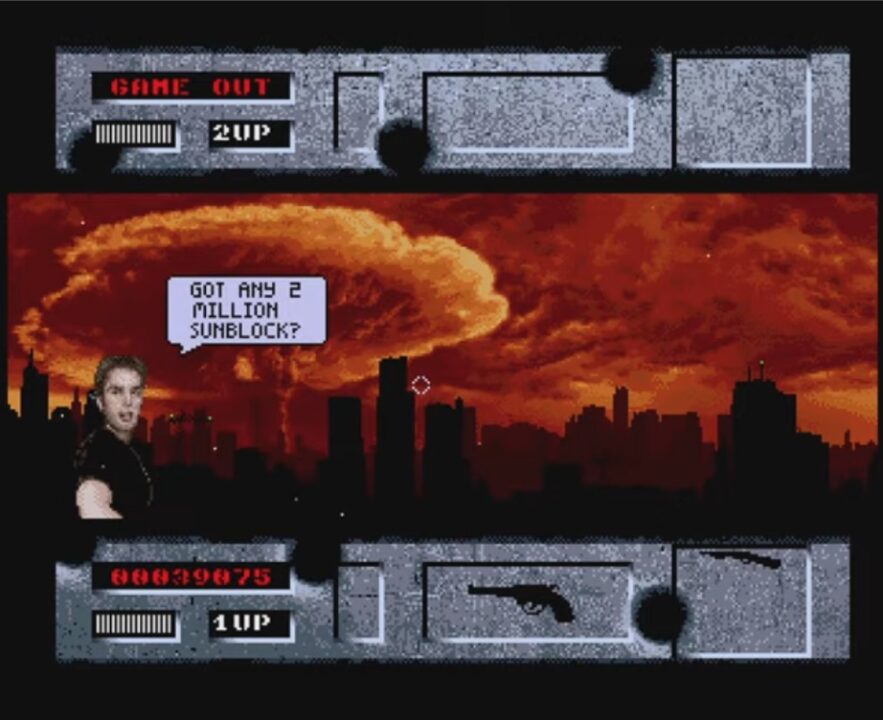 Amiga Bill got an exclusive first look at the new Bean Vs The Animator for all types of Amigas with 1.5MB RAM or more. The game will work on all Amigas with 1MB of Chip RAM and 512KB Fast RAM. However, if you have more Fast RAM it is better all in all.
The Bean Vs The Animator for OCS Amiga's is coming this summer to the Amiga as stated in Amiga Bill's stream. It is inspired by the classic arcade games where you use a gun to shoot. You might remember Duckhunt for Nintendo?
A Terminator II inspired game for Amiga
Terminator 2: Judgement Day is the inspiration for Bean Vs The Animator. The game supports guns for Amiga and also the new Sinden light gun. Do you remember Capone that was released back in 1988? It was distributed by Actionware and developed by Pierre Maloka (code), Brian Williams (graphics), and Dana Dominiak (graphics).
There are 6 levels available in the full version with lots of action and some wicked humor. 2 simultaneous players can have a gun blast fun together too. A perfect Amiga Party game in development. It's amazing to see new games getting developed for the Amiga platform. It's a blast to not have left Amiga at all. The community is a remarkable army helping the Amiga to survive.
Supporting Amiga game developers is important. Amitopia got you covered!
Visit 17BitRetro on Twitter: https://twitter.com/17BitRetro
And remember to watch Amiga Bill's stream on Twitch. Live AmigaBill Streams Every Sunday on Twitch https://www.twitch.tv/amigabill !
I can't wait to try this game out!