Amitopia Amiga Magazine is Finally back. After days of drama with our host company in Australia getting attacked. Our database was damaged heavily but we managed to rescue a lot because of a backup of Amitopia that we had.
We have also used archive.org to repair damage and also for getting correct info about Amitopia at the bottom of the page.
Amitopia Amy Is Alive Campaign
There is so much talk about this and that so I want to kick off Amitopia's re-launch with Amy Is Alive campaign. Yes! We will put some effort into bringing you the correct Amiga feeling back. Our girlfriend Amiga (in Spanish) had this sexy image back in the '90s with many artists drawing unbelievable pictures in Deluxe Paint.
So, since Spring is soon here. We loosen up a bit and will bring you some of the best and hottest Amiga drawings ever in the AmigaScene and write about them for you. I will also try to hunt down those artists that painted these sexy and unbelievable drawings on Amiga. So, settle for a Spring that might melt the snow outside faster.
You can walk to many art galleries in the world, but those that made the Amiga art so special and still do will be revealed this spring on Amitopia Amiga Magazine.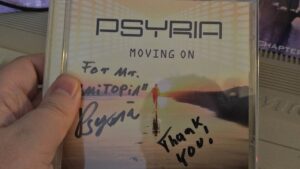 Amitopia Amiga Archive will Be Back
Not only will you see a bigger art campaign on Amitopia this spring. But our plan is to construct Amitopia Amiga Archive very soon to full service is also a priority. But this time this archive site will be in HTML 4 so that anyone with iBrowse on Amiga can reach it. So the old one is gone.
With this move, we want to not just support next-generation AmigaOS users but also most of Classic Amiga users which are online.
Let's hope to not see any more downtimes such as this one anymore. Let's move Amitopia Amiga Magazine forward. Let's deliver the Amiga content that you enjoy to read. That is my plan and I hope you will stay.
Now Amitopia Amiga Magazine will be backed up much more often than before. Now we have learned and hope to see this magazine alive for a long time online without further downtimes.
Thanks for patience and thanks for coming back.
Best Regards,
Michal Bergseth
www.amitopia.com