Got some spare headphones with minijack? Wanted to hear how Amiga Paula sound should be with them? Did it sound strange? Well, it's because Paula itself isn't mixing the channels at all. So, when you connect your regular minijack headphones to your Amiga without a Amplifier. The channels sounds not correct.
Listening to Amiga Protracker MODs without a Amplifier is terrible. You need speakers that can mix the sound for you. But many of these doesn't have headphone choice at all. Also there are speakers without any mixing feature that won't sound good neither. You will hear all of the samples separated and not mixed when listening to Amiga MODs or playing Amiga games.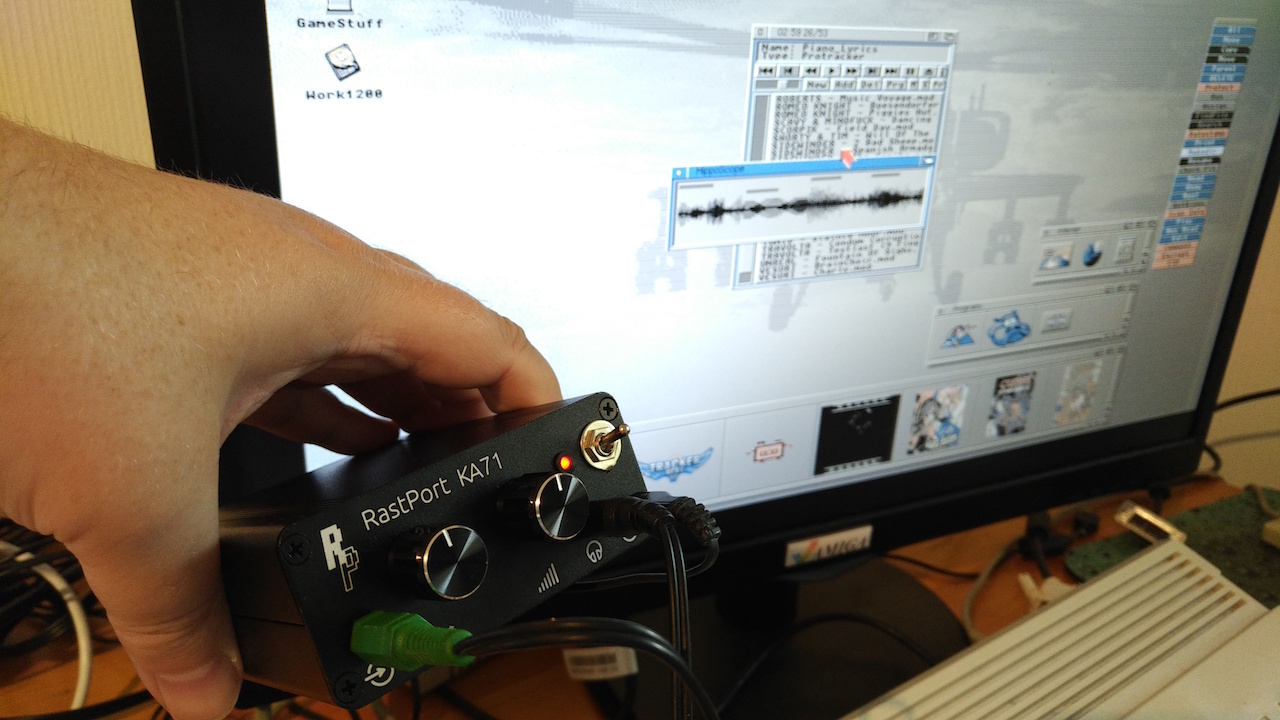 KA71 solves Amiga Paula Mixing issues Perfectly
So, what is about KA71 that it stands out? It is the fact that it is mixing the Paula channels for you, so that the quality to your headphones is perfect. You need a phono to mini jack converter that goes into the input minijack on the left side. Then you need to connect your headphone to the minijack connector on the right side. So! With KA71 Amiga Amplifier connected to your classic Amiga home computer.
KA71 Amiga Amplifier let's you listen to perfect Paula sound with your headphones or cheap speakers without any mixing capabilities. It is a totally new product from Rastport that Amitopia got for making this review. Let's Go!..
Crossmixing Magic with KA71 is a Magic gift for your Classic Amiga
The KA71 Amiga Amplifier box from Rastport is a solid one. The design is great. With all inputs, mixing, volume, power light, power button and power connector having their own icons. It is easy to understand what is doing what. The KA71 Amplifier also got batteries inside. But that's the only thing that I would say is negative. You don't need to use the batteries at all as a regular USB type B is what the power connector is. If you use it, you don't need to open the box. This box design of KA71 is too nice I think! Opening the box meaning screws have to be taken out and I never wanted to do that. So, I haven't tested the device with batteries mode yet.
When it comes to the KA71 stereo headphone amplifier sound Quality. It is perfect. I am listening to Paula sound from my Amiga 1200, while writing this review on our iMac i7 machine. KA71 simply gives Amiga the magic that all mini jack headphones should had from the very beginning. But it also provides music quality that is so Much better than ANY PCI Soundcard's can provide. Yes, it doesn't compare. Either you got a Soundblaster PCI Soundcard for your Amiga, PC or Mac! Paula outperforms them. Paula is Magic!
With additional function of stereo channels crossmixing. As such KA71 Amiga Amplifier is designed for all Amiga computers or even for other consoles that doesn't mix sound channels neither! Amiga sound chip Paula sends two of it's four audio channels to stereo left channel, two to the right channel. They are fully separated as described above, which is annoying especially when listening with headphones. KA71 fixes this as it can mix stereo channels at a level adjustable with a knob, from full separation to mono output. It can be used with any computer machine having monophonic audio, or to mix two computers simultaneously playing parts of the same song.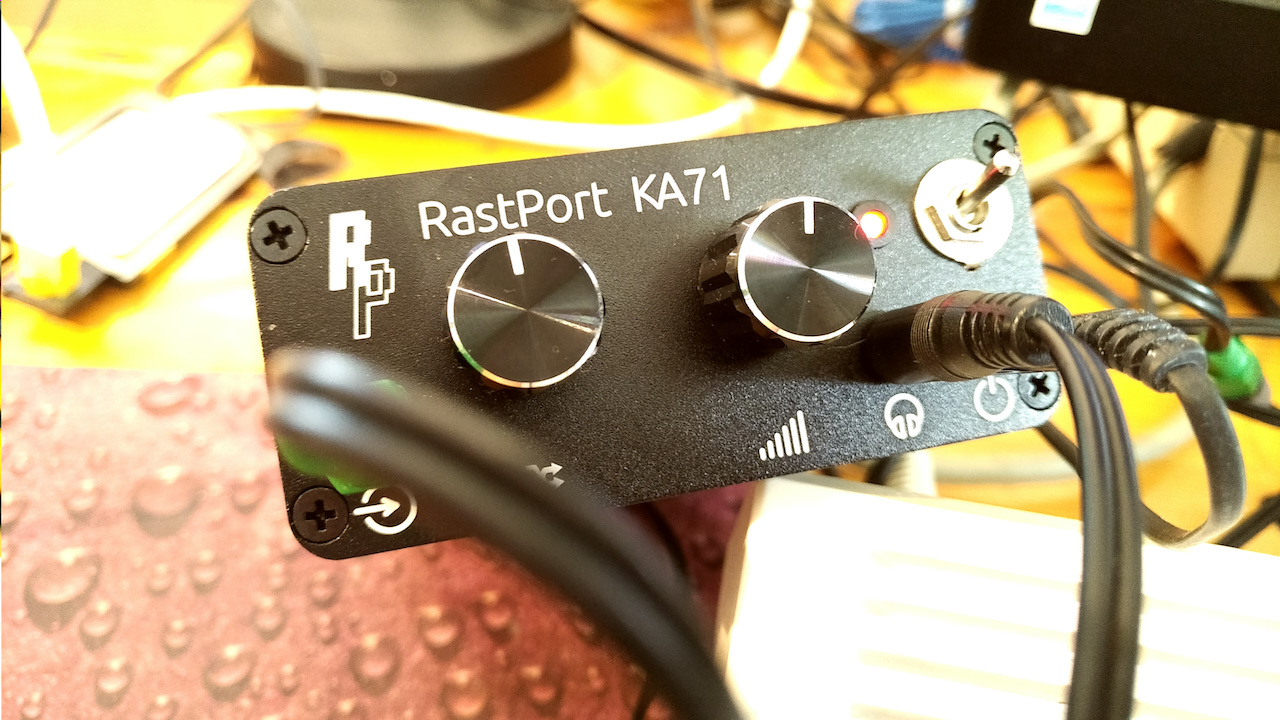 Use it as a regular Headphone Amplifier for your Smartphone with mini jack connector
Of course one can also use KA71 as a regular headphone amplifier with smartphones, music players, computers and other sources. The sound quality is nice and it got nice and stylish knobs. For headphones without any Amplifier added to them, KA71 from RastPort is a perfect device to have. But the best usage for it is giving the Paula Amiga sound stereo channel crossmixing to your headphones or speakers without mixing capabilities.
Overall! This product is stylish, it delivers what it supposed to do. Only downside is the battery solution and yet again I also miss instructions on paper to make the product feel totally complete. You get all the info on the website of the company, but it's the extra touch.
When it comes to batteries. That issue is not a problem, since the product use regular power. You can find lot's of USB Type B power connectors sold in almost every electronic  store in the world. Connecting and using KA71 isn't difficult to get. Simply plug everything everything and make sure that the volume knob isn't turned too much to the right or you can damage your headphones or speakers.
This is overall a quality product, that isn't too pricy. Especially since it comes from a Amiga company like RastPort that you can get from one of these Amiga resellers:

KA71 delivers what it Should for all Amiga users out there and More
It is fantastic to see Amiga souls deliver such quality products. KA71 is delivering what it should! Your Amiga home computer will be happy! Get it and support the author. He given me signals that the product isn't selling as much as he thought it would. I am sort of shocked about this as KA71 is a very good Amplifier for your Amiga. Listen to MUSIC from your Amiga like a pro. I am saying this not to only help the sales… but its true. KA71 is a solid product.
For much more information about this product. Goto Rastport.com website
[wp-review id="23098″]