The new Amiga compatible computer Vampire V4 Standalone just got an update. The 68080 core is an FPGA reimplementation of the 68k series by Motorola providing great speed, graphics, and HDMI out.
The core by Apollo Team is used in both of the Vampire accelerator boards and Vampire V4 Standalone. Apollo Release 5 provides the following changes for Vampire V4 Standalone below. To download the latest core, please download it from the Apollo Core website.
V4 Core flashing can be done in two ways:
1. First update your Amiga OS (for example Coffin) to the newest SAGA-Driver, so you have the newest VampireFlash. Then open CLI, go to the folder where you have the new Core (.jic) file, and type "VampireFlash SA_Release5_7905.jic". It's real easy and safe, but in case something does go wrong, you will need a USB Blaster (see 2)!
2. Use a USB-Blaster with Quartus software. I recommend always to spent a few bucks on this as a fail-safe to always be able to recover your precious V4SA. (Willem Drijver, Apollo Core)
Most important Release 5 features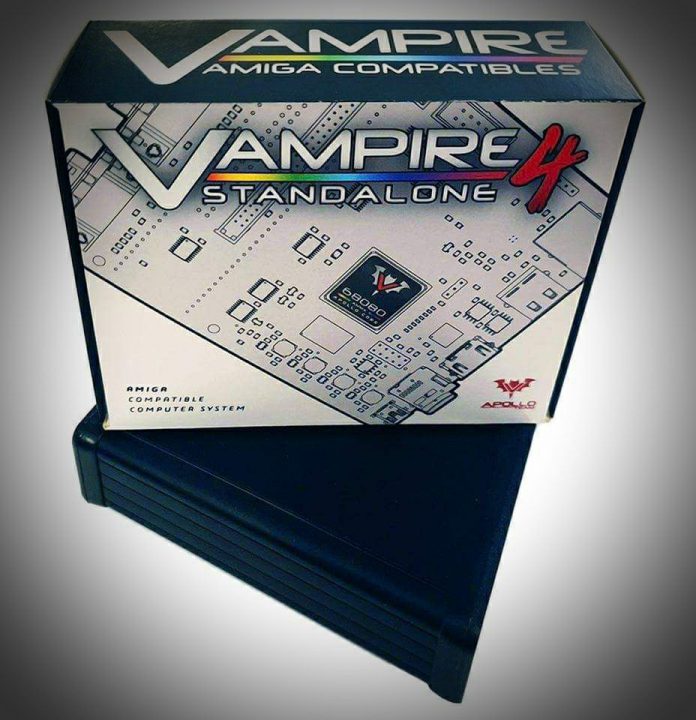 Copper compatibility fixed
The Apollo Team found a bug in Copper and fixed it. This fixes a high number of games that didn't display perfectly on the monitor or screen that you use with the Vampire V4 Standalone.
FPGA CPU Speed Up
Apollo Team is working on /testing CPU improvements which will give you about 10 MIPS speedups, Gunnar mentions in his news about Release 5. Their target score is 165 Mips which is impressive for a Classic Amiga computer. Vampire V4 Standalone is doing an important step forward.
H.D.M.I Monitor compatibility improvement
At the moment, there are a few monitors that don't like the Vampire V4 Standalone signal. This is a task that the team is working on.  Also with Release 5, the team releases more Screenmodes. More Screenmodes added to the monitor drivers allowing you to output 800×600 and 1024*768.
Other important improvements with Release 5  
Deluxe Galaga works now on ApolloOS
RiVa Video Player PIP improvement! This gives Smoother truecolor Video Playback for the Workbench 
ApollOS Kids edition with all games child safe!
Magic PAL/NTSC Hotkey
  (You can even during runtime switch your Amiga video out to PAL/NTSC50/NTSC).  This allows running games like a PAL or NTSC Amiga
What is copper?
Copper is originally part of the Agnus chip. So it is great to see that Vampire V4 Standalone is getting more and more compatible with the Amiga custom chipset.

Agnus is the central chip in the design. It controls all access to chip RAM from both the central 68000 processor and the other custom chips, using a complicated priority system. Agnus includes sub-components known as the blitter (fast transfer of data in memory without the intervention of the processor) and the Copper (video-synchronized co-processor). The original Agnus can address 512 KB of chip RAM. Later revisions, dubbed 'Fat Agnus', added 512 KB pseudo-fast RAM, which for ECS was changed to 1 MB (sometimes called 'Fatter Agnus') and subsequently to 2 MB chip RAM. (Wikipedia)
What is an FPGA?
FPGAs are particularly useful for prototyping application-specific integrated circuits (ASICs) or processors. An FPGA can be reprogrammed until the ASIC or processor design is final and bug-free and the actual manufacturing of the final ASIC begins. Intel itself uses FPGAs to prototype new chips.

Apollo Core 68080 is the natural and modern evolution of the latest 68000 processors. It's 100% code compatible, corrects bugs of 680×0 designs, and adds on the topmost of the cool features which were invented the years after.

When put in an FPGA, the Apollo Core offers a good combination of moderate FPGA space consumption and excellent performance. Apollo Core 68080 surpasses the performance of 68060 ASIC by far – even when only using low-cost FPGA.
What is ApolloOS?
When Vampire 4 Standalone was launched Amiga resellers approached us about selling Vampire 4. Unfortunately, they insisted on bundling AmigaOS and refused to support AROS. While we adore Amiga OS 3.X and all its iterations the current legal climate made it impossible to ship Vampire 4 with Amiga OS 3.X as standard. We wish both parties the best possible outcome for themselves and the Amiga community.

The overall feedback from dealers was that AROS isn't ready for prime time and Amigans will never embrace it.
We disagreed and that rejection only made us redouble our efforts to convert AROS into the premiere Amiga 68K OS with a pleasant out of box experience.
(Gunnar von Boehn, Apollo Team).

Read the entire reason for choosing ApolloOS