One of the best next-gen AmigaOS systems is MorphOS.
But speed is not everything. You also need an OS that works as a nice working tool. MorphOS is a powerful light OS running currently on PowerPC machines that got lots of power.
Since MorphOS 3.12, it provides Nextgen AmigaOS features that no other AmigaOS got. It is supporting a dual-screen feature if your computer supports it. But now you can do even more with the added active Borders of the screen!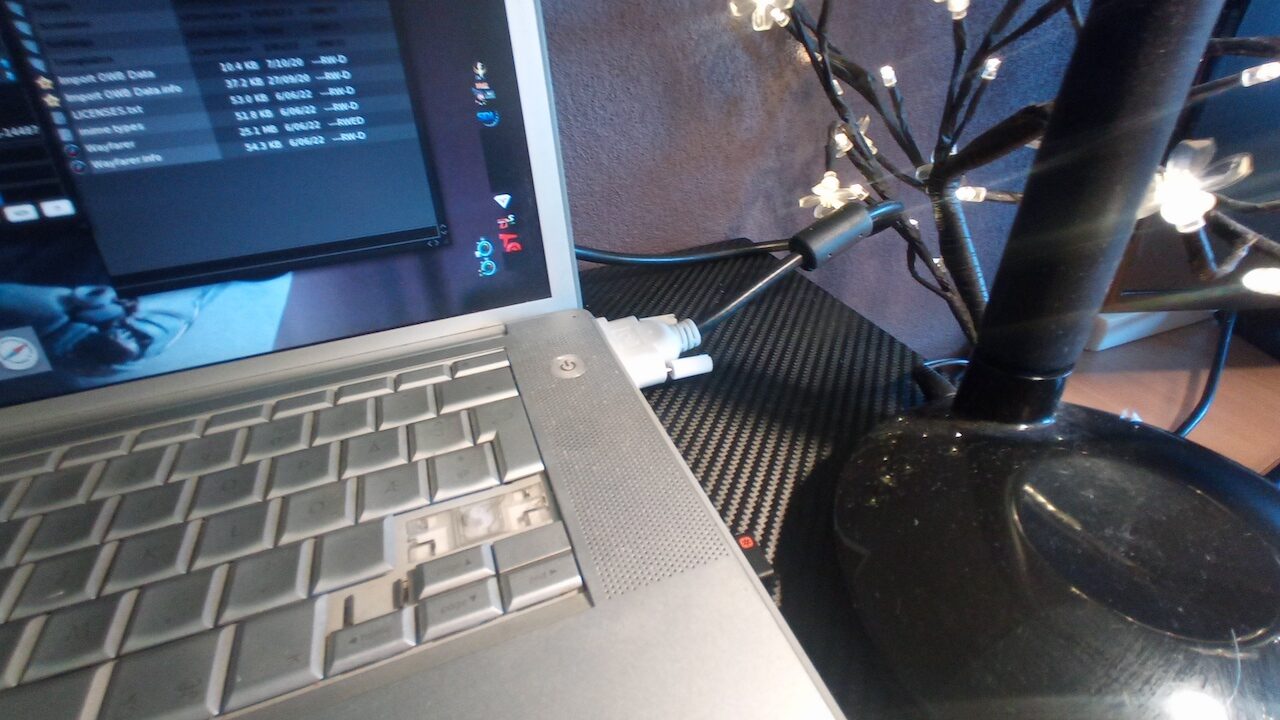 To make this possible. You need PowerBook G4 with DVI output or a PowerMac G4 or PowerMac G5 with a graphics card supporting this. In the picture above you can see that my monitor is connected to the DVI port on my PowerBook G4.
A dual-screen function is something that is standard in Windows and macOS for many years and Now Active Screens works!!!
Move the mouse pointer Between Active Screens with MorphOS
Classic AmigaOS lets you use several monitors at the same time. You can't extend the desktop at the moment.
This new feature in MorphOS takes the Nextgen AmigaOS possibilities one step further. With the latest MorphOS, you can extend your desktop usage on several screens.
Also, the mouse pointer can be moved between the monitors so you don't need to switch by using Left-Amiga (cmd)(win) + M or N shortcuts. This means that you can have MorphOS desktop running on one and any other AmigaOS application supporting using screen modes on the other one.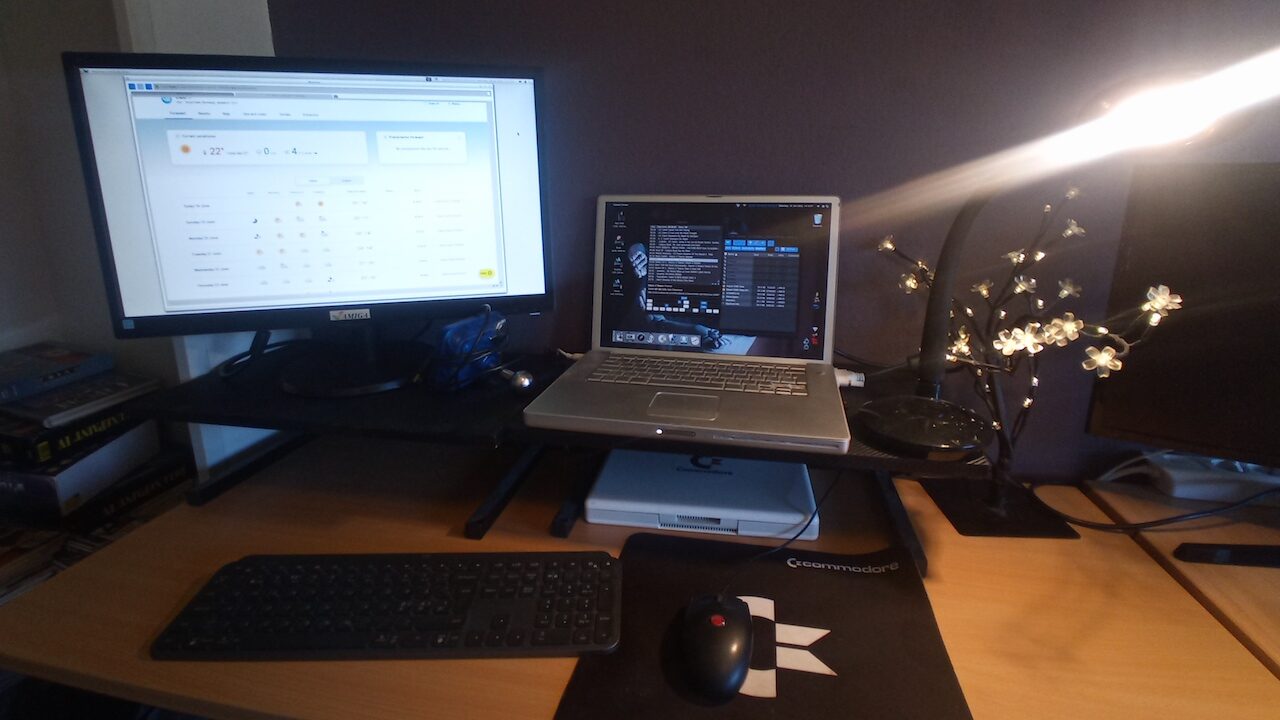 The borders of the screen become active automatic switching screens with the cursor. This also includes all MUI applications running on MorphOS. One less shortcut press is an awesome relief.
The only downfall, for now, is that you can't extend the MorphOS desktop yet over 2 screens itself. Maybe in the future?
Configuration of Active Window Borders is still in Development
Once there is a fix. I will add the information that you need. For now, this information is for MorphOS 3.17. The default active border is set to RIGHT. However, if you want to change this. There's no GUI configuration for this yet.
But it is possible if you add a file. See below for details.
Step By Step Guide
Open your favorite Text Editor in MorphOS
Save Layout.txt in Prefs/Presets/Monitors/ (not in the MorphOS directory)
Add text below to the system configuration that You use
PowerBook users: MAIN Radeon9700M.monitor LEFT
PowerMac users: MAIN Radeon9600P.monitor LEFT or MAIN Radeon9600X.monitor LEFT
Source: cyfm on Morph.Zone
Classic AmigaOS applications on a Separate Monitor
It doesn't matter what AmigaOS application you use. Just tell it to use the external Dual Screen mode and it will always open on the external monitor. The external screen will use something like Radeon9700Mob.1.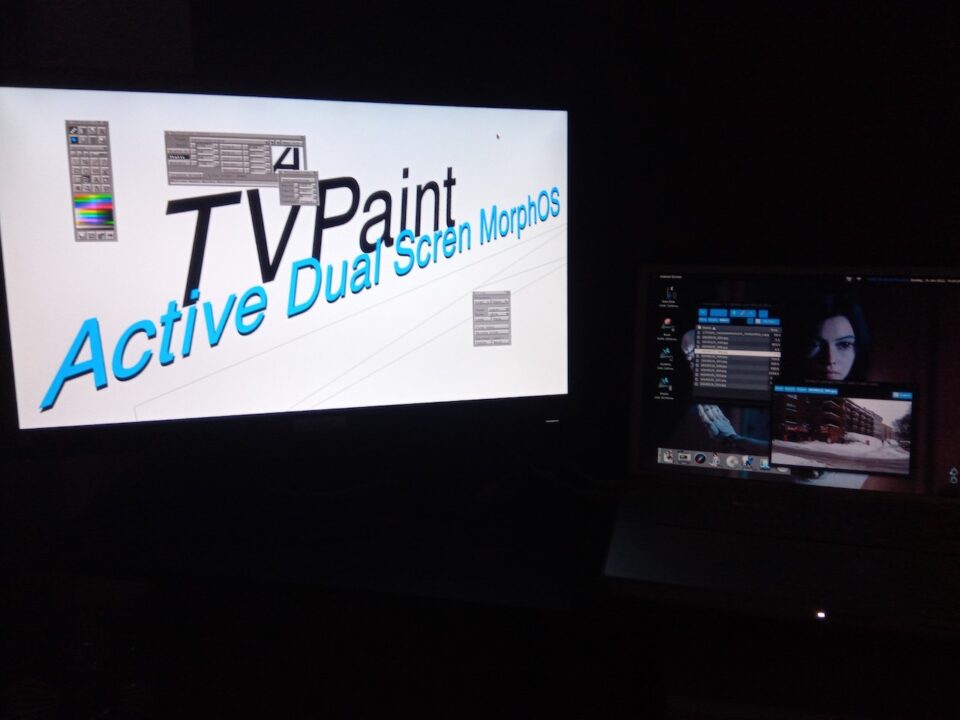 I am using this feature daily now as it extends my PowerBook G4's usage a lot.
The fact that you can move the cursor between the screens without hitting the shortcut makes it so much better. I use TVPaint daily in 1920×1080 on my external monitor for doing graphics for the site and video for Amitopia and Distrita.
MorphOS is in my view become a mature Nextgen AmigaOS in my view now. A fantastic OS to use that is fast and stable. So it deserves way more users loving to preserving the Amiga feel. MorphOS really feels like a modern OS now. Thanks to the awesome MorphOS Team!
Active Dual Screen is now possible. Happy moving the cursor between my screens!