If someone says to you that AmigaOS isn't out for x86. Then you are totally wrong! If someone from the PC arena says that AmigaOS isn't open source! Then they are totally wrong too. Because AmigaOS is an ultra-fast operating system which is also open-source thru AROS!
Now, Icaros Desktop 2.2.3 is out and there is no excuse anymore. AmigaOS is on x86 since ages and AROS development is thriving forward! and the most important notice for anyone out there. AROS is open source AmigaOS! So, anyone can develop this AmigaOS fork further. Icaros Desktop 2.2.3, is one of the AROS open source projects that have survived completely and which is getting updates now and then all the time. AROS lives on! Thanks to all of the brilliant Icaros Desktop coders and helpers out there.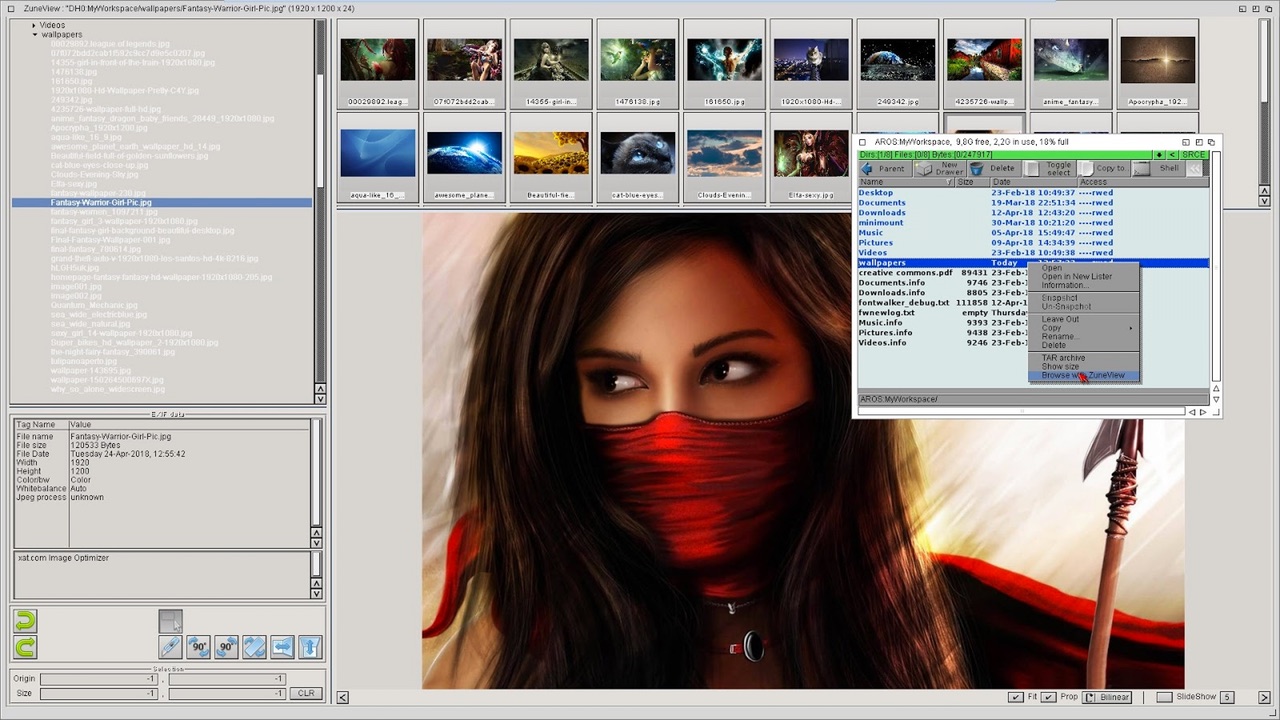 Fresh Icaros Desktop Update with many neat New Features and Fixes
A new update to Icaros Desktop is now available to patron supporters now. It's here because people want it to move on thanks to the donators. Great work!
This Icaros Desktop 2.2.3 release includes many updates to 3rd party applications that comes with AROS and also adds new picture datatypes (mostly vector and old-age bitmap formats), which were missing in AROS since the dawn of time. The Icaros Desktop development team have fixed many bugs in hosted mode and polished the distribution here and there.
As usual, the updated Icaros Desktop version will be available to patrons only for a while, then it will be publicly released. Support Icaros Desktop by entering their patreon site here.
New Features and Fixes since the last Icaros Desktop Release
fixed AHI preferences, removing an unwanted default ahi.prefs in envarc:
updated Annotate to a more recent build
updated lame to v3.100 final
added AmiCast Player to Multimedia programs
added DClock to Misc programs
added HyperRogue to games
updated zlib to development libraries
added webptools to MediaEditors and development libraries
updated RapaGUI plugin to the latest version
added polybios to Hollywood plugins
fixed Wanderer crash when opening Host: volume on Linux hosted
fixed AROS crash when using ALSA driver on an x64 system without i386 libs
fixed permission bug which prevented HostBridge to correctly run on Linux
updated AmiCloud to v2.0-RC9
updated GrafX2 to v2.5
added xpdftools to Media Editors
updated YAM to version 2.9p1
added koala paint datatype (popular C=64 graphics format)
added ZXSCR datatype (Sinclair Spectrum screen format)
added xbm and xpm datatypes
added SVG and FIG datatypes (vector graphics formats)
updated Giana's Return – Giana Sisters clone
updated Sqrxz 2, 3 and 4 executables for AROS
added hermes to Extras/Games
updated asl.library with Neil's fixes
fixed an old small bug showing a wrong icon in AmiStart full mode
Nice to see AROS development getting some Needed Push Finally
Great to see AmiCloud, YAM, AmiCast Player and AHI updates and fixes. The coolest thing about Icaros Desktop in our opinion is the possibility to run Dopus Magellan 5.82 as Workbench replacement. AROS feels and acts like AmigaOS. It doesn't support playing AmigaOS games natively, but it can by using UAE. There are several AmigaOS developers that also support AROS. One of them is the MUIMapparium developer, which makes an excellent Open Street Map viewer for all sorts of AmigaOS, and AROS!
Source and photosource: vmwaros.blogspot.com