Did you know that Amiga 500 from 1987 can become the world's fastest MacOS 68k machine? Well, I try to explain it in this short Q&A article. Because many don't know that Amiga 500 can be a fast computer.
Amitopia Amiga Magazine is a site source for everyone in 2020 that wants to focus on getting the correct info about Amiga. Because there are too many rumours spread that is false about Amiga 500. It is a computer and it is upgradeable. It is not a game console and never was . We support all making expansions for it as with any other classic Amiga computer. We support Apollo Team. 
In this article I wanted to focus on getting some questions regarding Amiga 500 answered regarding MacOS 68k. With a 68080 accelerator it is for sure a respected beast.
Amiga 500 MacOS 68080 Video Demonstration
 MacOS 68k on Amiga 500 FAQ
Can you use Cubase or Photoshop on your Amiga 500? With enough power this is possible. You can insert a Vampire 68080 accelerator into your Amiga 500 or any Amiga that is supported by the Apollo Team. Then you can run iFusion 68k or Shapeshifter and emulate at top speed.
How is the speed of MacOS on Amiga 500 with 68080? If I say that you can play Duke Nukem 3D at more than 32FPS and at the same time as AmigaOS is playing MP3s. These Mac emulators see the 68080 as 68040 73MHz or above. So you can be sure that Vampire accelerators have correct 68k core on them or else MacOS wouldn't run.
What do I get when using a Vampire V500 V2+? Including the mighty 68080 FPGA processor, you also get 128MB RAM, MicroSD card reader, IDE controller that can be run in Fast mode and HDMI out.
How do I replace the original 68000 with 68080? Just open your Amiga 500. Use a kitchen knife or a CPU slot tool. Take out the 68000 gently from its slot. The CPU inside Amiga 500 is on a slot so its easy to upgrade. Once the 68000 is out then you can replace it with the 68080 Vampire V500 V2+ accelerator. Put it gently into the 68000 slot of your Amiga 500.
Once you have installed your new power beast. Then open the left side of your Amiga 500 so you can gently get an HDMI cable thru it to the HDMI connector on the 68080 accelerators.
Then you connect your IDE hard drive to the IDE connector on your Vampire V500 V2+ card. We suggest you get a Compact Flash adapter that just sits on top of it. In this chase, it will be very stable.
Just make sure you have AmigaOS installed on your hard drive or compact flash drive. Then power on your Amiga 500 after putting everything back together and have fun!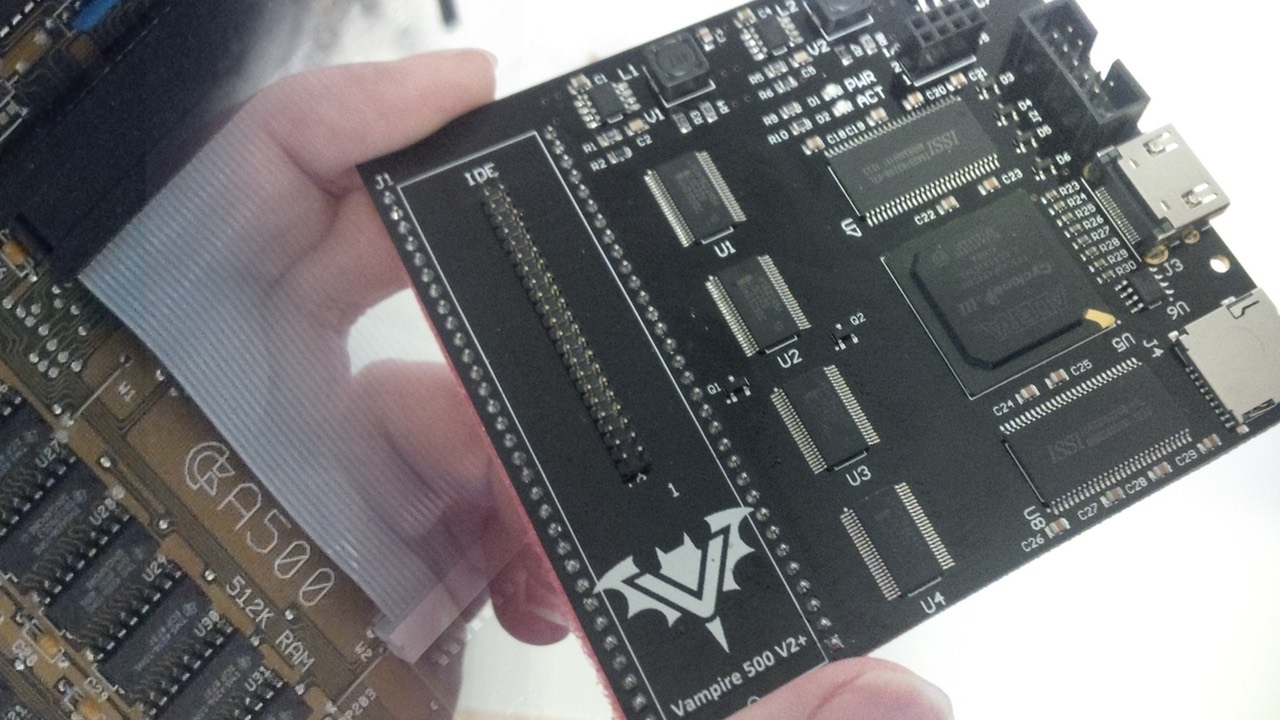 [wp-review id="25627″]
Download Corner: Download the Latest Cores from Apollo Team here
Important info!: Vampire V500 V2+ is made by Apollo Team. They also make Vampire V2 for Amiga 600, V1200 for Amiga 1200 (soon) and Vampire V4 Standalone. They all use FPGA with 68080 core developed by Apollo Team. This means that your Amiga 500 will be faster. But it also means that some compatibility will be broken. For each core that Apollo Team releases this is getting better.
Classic MacOS and AmigaOS FAQ
How to use Classic MacOS on AmigaOS?
You need an Macintosh emulator. There are two great options. One of them is Shapeshifter while the other one is iFusion 68k.
How to Install MacOS?
You need legal copies. Once you have chosen either Shapeshifter or iFusion 68k. You need to get MacOS from someone that having the original floppies. Follow the instructions with the Emulator and there should be no issues.
What sort of MacOS speed can you expect on AmigaOS?
Since the 68k Macintosh computers by Apple used the very same CPU architecture as Amiga. Then there is no need for CPU emulation. This means that MacOS runs as fast or even faster on 68060 or 68080 equipped Amigas since Apple jumped over to PowerPC quite early.
Can you run Duke Nukem 3D Mac version on AmigaOS?
With 68040 or higher this is not a problem. You need a graphics card for the best emulation experience though. If you use AGA Amiga, then a 68060 or 68080 is recommended. With a Vampire 68080 accelerator you will experience very nice FPS. No framedrops at all even with MP3 music playing in the background.
Can you multitask between MacOS and AmigaOS?
Yes you can. Just jump between MacOS and AmigaOS by pressing the Amiga jumpscreen key combination which is A + M for forward screenswitching or A + N for screenswitching back to AmigaOS desktop.
Amitopia Amiga Magazine thanks you for reading our magazine. If you feel for helping our Amiga dedication, please help us out here. We use our freetime to create this. With help from you we can get even more writers and contributors to our site.