On the 17th of February, WebKitGTK 2.34.6 got released and now Wayfarer 3.1 is out. It is mainly a bugfix release which is nice to see implemented in this remarkable web browser for MorphOS.
To install Wayfarer 3.1 you either download the web browser from the website or by Checking for Updates in the application itself. When you do so, you will see a window popup saying it found one, and then you can start to download the newest version of Wayfarer.
Wayfarer 3.0 + Wayfarer 3.1 Highlights
Updated WebKit codebase to the WebKitGTK 2.34.6 release
Added a Media menu with playback controls hotkeys
Added cookie/cache cleaning menu options
Password save requester pops up on more sites now
No longer writes partial files into the Curl cache
Launcher removes PROGDIR:ICU since it is no longer required
Fixed downloads from itch.io
Improved network error handling in the media player
Cleaned up console log output into dprintf
Fixed the base URL for HLS media chunks (fixes cnn.com, etc)
Fixed a crash on exiting fullscreen mode
The addition of playback controls hotkeys is interesting. Also, the fact that this browser got WebKitGTK 2.34.6 makes it the most modern browser. I wish however that Wayfarer got ported to AmigaOS 4 and AROS. AmiTube, MUImapparium and Ask Your Amiga is out for various Amiga systems. Yes, they are even out for several AROS versions too.
My first Wayfarer 3.1 Experience
On my very first try. The browser seemed fast, but once I tried YouTube it halted a bit. Browsing sites such as CNN or DW. Works much better.
The speed bumps in Wayfarer are still Here
Now I am typing this article on Wayfarer 3.1 using WordPress and it feels like a better experience, yet the speed variations that I wrote about are still here. They are even more noticeable now as parts of Wayfarer run silky-smooth. When I write using the WordPress editor. In one second it is fast but then the web browser halts the speed. Adding images to the article is slow and then fast.
What's up with that?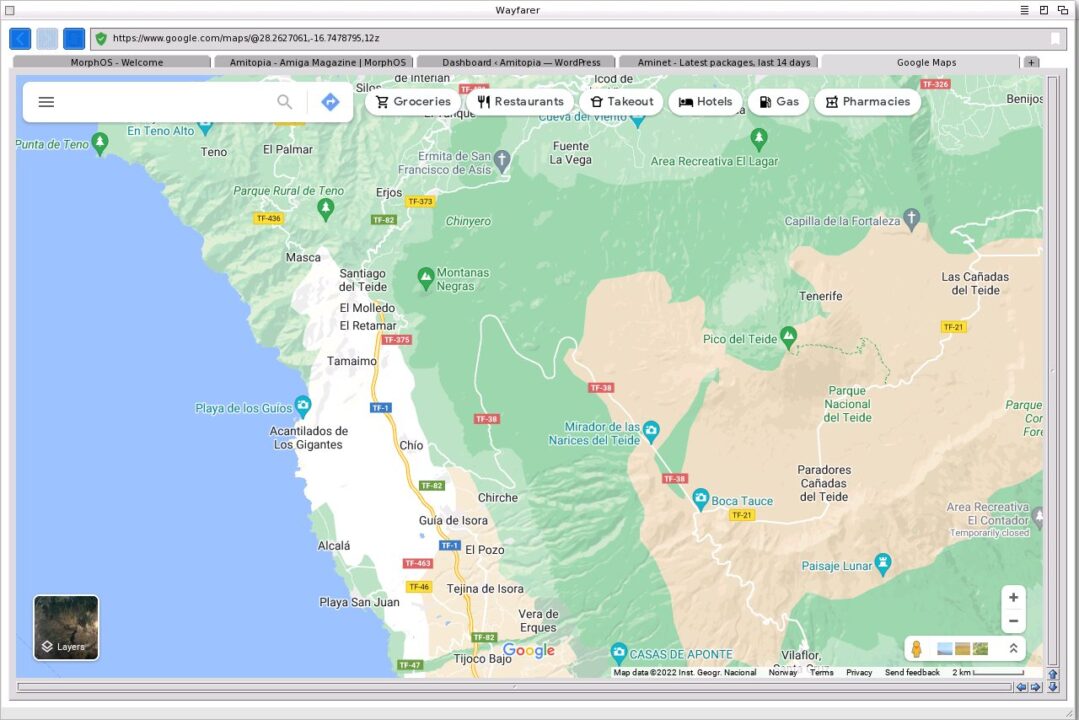 After the making of the video. I have also tested Google Maps and I must say that I am impressed. But still, the speed bumps that I will name it from now on cause the browser to halt the speed at times. I wonder why? It might be a mem issue on my PowerBook G4 maybe? But then MorphOS is not halted when using Wayfarer at all.
What sort of Wayfarer experience do you have? Especially with the new v3.0?
On the Amiga HTML-only sites the speedbump isn't that noticeable, but it is there. At times the browser opens Aminet as fast as iBrowse, while at others it takes about 14-20 seconds to load it.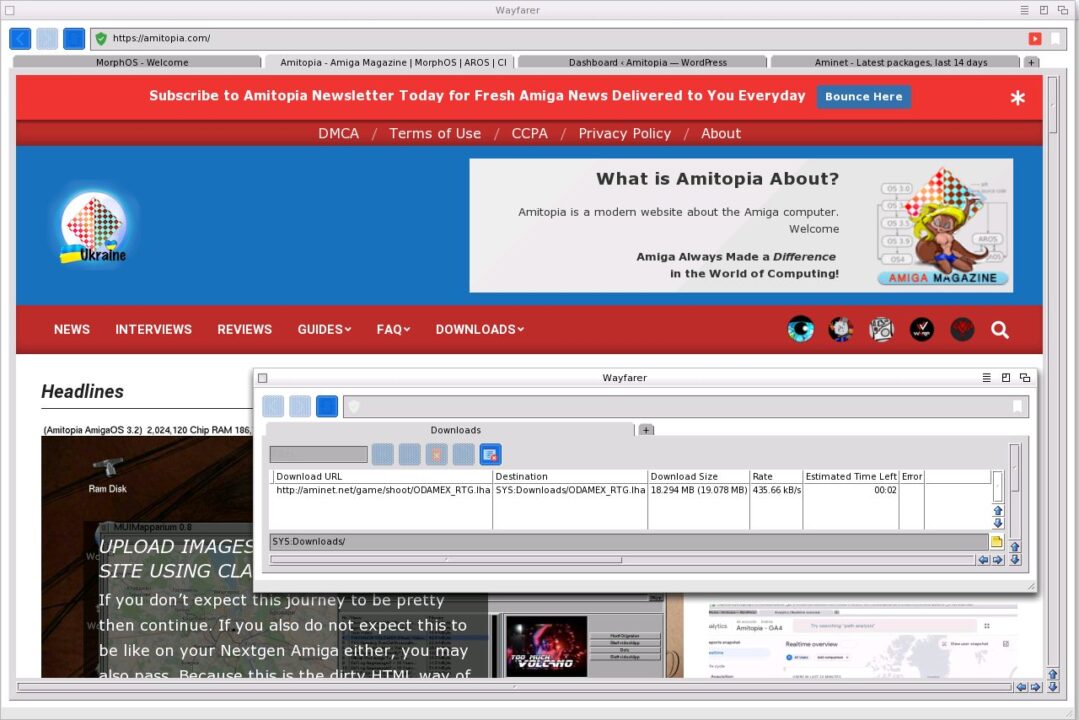 I am very impressed to see how far Wayfarer has come. It is really fun to see and feel all the changes. This browser is now the most modern one in the Amigaworld and also in the PowerPC world today. Thanks to the small team behind this. I am ready to test future releases.
Wayfarer is written by Jacek Piszczek. Additional code by Harry Sintonen, including but not limited to updating our compiler suites, libnix, pthreads,
and Netstack which made the port possible.