After a sabbatical year, we gladly invite you to bring along your Amiga's & Commodores again to join us for our 'CLUB MEETING': The Belgian Amiga Club & The Commodore C64 club Belgium presents a fantastic meeting on 4th of November 2017 at 18.00CET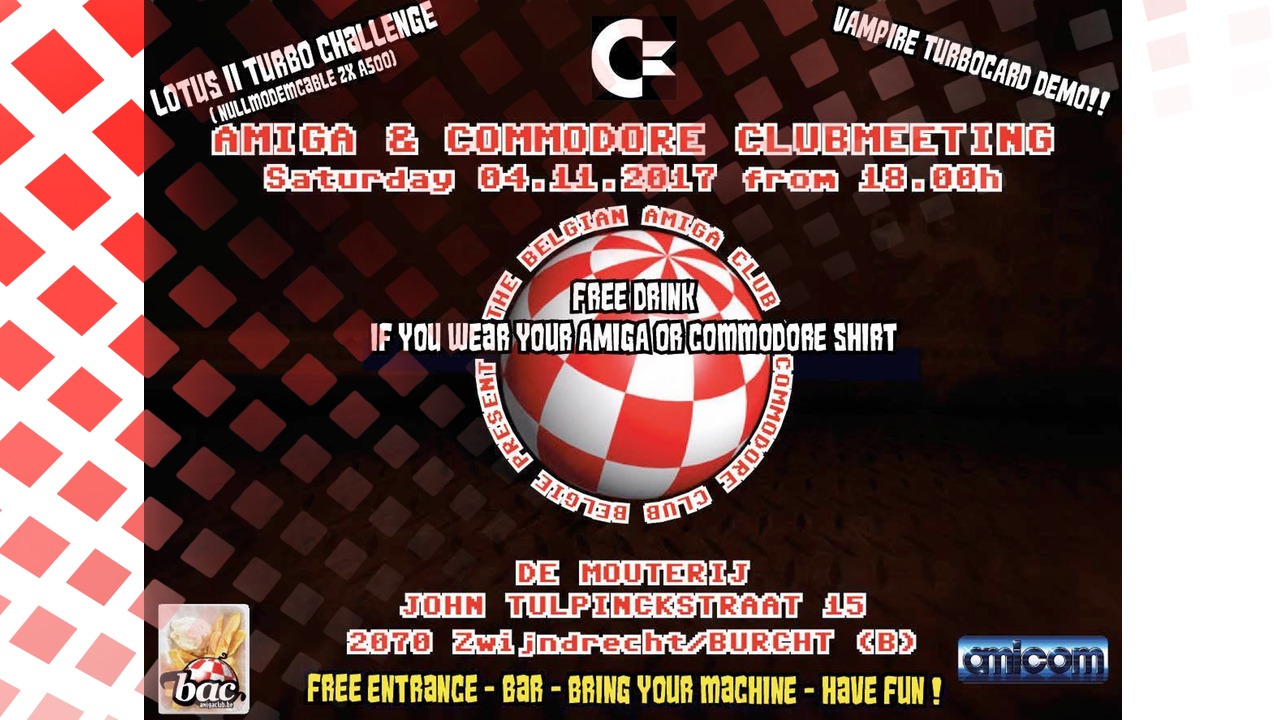 When?
Saturday November 4th at 18.00h.
Where?
De Mouterij, John Tulpinckstraat 15, B-2070 Zwijndrecht (B).

What to expect?
– We wouldn't be Belgians if there wasn't to be beer and fries involved. Meet kindred spirits and have a drink !
– Lotus II turbo challenge knockout race with 2x A500 connected with a null modem cable. Insert a coin in our little piggy to play. The winner takes the jackpot home. Start 20.00h !
– Bart from the Dutch HomeComputerMuseum (www.homecomputermuseum.nl) comes to visit us ! He will happily receive that old piece of hardware that is gathering dust for years now in
your shed. Eternal fame for you in his museum and Bart will be one happy fellow !
– Amedia Computer (France) will be present with the Vampire accelerator, an A-eon AmigaOne X5000 and a Clone FPGA. If you see something you'd like on their website ( www.amedia-computer.com ) they will gladly answer your interest and bring it with them on the 4th of November.
– Koen De Brabander (AMICOM) will be present to sign his '8-BIT KIDS – Growing up with the Commodore 64' book. If you missed his Kickstarter (http://kck.st/1q4Kq84 ), now is your chance.
– And last but not least: Stef will be present to present his "Bassoon Tracker" ( http://www.stef.be/bassoontracker/ ). Programmed in javascript to play and modify Amiga mods on-line. For those who want to know more about trackers, or want to re-boot his/her own on his/her Amiga, will be at the right place!
And above all: a FREE DRINK for those who dress smart and wear their C= of Amiga t-shirt!
So, after Amiga32 in Neuss that is located in Germany. The next weekend you can head over to Belgium and continue Amiga party there! What an awesome autumn for Amiga users all of the world in 2017! Be social and get out and meet other Amigans!
Check out more about this event here




www.amigaclub.be
Source
Simon Vergauwen from The Belgian Amiga Club