Because of OWB having an older Webkit. It was decided by Jacek Piszczek and André Siegel to create Wayfarer. A totally new web browser with a much more modern Webkit that can cope with Facebook usage on a PowerBook G4 1.64GHz. I tried and it worked!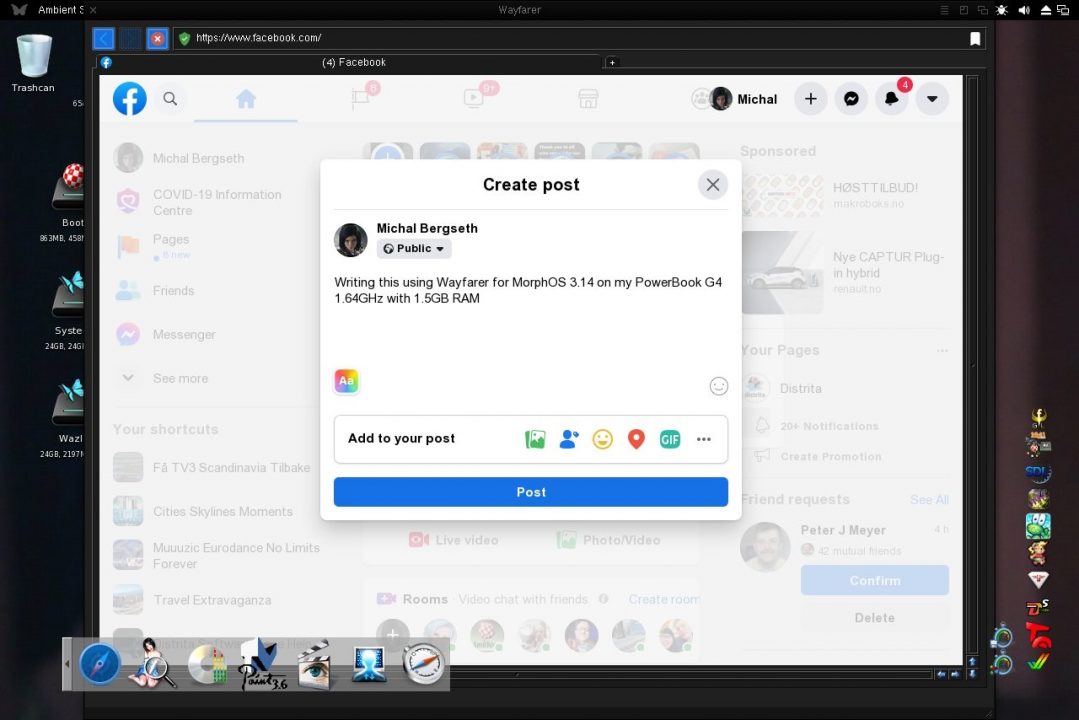 As you can see above. Facebook usage works. But is it fast? For me, it worked nicely but for a PC or Mac user. I think it's a bit slow, but with only about 650MB RAM left I think it worked nicely for what I got. With further updates, I am sure that this browser can boost performance too.
New Features in Wayfarer 1.6 for MorphOS
One of the most interesting addons is spell-checking support and a printing system added to the web browser. Here is the full list of improvements:
Fully WYSIWYG printing system
Spell checking support
Undo/Redo support
Networking thread optimized to use less CPU
Built with optimized OpenSSL for faster HTTPS connections
Added tons of help bubbles across the app
Added an option to log console messages to ramdebug
Added quit requester options to the Settings tab
Added a setting to popup downloads tab on new downloads
Tries to use the current tab for Downloads/Settings/Bookmarks if empty
Added an Error column to the download list
Added a context menu to the download list (copy path/url)
Download URL updates on redirects
'Download' Context menu will now use OpenURL for ftp/mailto links
Fixed resuming of downloads after error
Fixed to handle multiselection in the download list
Improved the Stop/Reload button; Reload forces a full reload (disregarding disk caches)
Fixed ctrl key handling in the text editor
Fixed a nasty 5 random-address bytes memtrash at the end of JS Promise handling that was the main source of instability on pages like PayPal, eBay, etc
Fixed a use-after-free in WTF's file system support
Fixed a crash when editing quicklink submenus
Prevents re-opening screen when loading a session
Disabled a bunch of memtrashing code paths in audio processing support
Fixed an out-of-mem crash in WebCore's JPEG decoder
Fixed a crash when adding quicklinks
Fixed size overflow on >4GB downloads
Fixed a potential browser crash after a hibernation
Jacek Piszczek and André Siegel have done an excellent piece of work here for all MorphOS 3.14 users to enjoy. So do update your MorphOS install to 3.14 if you haven't. Because that is really worth it.

Finally, MorphOS is getting a more modern surfing experience that is worth to use it in 2020. It is amazing to see what sort of performance MorphOS is able to give on systems that PowerPC systems that Apple left many years ago. MorphOS Team is for sure a team that should be rewarded for their support of old hardware. Politicians thinking green should really donate and give these brilliant nextgen AmigaOS supporters a big supporting hand for sure.
Why throw out old PowerPC Macs when You can use them because of support from MorphOS Team? You keep my iBook G4, PowerBook G4, and PowerMac G5 used for many months to come because of your support. I really enjoy using MorphOS together with my Classic Amigas. It's a blast and I also feel safe keeping my data on them too.
If you need a web browser for Classic Amiga. You can download iBrowse 2.5 that is an HTML-only browser or NetSurf that is a limited CSS browser. You need a 68030 CPU or higher. Amiga AGA or Classic Amiga with a graphics card is recommended. But don't expect the same performances on Classic Amiga as on Nextgen Amiga.
However, if you want to ask the net through sources such as Wikipedia with Amiga. You can use Ask Your Amiga for your Classic Amiga and also for both MorphOS 3.14 and AmigaOS 4!