On 21st of April 1997. WinAMP was born. At some point it was the most used music player for Windows. AmigaAMP which is for AmigaOS came out some years later. Now the author continues making it for AmigaOS 3.9 and AmigaOS 4.x
Added Support for the AmigaOS 4 version of AmigaAMP
The OS4 version now supports mpega.library as well.
Fixed closing files.
Improved stability of built in amp decoder.
Fixed Default file pattern so that dragging directories on AmigaAMP's AmiDock icon now works again.
Fixed loading of .pls files containing relative paths.
Fixed trailing zeros in day of month of recording filenames.
Fixed data curruption when deleting entries from the playlist.
Without a AmigaOS 4 machine in our office. I could only rely on what others got to say about it. Helge Kvalheim could confirm that it works nicely on his PowerPC based SAM460ex Nextgen AmigaOS 4.1 machine. The nice addition of mpega.library support in this version is great for the AmigaOS 4 version is fantastic news.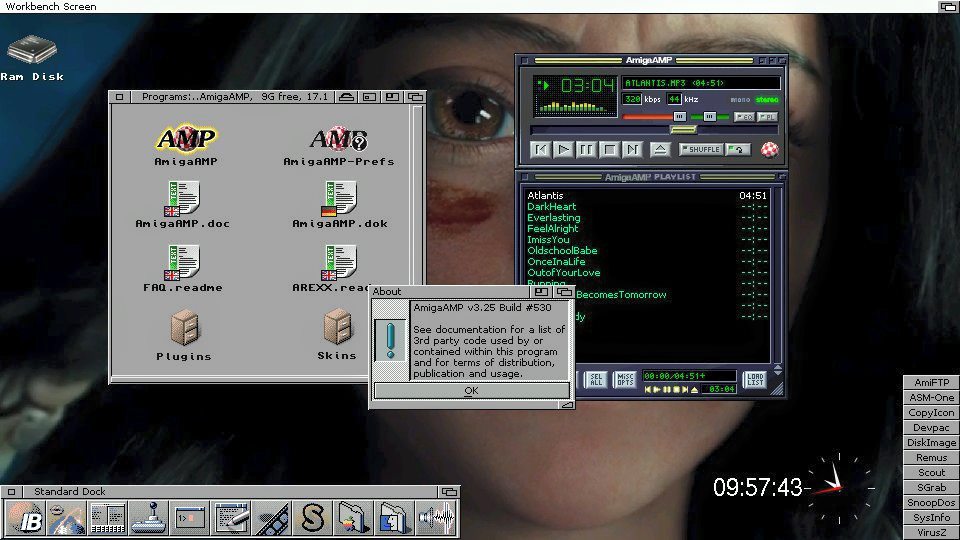 Testing AmigaAMP 3.25 a lot on our Amiga 500 with 68080
I have been testing AmigaAMP 3.25 on our AmigaOS 3.9 Classic 68k Amiga 500. I've tested it since it came out. I wanted to see if it works as it should. I managed to load and play the new Psyria album (that was sent to us) without issues on our Amiga 500 with 68080. I made the copies for only personal use on our MorphOS machine so I could test AmigaAMP. It played everything fine. However, when I closed the app once I did get a Software error message when changing the AHI settings in the app.
But all in all. AmigaAMP 3.25 seems to run as it should. I love that the List window snaps to the main AmigaAMP window. Also the addition of the animated boingball is great to have. It is great to see that AmigaAMP is getting updates still for both 68k and PowerPC version of it. A great music app for AmigaOS that is free to use. Recommended!
Get the Latest AmigaAMP 3.25 from Aminet
Get AmigaAMP for AmigaOS 3.9 here
Get AmigaAMP for AmigaOS 4.1 here
For more information about AmigaAMP. Check out www.amigaamp.de