My first-ever shooter was Menace and that game blew me totally. It made me fall in love with the Amiga as it was my first big wow connection to the Amiga. Menace by DMA (GTA?..) is an amazing shooter and it made my Zipstick go warm! Together with Denaris (Katakis) and R-Type, Menace made my house fly each time I was playing it (that's how it felt back then!…).
One of the best gaming genres where the Amiga could show its strengths was in the euroshooter genre, and Inviyya from 2021 (33 years since the Menace release) is no exception to that. Inviyya is a remarkable euroshooter that been developed for over 2 years with even some of the elements released just before the launch at the Amiga Bill's show back on the 12th of April 2021.
I personally donated $27 (which includes the price for the digital version) from Amitopia's support box because Inviyya is such an important game release for OCS Amigas.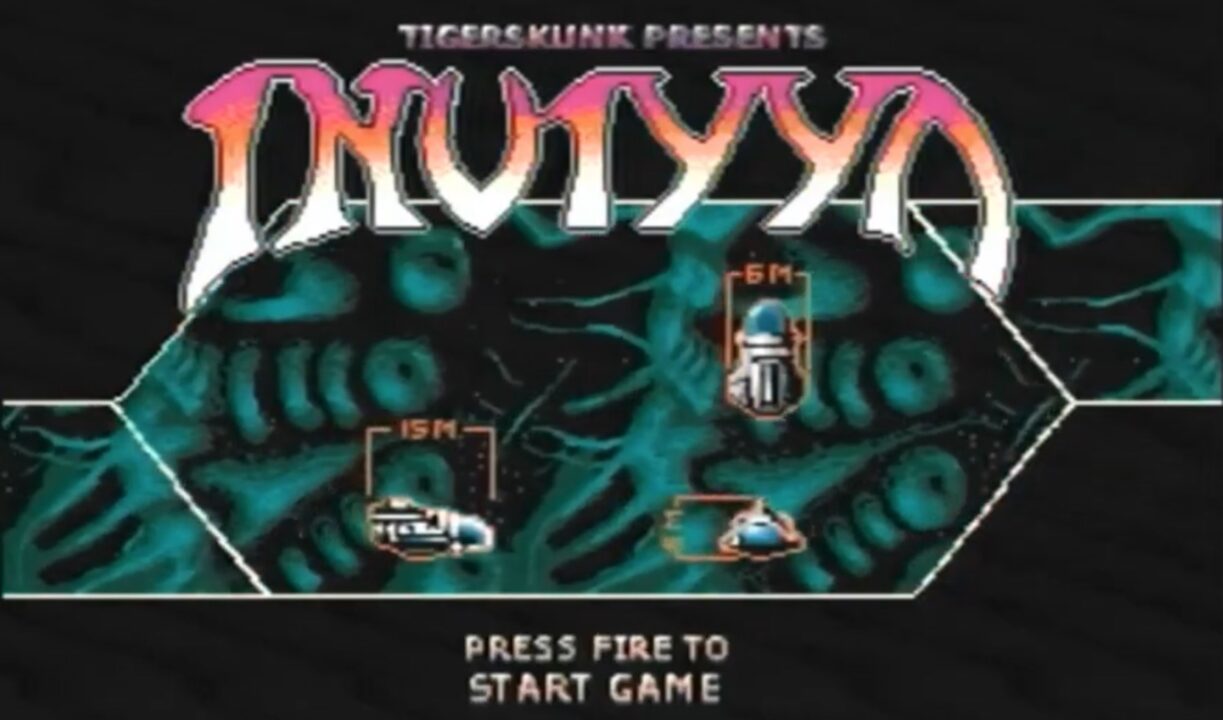 Inviyya is a fantastic euroshooter that I wanted so badly for many months. So, when it was out I had to buy it for doing this review and for having hours of fun. This week has been a week with blasting amazing creatures. However, there are some valid questions to some of the game mechanics that were chosen for the final release. What are they? And what do I miss in this shooter? Read on to find out.
The Extravaganza Moments When Playing Inviyya
Getting the digital version of Inviyya is easy. You can buy it from the Tigerskunk Inviyya ordering page here. The presentation for the game is great and the purchase takes no time at all. Then you download the .lha file so that you can transfer the game to your Amiga. If you have issues with doing that? Check out Amitopia's guide on how to transfer here.
But to get the full experience. My advice is to get the boxed version of the game, which will be released on the 1st of June 2021. That box art is passion and it fits well with the gaming feel too.
Once Inviyya has been started. I was a bit shocked. The voice and the intro logo scared me a bit, but that scary moment changes once you get used to it. Once you reach the Inviyya game title menu screen, the quality is however stunning. I wish that this quality also could be put into the introduction of the game as it ruins the feel a bit. Menace had an interesting picture showing up, Denaris used floppy 1 for the intro, and R-Type is known for its epic intro on the Amiga. I really wish that Inviyya had this.
The menu part of Inviyya is quality all the way with nice music in the background. And this is the same for the entire game. Inviyya is one of the most beautiful OCS Amiga gams that I've seen. Yes! The multiple parallax scrolling backgrounds that change are impressive. The enemies are amazingly drawn. Here it can be seen that the details have been done to perfection and that is important to write about. Music and sound effects are also very good in the game too! The Inviyya gameplay is epic with no slowdowns detected. Inviyya shines on my 68060 100MHz Warped Amiga 1200 including my Amiga 600 with 68000 7.14MHz CPU and 2MB RAM. So this game runs on almost every Amiga setup.
Gameplay is rock solid but Something is missing
My most beloved shooters on the Amiga are Menace, Stardust, T-ZerO, R-Type, Denaris (Katakis), Silkworm, and Reshoot R. I love them because of the powerups that make the shooters interesting. Because you can upgrade your ship and blast lots of objects if you're good enough. But not so in Inviyya. You do have some powerups but there is something lacking. In Denaris (Katakis) and R-Type you have these lasers that help you a lot or Menace where you can upgrade your ship with cannons on top and under your spaceship. It makes the goals bigger and I love that. Inviyya is missing this. When a powerup icon appears I am expecting bigger rewards. The game is hard enough. If the game gets too hard you end up like the first Reshoot game.
On the other note. The gameplay of Inviyya is rock solid. There are no frame drops on my Amiga 600 68000 or my Amiga 1200 68060. Even with many objects and several parallax scrolls actions going on. The game is solid. The gameplay might be a bit hard, but for the hardcore shooter, Inviyya is a challenge. The way you learn how to defeat the enemies and bosses is remarkable. There are some really interesting ideas that I have never seen before which alone pushes the total score for Inviyya a lot up.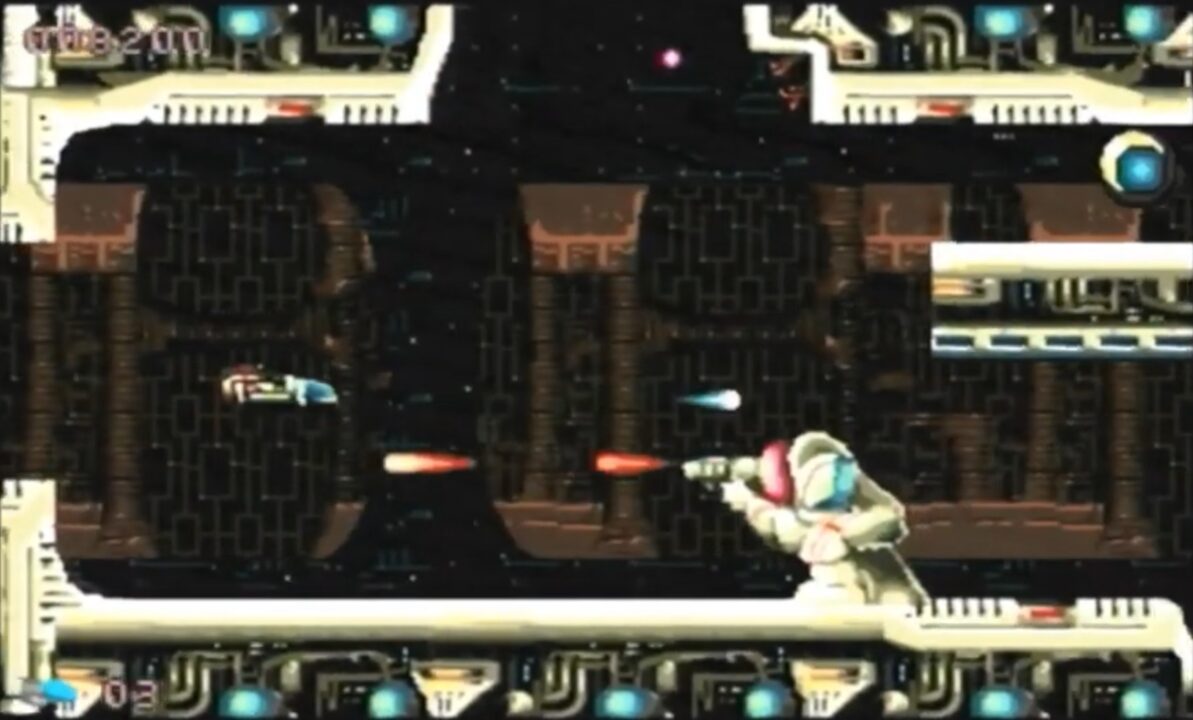 Do a favor for your Amiga! Get Inviyya
Except for intro and the powerups comments. I would say that Inviyya is a top-notch shooter for any OCS Amiga. Inviyya works on every existing Amiga with at least 512KB Chip RAM and any other form of 512KB RAM (chip, slow or fast). This means that you can play the game on Amiga 1000 too. Also, Inviyya works nicely on Vampire and Warp equipped Amigas.
If you want a shooter that looks good. Get Inviyya. This game for Amiga is one of the best ever games released on the OCS Amiga platform. The beauty of it should have been shown many years back and maybe the Amiga would survive the 90s a lot better. Because Inviyya shows that even OCS Amiga platform can have games that look stunning. Because Inviyya is stunning. Just having it is a good feeling.
Inviyya deserves to be loved. And maybe Inviyya II will fix some of the issues? Support Amiga developers.