On Amitopia TV on YouTube, you can watch many clips on how to get YouTube clips on your Amiga by me. Together with Alb42 (the author behind MUImapparium (OpenStreetMap viewer for AmigaOS)) we have made YouTube Clips available for all Amiga users out there.
I posted a post on social media regarding the idea and Alb42 snapped the idea. It is a bit crazy, yes, but it is also a very important idea as it shows what Classic Amiga computers can do.
CDXL video format for the Amiga was a pioneer Multimedia video format launched by Commodore. I wanted to push it a bit forward. I wanted CDXL to be seen more as it deserves to be included in the computing history and the idea of YouTube on Classic Amiga sparkle up interest for Amiga more.
YouTube got tons of clips that fit CDXL perfectly. There are some on Aminet, but with the huge library that YouTube got. It is now possible to watch YouTube clips on any Classic Amiga machine with the required specifications needed.
AmiTube for Classic Amiga is born
I asked around as written and Alb42 answered me that he wants to. He did the very first version within just two hours of coding before he delivered a link to AmiTube 0.1 to me! I was so amazed!…
Just after one day, AmiTube 0.3 was released and so the project is for sure ongoing. Many changes can happen, but the main goal is to deliver a program/service for the Amiga community that can make Amiga 500, Amiga 1200, and Warp/Vampire/PiStorm play YouTube clips. All of the videos from YouTube are converted to CDXL format on the Server and then Downloaded to your Amiga.
The Amiga community now got AmiTube and Everyone can watch clips in CDXL format.
#1 – CDXL Video Format by Commodore
In 1990, Commodore launched CDTV. Later to be called Amiga CDTV. Together with the launch of it, CDXL was also launched. It made all Amigas with 1MB of RAM and a media speed running at 150 kB/s to be able to show digital video. CDXL is said to be one of the earliest video formats on any platform and it is this video format that AmiTube focuses on.

Compared to MPEG1, CDXL is not coming far. CD-ROM drive permits resolutions equivalent to 160×100 with 4,096 colors at 12 frame/s with 11025 Hz 8-bit mono audio. The CDXL format initially allowed playback of up to 24 frames per second with up to 4096 colors encoded in HAM. This is not much today, but for users using Classic Amiga for nostalgic reasons. This is enough.
Watching CDXL on CRT monitors is perfect and that's what this project aims at. Any CDXL clip-on RTG is also very nice to look at. It reminds me of RealMedia and QT in quality there.
In 1993, the Amiga CD32 console came with AGA version of CDXL supporting HAM8. AmiTube aims at supporting it too.
#2 – AmiTube Converts, Downloads and Plays YouTube Clips in CDXL Format
AmiTube for Classic Amiga is the name of the application. The application for AmigaOS lets you download YouTube clips converted to CDXL video format that can be played on any Amiga with 1MB of RAM. Also, the Classic Amiga needs a media speed of 150 kB/s or faster.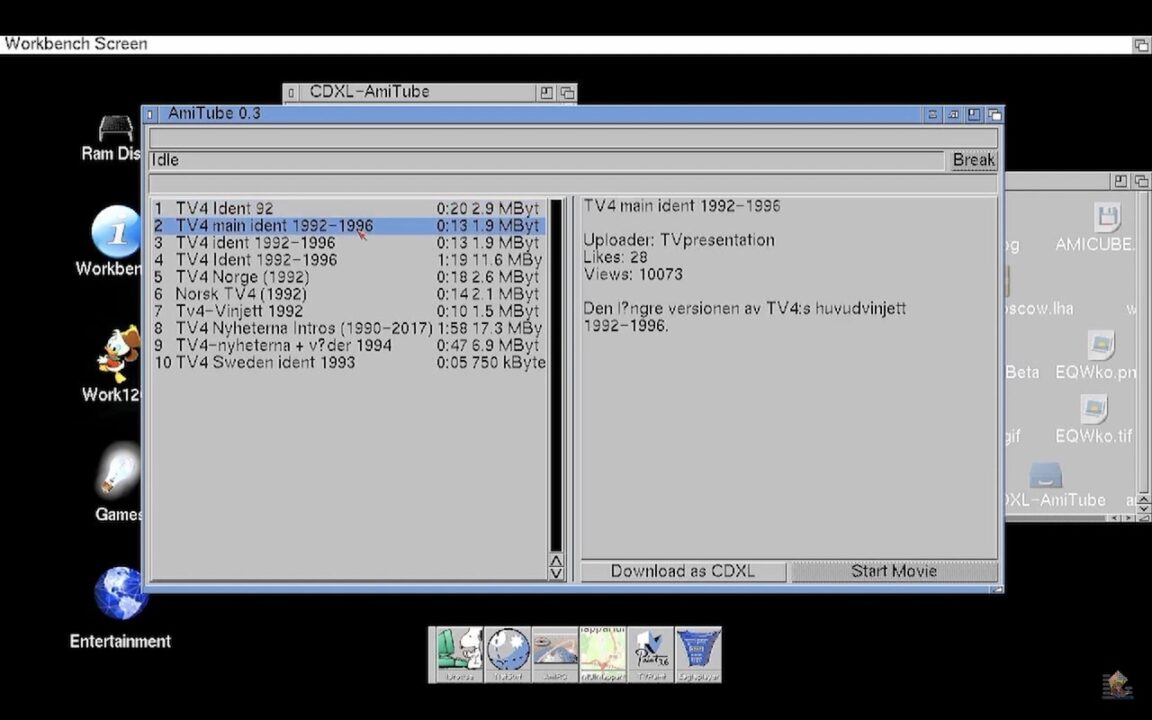 Here is all the info you need to get it running. The CDXL converting process is done by Alb42's Linux server setup. So be gently with it. So, here is all you need to know about AmiTube:
a) You need to get your Amiga On-Line
My suggestion is to get Roadshow for 68k. This type of ethernet stack for AmigaOS should have been made by Commodore. It is absolutely perfect for getting any Classic Amiga online. You can use AmiTCP or Miami. But Roadshow is the only ethernet stack with proper DHCP support.
b) Use the CDXL player that you want with AmiTube
Multiview is used as the standard CDXL player. If you wish to use another one, then you can alter this in the Preferences.
c) CDXL playable on all Amigas gets Downloaded
Amiga 500, Amiga 1000, and Amiga 2000 (OCS Amigas): CDXL 150 kB/s or faster (This version works on OCS, ECS, AGA and on Amigas with Graphics Card used (RTG))
Amiga 600, Amiga 3000, and Amiga CDTV (ECS Amigas): CDXL 150 kB/s or faster (This version works on OCS, ECS, AGA and on Amigas with Graphics Card used (RTG))
Amiga 1200, Amiga 4000 and Amiga CD32 (AGA Amigas): CDXL 300 kB/s or faster (This version works on AGA and on Amigas with Graphics Card used (RTG))
The aim of the project is to get 3 alternatives. 1 for OCS Amigas, 2 for AGA Amigas and 3 for RTG and Vampire/Warp/PiStorm users. In the last choice, the user can choose to download the clip in CDXL or in MPEG1 format. That is the goal. To make this a gift for the Amiga community.
At the moment only CDXL 32 colors format is used for testing purposes! The application is under development for now, so please dont bother the author regarding it. If you have questions, send them on Classic Amiga Software group on Facebook! or send mail to Amiga300 at Amitopia dot com!
Including the clips. AmiTube also downloads a text file with info about the YouTube uploader. CDXL lives on because of AmiTube! Its located in
#3 Step by Step on how AmiTube Works
First, you search for the YouTube clip you want!
Then Download as CDXL on the file You want to Download!
Converting starts! 30 seconds clip takes about 1 minute at the moment
Once done, AmiTube downloads to the folder located in the AmiTube application folder
Now you can Play the CDXL clip using AmiTube or move it to your OCS Amiga and play it there
AmiTube is developed using FreePascal. Alb42 is also known for other FreePascal programs
made for Amiga. Check them out here!
For the latest Amiga News about AmiTube. Please check out Amitopia TV and alb42 website for more information. Once there's new information. This guide will be updated. Thanks for reading Amitopia Amiga Magazine. If you think that this content is worthy supporting, you can donate using PayPal here