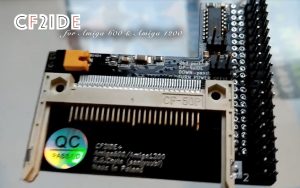 With a big thanks to Retro Ready. Amitopia got this awesome CF2IDE adapter from them which is made by Archi-TECH for review. CF2IDE adapter is now available for purchase. It makes it much easier to connect Compact Flash disks to your Amiga 600 or Amiga 1200.
CF2IDE comes with Interesting features
For the price. This adapter gives you more. With it, you get a Compact Flash Angle adapter. Also, you get a 40 PIN IDE Connector for additional 3.5″ devices: hard drives or CD-ROM drives. But this one requires you to have external power.
CF2IDE adapter for Amiga 600 and Amiga 1200 adapter allows you to use any Compact Flash mem cards as Hard Drive. It also sits nicely beside other cards that you might have installed such as Indivision AGA mk2 and even the KA 21 that sits on top of Gayle chip.
Master/Slave jumper available on CF2IDE adapter
This awesome adapter which is designed and made in Poland. Takes as little space as possible and makes your Amiga 600 or Amiga 1200 ready for future expansions in a much better way. Also, the metallic shield for both low-end Amiga's gets obsolete by using this adapter.
CF2IDE adapter fits inside both Amiga 600 and Amiga 1200 motherboard perfectly. It is to be mounted on the top left-hand side of your desktop so it does not interfere with any other device inside. It sits there steady without Compact Flash cards hitting other components of the motherboard.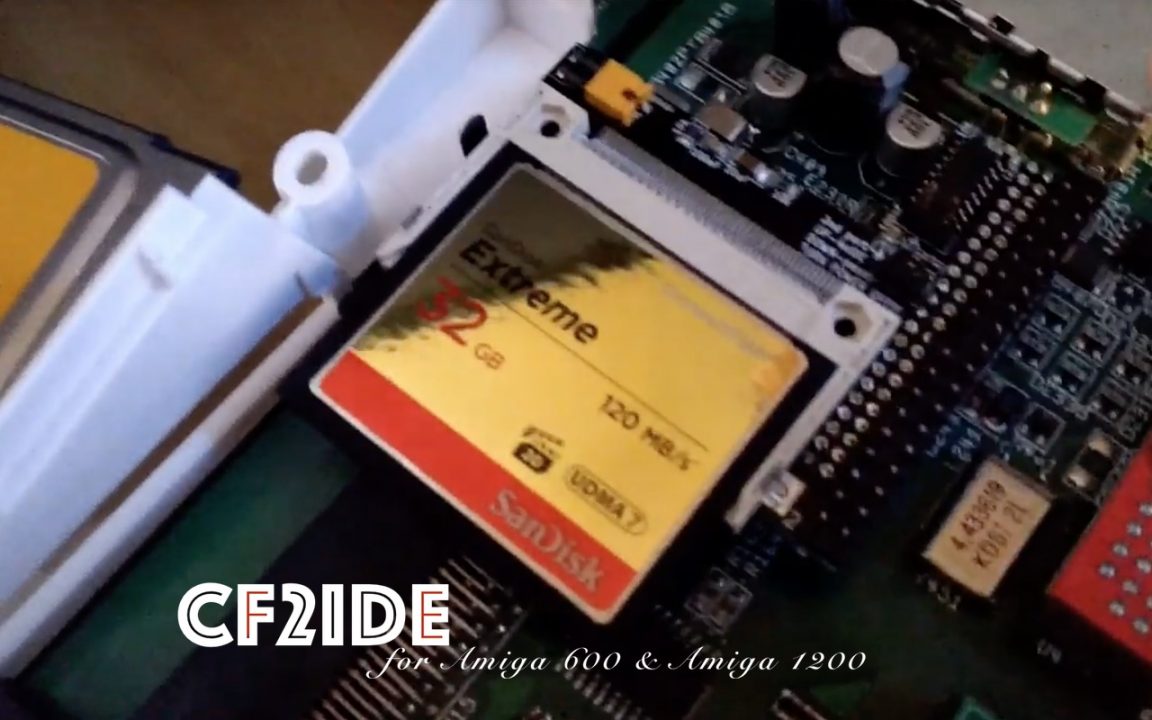 External power is needed for 3.5″ IDE devices
There is no need to connect additional power or any hard drive tape cable to use any Compact Flash mem card. You can simply put the adapter inside your Amiga motherboard with the Compact Flash Card and format it. Either it is FFS, SFS, or PFS3. It will work.
For all 3.5″ IDE devices that are connected to the 40 PIN IDE connector, you need an additional source of power. This can be external IDE hard drives or CD-ROM drives. Some modifications to the Amiga 600 or Amiga 1200 casing must be done if you want to do this expansion. Or if you have plans to transform your A1200 to A1200T it's a great solution.
The installation of CF2IDE is easy and it feels solid. The price of the product is not the worst in the Amiga world. Amitopia Amiga Magazine installed the adapter and now we are using it on our main Amiga 1200 machine. We have used it for over a week now without issues. A solid product that we strongly recommend for everyone to get.
Amitopia TV installing CF2IDE adapter
Available right Now at Retro Ready
You can get CF2IDE adapter from Retro Ready by ordering it here. It is affordable. Support Amiga dealers like them. It makes a difference and you get great customer service also.