The newest AmiTube 0.7 is now available for download. It brings many new features. One of them that was requested heavily was a better version of the CDXL video clips. The files become a bit bigger, but also the quality improves a lot. The new CDXL format is playable using AGABlaster and you should use a Classic Amiga with 68030 and a Compact Flash card as Hard Drive.
But that's not all. AmiTube 0.7 also got a Find-Update feature now. Which means that when a new version of AmiTube is out. You can get it by downloading using AmiTube itself. Handy, isn't it? I think so!
Here are all of the improvements made to AmiTube
New CDXL Option 320px and AGA colors
Direct download from youtube without conversation
Select resolution on direct download
Update checking
Download latest version
Question before delete movie
Translation for french (by Eric 'Tarzin' Luczyszyn) and norwegian (by Michal Bergseth) added
For Nextgen Amigas with much stronger hardware. The AmiTube didn't have any great choice, so from AmiTube 0.7 you can also choose the direct download of the source. But these video clips need a PowerPC G4 at 1GHz or better. This feature is also perfect for AROS users.
AmiTube 0.7 lets you add your own Server
Since Version 0.7 of AmiTube can also be configured to use your very own Server as backend. This means that AmiTube is mature enough to last much longer. Check out the instructions on how to set up a Server on your own here.
What you need?
A Linux server
Webserver with PHP 7+ (I advise Apache)
yt_dlp installed (with all requirements for it, python for example)
docker installed
This AmiTube-Server files: AmiTubeAPIv1
All of the installation instructions can be followed alb42's instructions here.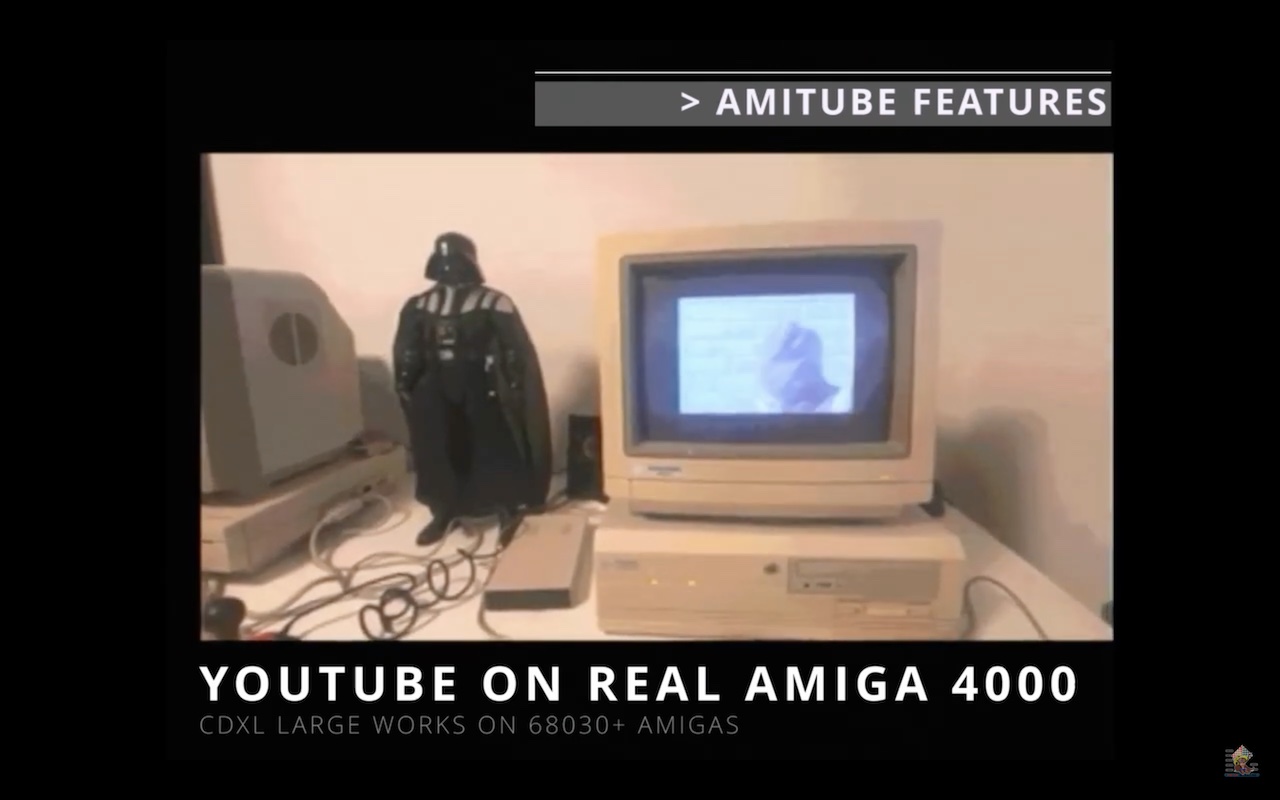 AmiTube is made for the most successful computer ever made in history!
Still now in 2022, the software is made for the computer that was born in 1985! Amiga 1000, Amiga 1500, Amiga 2000, Amiga 2500, Amiga 3000, Amiga 4000, Amiga 500, Amiga 500+, Amiga 600, Amiga 1200, Amiga 1300, Amiga CDTV and Amiga CD32 are still getting love from people…
Yes, there's even a 68060 card for Amiga CDTV!… Vampire cards can upgrade Amiga 1000 too. The Tsunami 1230 is a Fantastic 68030 card for Amiga 1200. ZZ9000 is a graphics card for Zorro II and Zorro III Amigas that is equipped with 1GB RAM onboard! SDbox lets all Amigas read SD cards. Amiga stores such as Amedia Computer France push Amiga upgrades to Amiga users worldwide. Check out their store here: https://www.amedia-computer.com/en/. You can run AmiTube CDXL clips on all of these Classic Amigas with 1MB of RAM or more, while AmiTube itself needs 4MB or more to run fluently.
This is What you need to get AmiTube Running on your Classic Amiga
Including the AmiTube package, you also need to download MUI 3.8 package. Downloading the video clip's time all depends on how long the clips are that you are downloading. AmiTube 0.7 now measures sizes correctly according to which CDXL or MPEG1 format you chose. The program also tells you how much space you have on the partition that AmiTube is installed. Which is handy.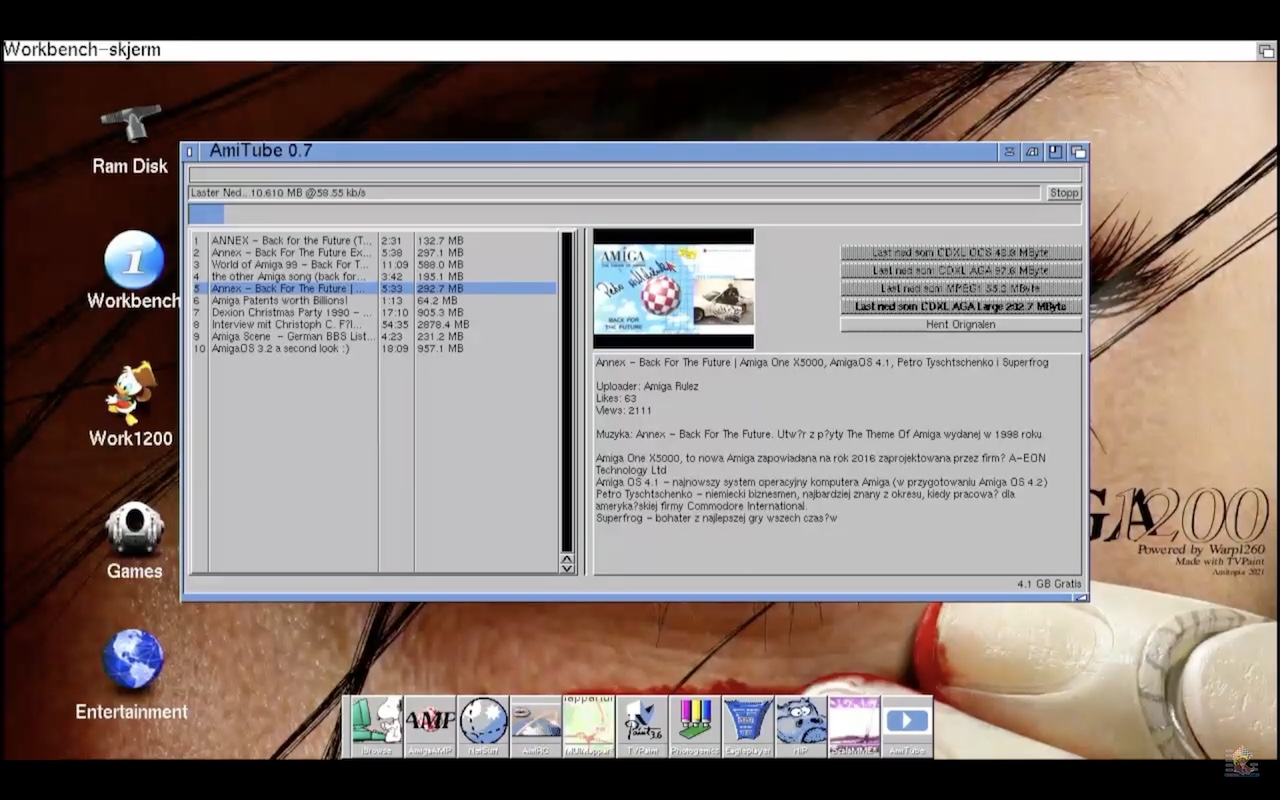 When you download content, AmiTube shows how much is downloaded and what speed you're getting. On 68000 24MHz you can get up to 140 kb/s downloads while on 68060 100MHz it can reach 300 kb/s or more. There's a huge difference between ethernet cards and transfer speeds. I am getting up to 300 kb/s or more with my PCMCIA card that is WiFi WPA2/AES capable. You can use Miami and Genesis which is AmiTCP with GUI, but personally, I really do recommend anyone to get Roadshow 68k here. Because Roadshow for Classic Amiga is so light and it doesn't need any extra GUI libs to be installed such as MUI.
So, what are you waiting for?
Download AmiTube and All Tools Below Here