Hese from Savo in Finland? He just released information about his Amiga 4000TX aka A4000TX motherboard that he is making. Another amazing Amiga community effort from a remarkable user to let Classic Amiga live on.
Amiga 4000 in a standard ATX chasing
A4000TX is an attempt by Hese to bring Amiga 4000 into any standard ATX chasing which is easy to buy today in every computer store. The A4000TX ATX motherboard is the first Amiga 4000 based motherboard in the ATX form factor (actually a hybrid ATX/EATX form factor). The motherboard is fully hand-routed like the A4000+ Alice motherboard was.
The project started back in 2018 and is still under development. So I want to share with you what he wrote on AmiBay in August 2018 regarding A4000TX.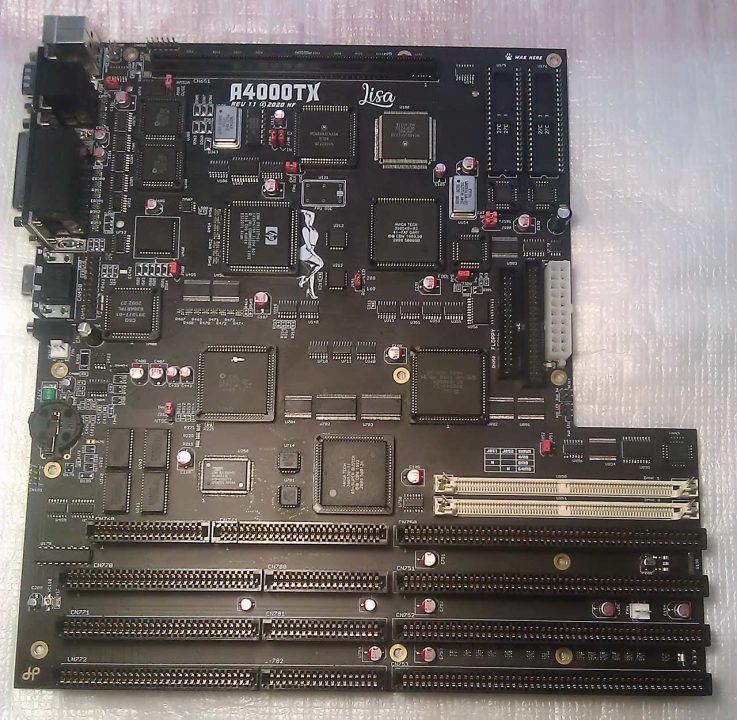 The specifications of the A4000TX Lisa rev 1.0
fits into (E)ATX case
uses a standard ATX power supply
Amiga AGA custom chipset
CPU slot connector for accelerator cards
on-board 68030 CPU
on-board 68882 FPU
16 MB Fast RAM
2 MB Chip RAM
four full-length Zorro III slots
three ISA slots
extended video slot
3.5″ IDE port
internal floppy port
PS/2 keyboard port supporting Amiga and PC keyboards (PC work in progress)
PS/2 mouse port (work in progress)
Amiga mouse and joystick ports
serial and parallel ports
15-pin VGA port with 15kHz RGB output
24-pin breakout header with full RGB port support (for external scan doublers, genlocks, SCART cables, etc..)
3.5mm stereo jack
on-board RTC with battery
This was the first specs released by him in August 2018. Now the project has come further and the project by Hese on AmiBay seems to just go on and on which is really great.
All of the pictures in this article are from Hese's album that he linked to from AmiBay. Since 2018 a lot has been done and so he wrote down what's been updated in the same forum thread.
Rev 1.1 has the following improvements compared to the rev 1
Onboard Fast RAM support up to 112MB (Meutoxo)
Kickstart ROM support up to 4MB (Romy)
PC PS/2 keyboard support
PC PS/2 mouse support
Support for native Amiga and PC floppy drives
Power connectors for two case fans
This is the information I have got. Once I have more. I will update as I have it. But it's interesting to see that he managed to increase the motherboard Fast RAM limit to 122MB as on the original Amiga 4000 motherboard it only detects 16MB of RAM.
You can follow the discussion on AmiBay here. An interesting project that I would like to get way more information about.