If you want to keep your life more organized and love to use MorphOS. Then take a look at this News!
PolyOrganiser 1.21 has been released for MorphOS. A free program that includes Calendar, Diary, Directory, and Tasks in one program. It is one of the best programs in my view as you can organize your life by using MorphOS! Which is awesome.
Changes since the 1st of September 2023
These fixes are for v1.19, v1.20 and the latest v1.21 that is out now:
Fix: Task edit, due date broken at creation (1970) and ignore very old due date too.
Add: Task edit, add a context menu entry for the remote due date.
Fix: Task display, late date is bold. Fix no title display. Fix Columns weight. Change: Task list, use short date
Fix: Contact displays "no name" when name or company is blank.
Fix: Contact/Event/Task, ask confirmation to remove show "No name" when needed.
Fix: Remove edit of task categories in the main window due to an unfixable bug.
Fix: Fix the background & frames of popup objects (except the Task type that has fixed back…)
Fix: Task edit shows the wrong type
Fix: Sort of contacts that were kind of random. Patch: Replace "Jabber" data type for "Title" Fix: DueDate broken due to a stupid datestamp copy
Fix: Workaround some issues with duplicate IDs in packed event storage which are used for both event item IDs as well as additional links (0xE1 and above)
I personally never had issues with using PolyOrganiser at all. It is nice and fast to use. Also, it keeps my calendar settings local is a huge bonus. PolyOrganiser fits many who don't want to share everything on the net with Google or Microsoft. Many simply don't want to share calendar plans with the entire world. Perfect for this purpose.
Issues with Time in Calendar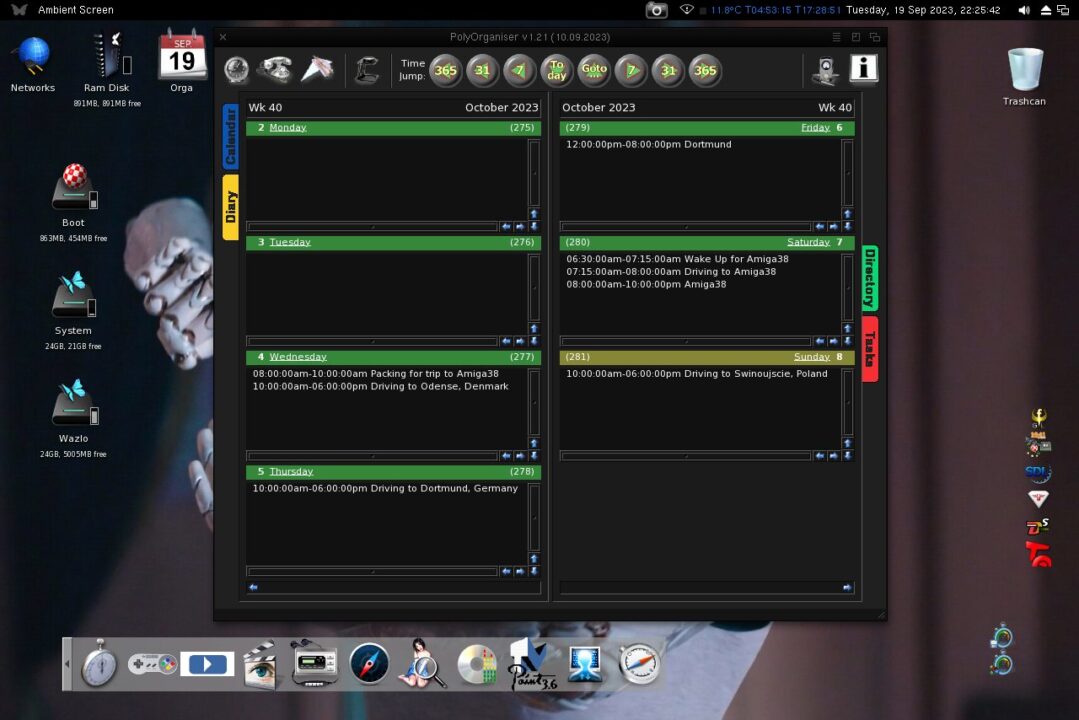 For some interesting reason, the time in the Calendar is shown in AM/PM even though that's not used here in Norway at all. The time when setting up the various time spots is correct though. I wish there was a proper setting option for 24h or 12h displays.
Icons need to be Updated
The latest PolyOrganiser has okay icons for its age, but now I think they need a design update. It should be easy to use them to navigate. I also wish that icons had words below telling what they do. MUI does support this, so it's a feature that will improve people's usage and the look of the application.
For now. It is only the Time Jump buttons that got an explanation. But all of the icons should have it or at least a setting for turning on or off. In iBrowse which uses MUI, you can choose in the settings if the buttons should have text visible or not.
Other than these minor issues. I fully recommend this application. A fantastic program that's been in development since 2004!