I have been waiting for this day to come for many years. OWB did lots of vital improvements to the browsing experience on the nextgen Amiga platform MorphOS but using WordPress always gave some interesting issues with it. So I've been waiting for a better web surfing solution.
With OWB on MorphOS, I had issues with resizing images and also when new WordPress updates came the experience using the world's most used web publishing system became worse and worse because of a more and more halting experience. So what happened? Wayfarer release for MorphOS happened!
Wayfarer 1.10 makes MorphOS a strong competitor
At the same time as when MorphOS 3.14 got out (MorphOS 3.15 is out now). Wayfarer also appeared for download, with an updated WebKit engine. Wayfarer is like OWB but with a more modern WebKit engine that allows it to use today's services from Google and other important services. It is a browser made by Jacek Piszczek and André Siegel. A browser that is reaching OWB in useability for every release.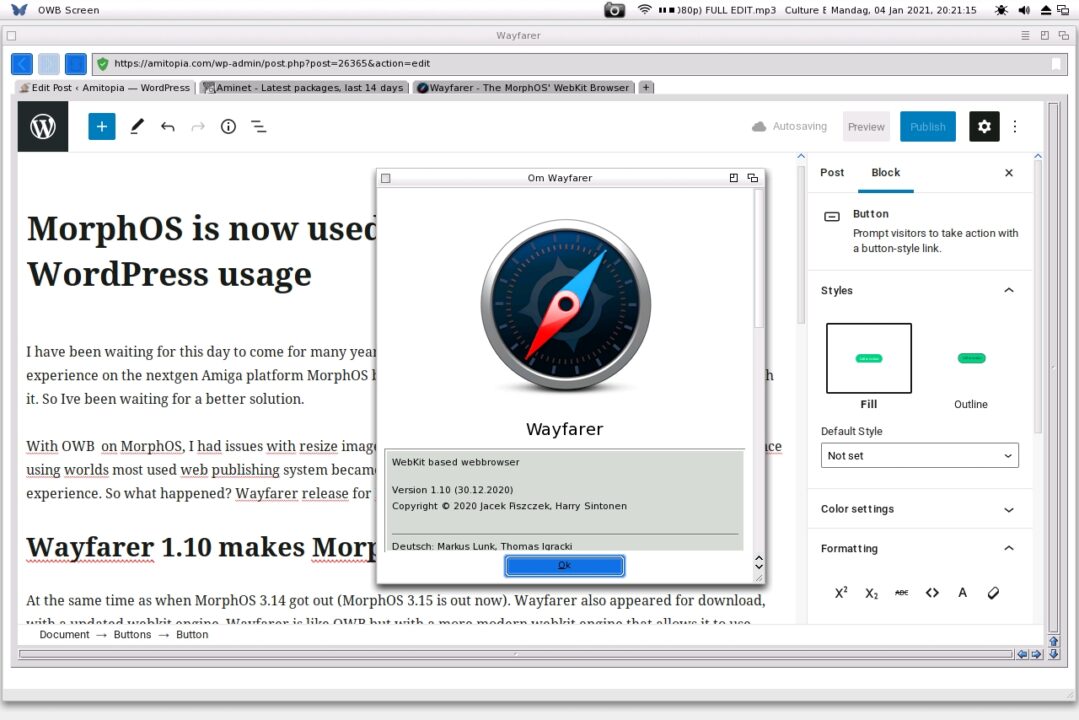 You can check all of the features that the worthy developers are adding at https://wayfarer.icu/history – Wayfarer is now a matured browser that supports tabbed browsing, support for CSS, SSL, sound through AHI when watching YouTube videos and much more. The fact that WordPress works as it should now on my PowerBook G4 1.64GHz 2GB RAM laptop is just fantastic.
For me as an AmigaOS user since the 90s. I love the way MorphOS works as a perfect nextgen AmigaOS. To become less and less dependent on Windows and macOS is my goal without having to go for a Linux distro. The AmigaOS feel is for sure the best there is for my computing user experience. MorphOS shows that AmigaOS is fully capable of following the world of today's computing usage. So, now it's up to you to spread info about what this OS can do.