Finally after so many years of waiting. A new version of IBrowse is now finally out. IOSPIRIT which was their distributor back in the days stopped all Amiga love on 1st of April 2007. But the developers kept the IBrowse flame burning and now we finally get to see IBrowse 2.5 released for both AmigaOS 3.x and AmigaOS 4.x with the right MUI libs installed.
IBrowse 2.5 is here for all Amiga fans
IBrowse is a fast, stable, classic web browser. It gives you possibilities to visit HTML 4.01 and XHTML 1.0 sites on-line. There is also TLSv1.3 secure connections, FTP downloads, comprehensive JavaScript 1.6 engine, tabbed browsers (pioneered by IBrowse), a customizable GUI layout, many other customizable features and support for proprietary extensions from other browsers.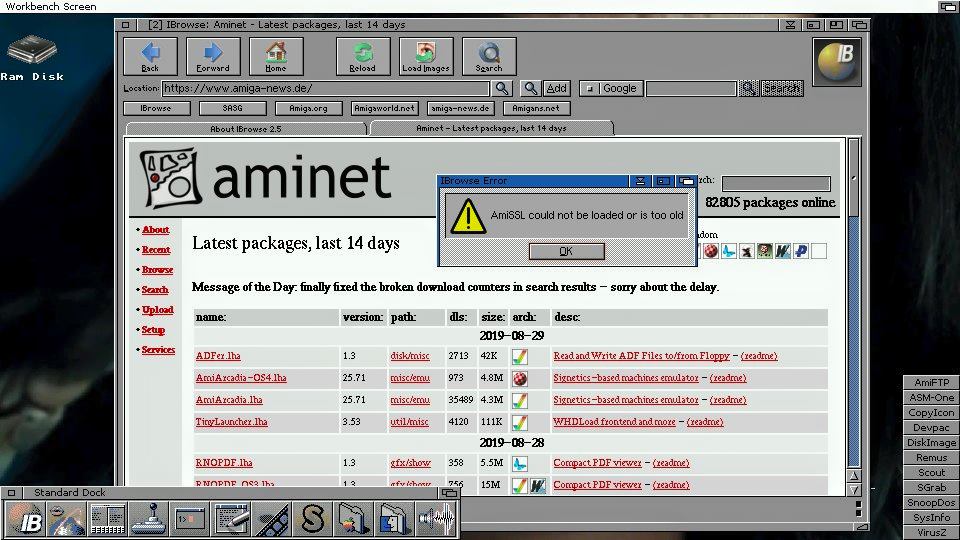 Updated! We have been testing this new browser a bit. We could enter www.aminet.net and www.amigans.net site. But when trying to enter www.amigaworld.net or www.amiganews.de the browser reported SSL issues which IBrowse 2.4 doesn't do. We tried to re-install AmiSSL 4.2 just to find out that AmiSSL 4.3 is out. IBrowse 2.5 simply didn't find the previous AmiSSL version for some reason. Once the issues were sorted out. We were able to enter sites that we couldn't. Originally I thought that SSL would not work. But after finally getting AmiSSL 4.3 which you also find on their Download page on their site. IBrowse 2.5 works as it should.
Note!: We got IBrowse 2.5 to work with AmiSSL 4.3 after ignoring the LHA errors that appeared in Dopus Magellan 5.82 which is used on our AmigaOS 3.9 set-up. The error said this "name of file exists as directory". It must be a Dopus message as after clicking OK enough times. Everything got unpacked correctly. Finally, I could install the latest AmiSSL 4.3, rebooted and IBrowse 2.5 now can access SSL sites that I had issues with.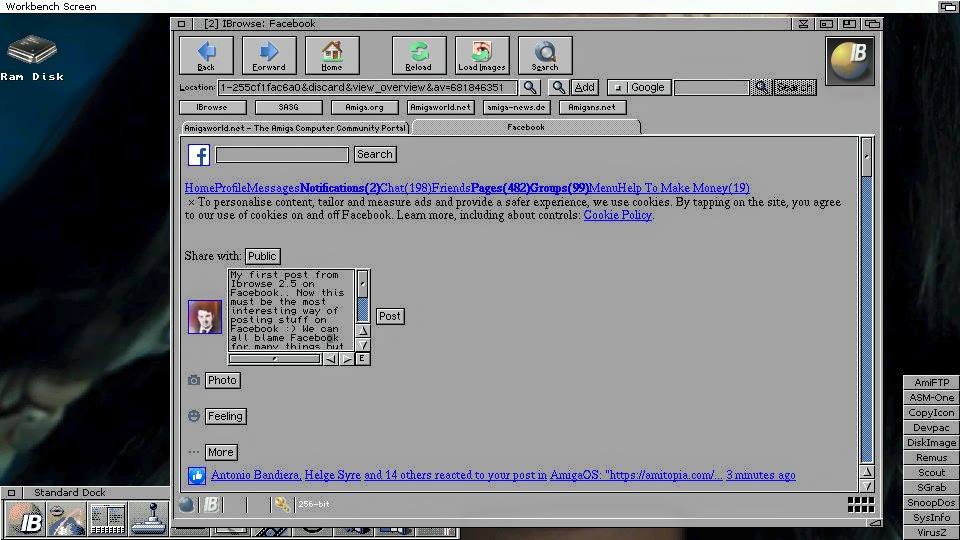 After fixing the AmiSSL issues. Now I even got the HTML version of Facebook to work.  Now, www.amigaworld.net and www.amiganews.de worked too. So make sure to install the latest AmiSSL 4.3 !
NetSurf or IBrowse for AmigaOS
NetSurf 3.9 and IBrowse 2.5 got both issues. Yet they provide basic web browsing experience for AmigaOS users worldwide. But I am not so sure if the € 54,99 price that IBrowse Team takes for the full package of IBrowse is a price that is worthy compared to NetSurf 3.9 which is totally free. Amitopia Amiga Magazine has donated for a key even though I have a license or IBrowse just to support. I really believe in the IBrowse development team and I like to encourage them to continue because of IBrowse historic connection with Amiga and its Internet history.
I am sure that the IBrowse Team will fix the issues. Maybe they are not present in the AmigaOS 4.x version of the browser. But on our AmigaOS 3.9 Amiga 500 68080 set-up.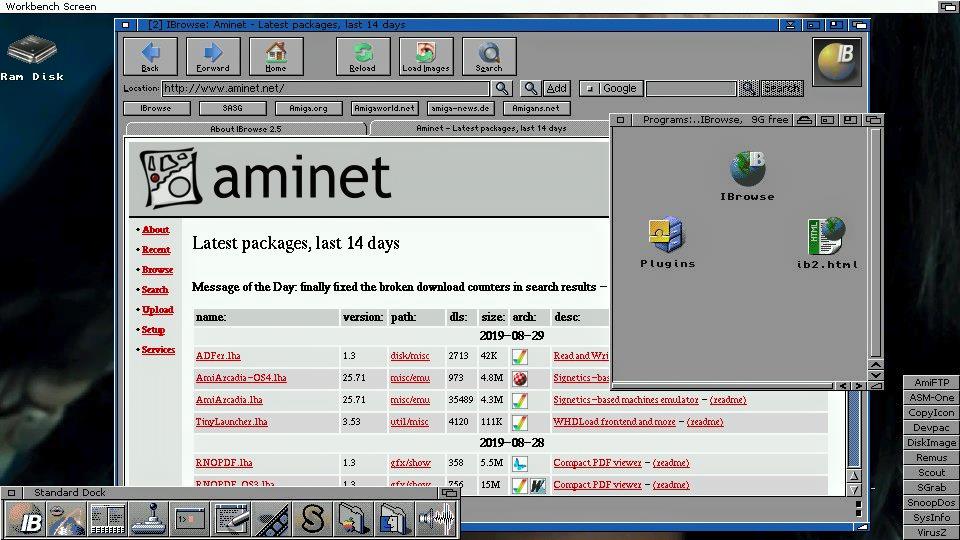 Get IBrowse 2.5 from the IBrowse Development Site
As always. You can also download their Demo version of IBrowse 2.5 to test it. For full access to all the features, you need to buy to get your personal key. Also the price for upgrading from earlier IBrowse versions is a bit cheaper. But if you want the full package the price is € 54,99
Installing IBrowse 2.5 is Only 4 steps Away
1. Load any browser and go to www.ibrowse-dev.net Buy the full version or download the demo version
2. Unpack the LHA archive
3. Install Ibrowse 2.5 from its installer script. Choose the CPU that you use
4. Run IBrowse 2.5! Make sure you have all MUI libs that IBrowse requires. Enjoy!
You can also use any browser on any other system and move the files over to AmigaOS by using the Samba, SD or Compact Flash mem card method. Make sure that you have installed a FAT compatible filesystem. You find them all on www.aminet.net
Added: Also, do install AmiSSL 4.3 if you want to browse SSL secured sites that requires it to be installed. Enjoy surfing on the Amiga
Enjoy browsing the Amiga way!
Source: IBrowse Dev Team