The CDXL video project is going forward. AmiTube 0.5 is soon out with support for two CDXL versions and MPEG1! This is remarkable news for OCS Amiga owners, for AGA Amiga and Classic Amigas with 68060++! AmiTube is getting pro!
You can see all of the video settings being played in the video above. Remarkable software!
Now you can choose between 3 video choices in AmiTube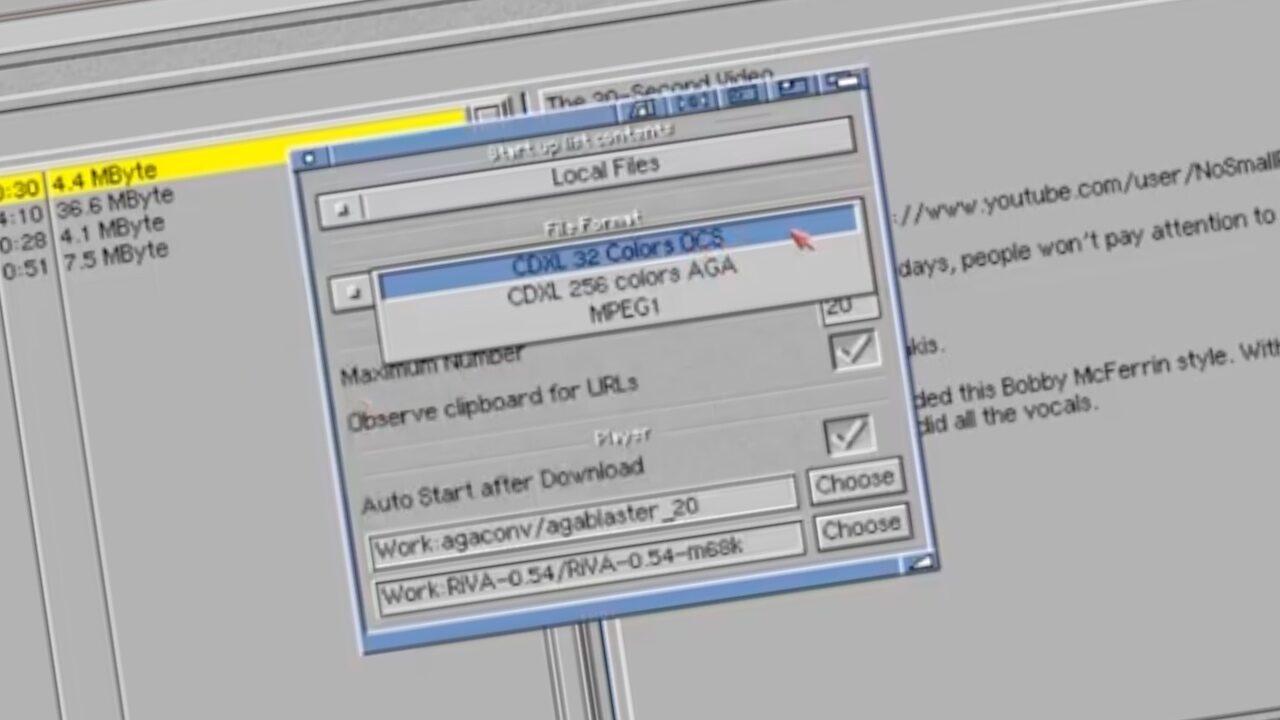 In the menu, you have Settings -> Prefs you can now choose between CDXL 32 colors for OCS Amigas, CDXL 256 colors for AGA Amigas, and MPEG1 for Warp/Vampire/PiStorm. You can also choose which CDXL and MPEG1 player that AmiTube should open. So, this means that all Amiga flavors can download YouTube clips and play them.
AmiTube is even worthy for AmigaOS 4 and MorphOS machines with minimal PowerPC configurations. It is also perfect for Vampire 4 Standalone users.
It is amazing what alb42 has accomplished since the very first version. This is a fantastic gift to the Amiga community when it is out that I hope will improve peoples knowledge of what Amiga computers can do. All Amigas can play video clips and thats what this project is all about. To show that all Amigas can do it. CDXL is one of worlds first video formats and it deserves more attention. AmiTube 0.5 is a gift to the users that is keeping the best computer alive. Period!
You can choose one of 3 different Movie formats
Standard CDXL Video 160px 32 colors 12 fps Audio: mono 11040 kHz 8 bit; (OCS Amiga + slow RTG Classic + slow Nextgen Amiga (EFIKA, Pegasos G3)
Enhanced CDXL Video 160px 256 colors 12 fps Audio: mono 11040 kHz 8 bit; (AGA Amiga + slow RTG Classic + slow Nextgen Amiga (EFIKA, Pegasos G3)
VCD MPEG1 Video 320px, 24 bit Audio 24 fps, Audio: stereo 44100 kHz 16 bit; (RTG Amiga + fast RTG Classic + fast Nextgen Amiga (AmigaONE, Pegasos G4)
One can easily see in the video above, how the quality increases which each setting and how much better MPEG1 is in comparison with CDXL, but of course for a standard Amiga such Video CD MPEG1 is much too slow to play and thats the power of CDXL to play even on such slow hardware. AmiTube 0.5 gives you the choices and I hope you love this update.
Once this update is up. You will know all about it.