No. It's not WinAMP! AmigaAMP is also a thing. It's one of the oldest AMP versions still in development for AmigaOS. It is developed and maintained by Thomas Wenzel. He's been doing AmigaAMP since 2002 at least according to the information found on the amigaamp.de site, which is great.
AmigaAMP is for Classic Amiga and Nextgen Amiga
This music player is available for AmigaOS 3.x and AmigaOS 4.x. I wonder why there's no MorphOS or AROS version? It is a fantastic player that supports WinAMP skins and does have support for Plugins. AmigaAMP comes with some interesting ones which work really well on my Amiga 1200 68060 100MHz setups.
I am glad that you can disable AHI as AHI steals lots of resources on Classic Amiga. Yes, that even happens on 68060. But if you don't have an External Soundcard connected. AmigaAMP is able to use mpega.library and sndfile.library on the 68k processor or hardware decoders that are found on various DSP soundcards, MAS Player, or Prisma Megamix.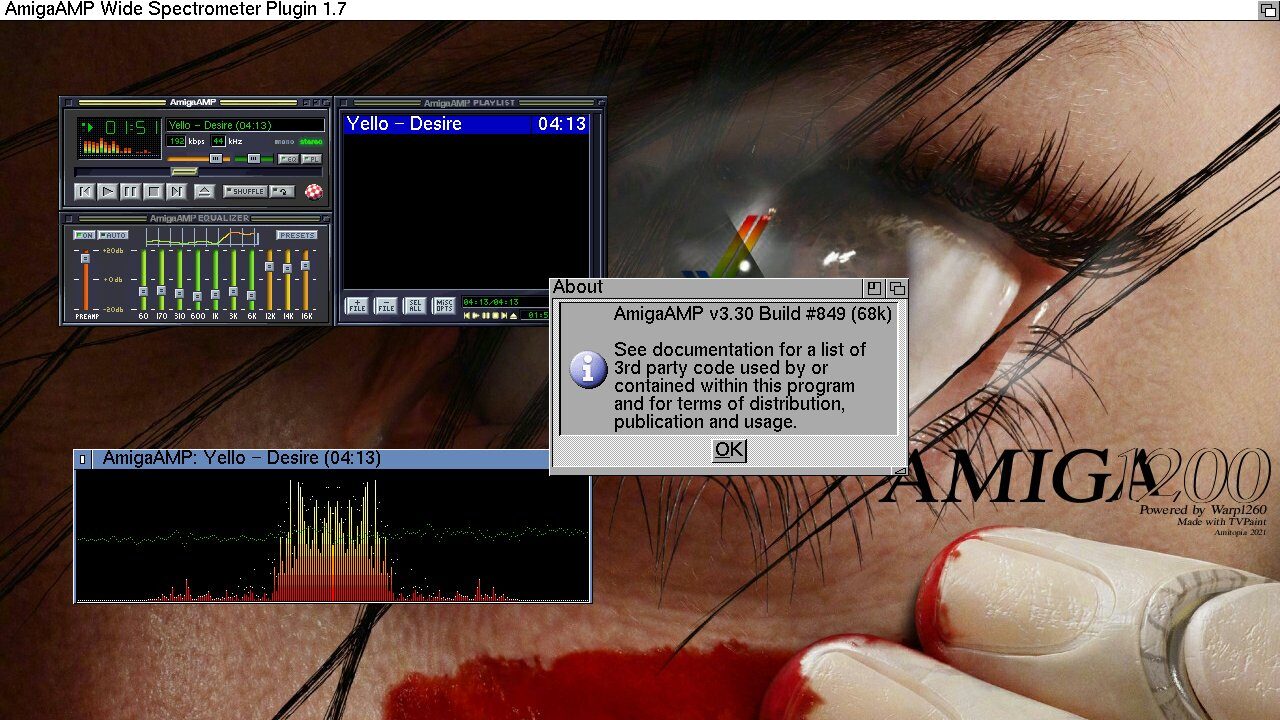 The AHI can be used on basic AmigaOS 4.x supported hardware.
All improvements for AmigaAMP 3.30
Bug fixes
Pulldown menus now work across all ReAction windows
If a datatype can't load the cover image from memory then AmigaAMP will write it to T: as a file and try to load it from there
Fixed radio station name is taken from stream metadata in playlist
Up to ten reconnect attempts when Shoutcast server reports 'unavailable'
Fixed handling ID3v2 tags in front of FLAC files.
Fixed loading / adding whole directories.
Fixed initial state of EQ/Playlist buttons in skin mode.
Automatically save the current equalizer setting when saving prefs
Reworked visualization routines for better synchronicity
Fixed SSL connections that require Server Name Indication
New features in AmigaAMP

Automatic fallback from MHI to AHI for uncompressed audio and tracker modules (68k version).
Multi-select playlist in ReAction mode
Snapshot windows directly via pulldown menu entry
Popup menu for "Add…" button in ReAction playlist window
ARexx macro support. Macros must have .rexx extension and start with a line saying /* AmigaAMP ARexx Macro */
Automatic adding of .pls to saved playlist filename
Now using octave-spaced equalizer band frequencies
AmigaAMP 3.30 is a very good upgrade. However, I wish that it had a better Amplifier that worked in the Classic Amiga version for users deactivating AHI. EaglePlayer uses the same mpega.library on AmigaOS 3.2.1 and the sound is so much louder there. Also, I don't see that AmigaAMP is able to detect 14-bit audio like EaglePlayer and the new Hippo player does if that's activated in Picasso96? Correct me if I am wrong here, please. I have to pump up the volume a lot on my HiFi system.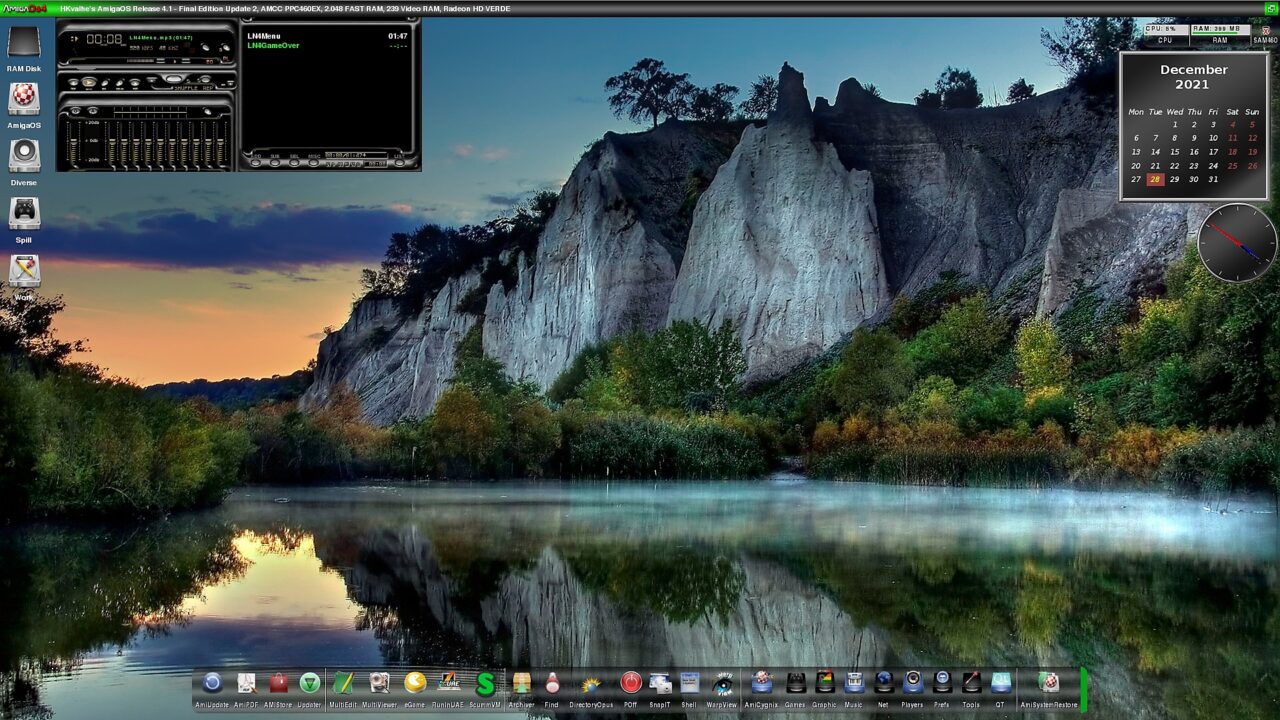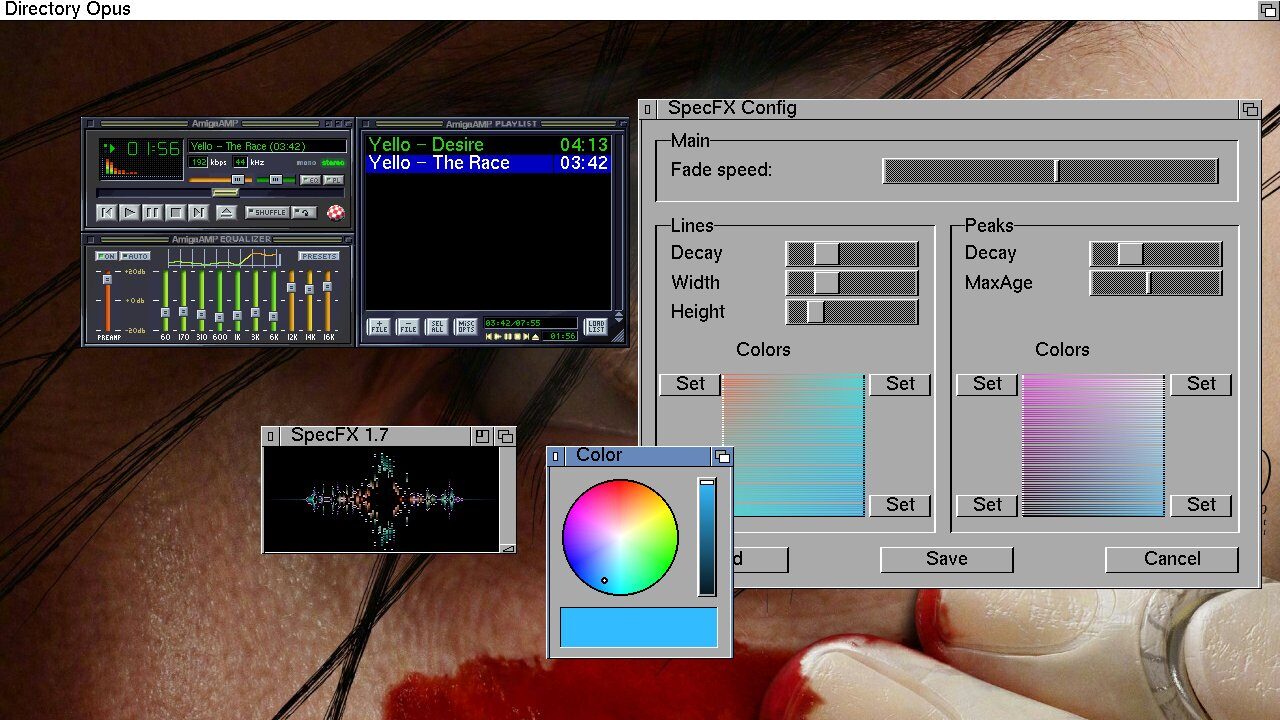 AmigaAMP seems to be much more stable now. I have only been able to test the Classic Amiga version and using it is great. I don't know how the AmigaOS 4.x version runs.