The new Amiga A1100 by Miguel Fides and Edu Arana (which is also making the Tsunami 1230 accelerator for Amiga 1200) was made back in December 2020. Now Edu asks if there is enough interest for this 32bit Amiga upgrade for Amiga 1000 in the Amiga News note that he sent Amitopia? Including many important upgrades such as a 68020 32bit CPU, A1110 also supports Amiga 1200 accelerators.
To make this project a reality, people need to show interest in it as it is a non-commercial project. Edu is known for making 68000 CPU socket adapters. He is very good at what he is doing so it is fantastic to see that he is behind the A1100 project.
Help your Amiga 1000
This project helps Amiga 1000 owners to give it a modern kick. You can show your interest on the website for the A1100 here.
If you are interested in this board please write an email to a1100@arananet.net declaring interest. We will count how many people are interested and will contact you back with the price of the A1100 board.
So, if you want it. Send e-mail. Be nice and provide accurate info on what the Amiga A1100 project requires. This is a non-commercial project, so, in order to make a batch of the Amiga A1100 board (without the customs chips), we need to know how many people are interested in it. You need to check the requirements page for the board. The pricing will be announced later on.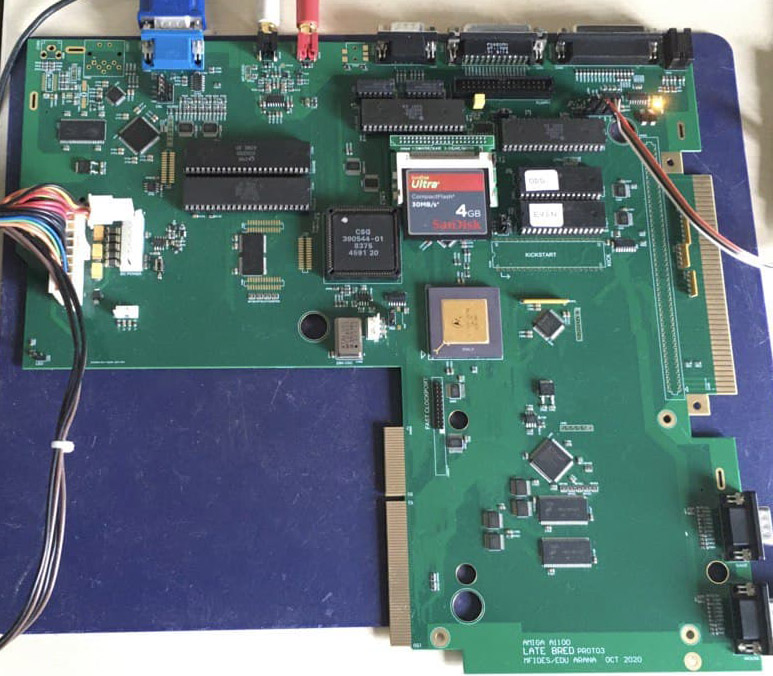 All the A1100 specifications listed
68020 (full 32 bit addressing) with 64MByte of fast-ram

ECS chipset (with Denise options) with 2 MByte of chip-ram

All custom chips socketed. A500 style, in DIP format except for Fat Agnus in PLCC. The user is installable/replaceable.

Both 86 pin lateral expansion / 150 pin internal expansion (may not work at once)

Built-in (A600/1200 type) 44 pin IDE interface and "fast" clockport

Included the SAME expansion bus in an A1200 for your existing accelerator to work

Full flicker-fixed 31 KHz (15KHz selectable) video output (VGA connector)

Keyboard/Joystick/Mouse legacy ports as always

DB25 Female std parallel port

DB9 Female (can use an std converter to 25 pin) std serial port

2x RCA / mini-jack audio outputs

1x legacy 15KHz RGB DIN connector output

1x RCA color composite video output

Compatible both with original A1000 and ATX power supplies

No electrolytic caps!

Fits in your old, rotten, A1000!!!
Not only does it fit inside any Amiga 1000 casing, but now it is revealed that it got a slot for Amiga 1200 accelerator cards. Currently tested working accelerators are from phase5 and from Individual Computers.
These Amiga 1200 accelerators have been tested and are working
Blizzard 1230 IV (68030 @ 50 MHz)

Blizzard 1260 (68060 @ 50 MHz)

Individual Computers' ACA1233n (68030@40MHz)
You can replace the 68020 CPU for speedups and the Amiga 1200 accelerators works. IDE 44 pin interface helps to install a hard drive in the A1100. Creating a Compact Flash HD card is wise to have. The full flicker-fixed 31 KHz (15KHz selectable) video output (VGA connector) is also nice so you can use any monitor with your A1100.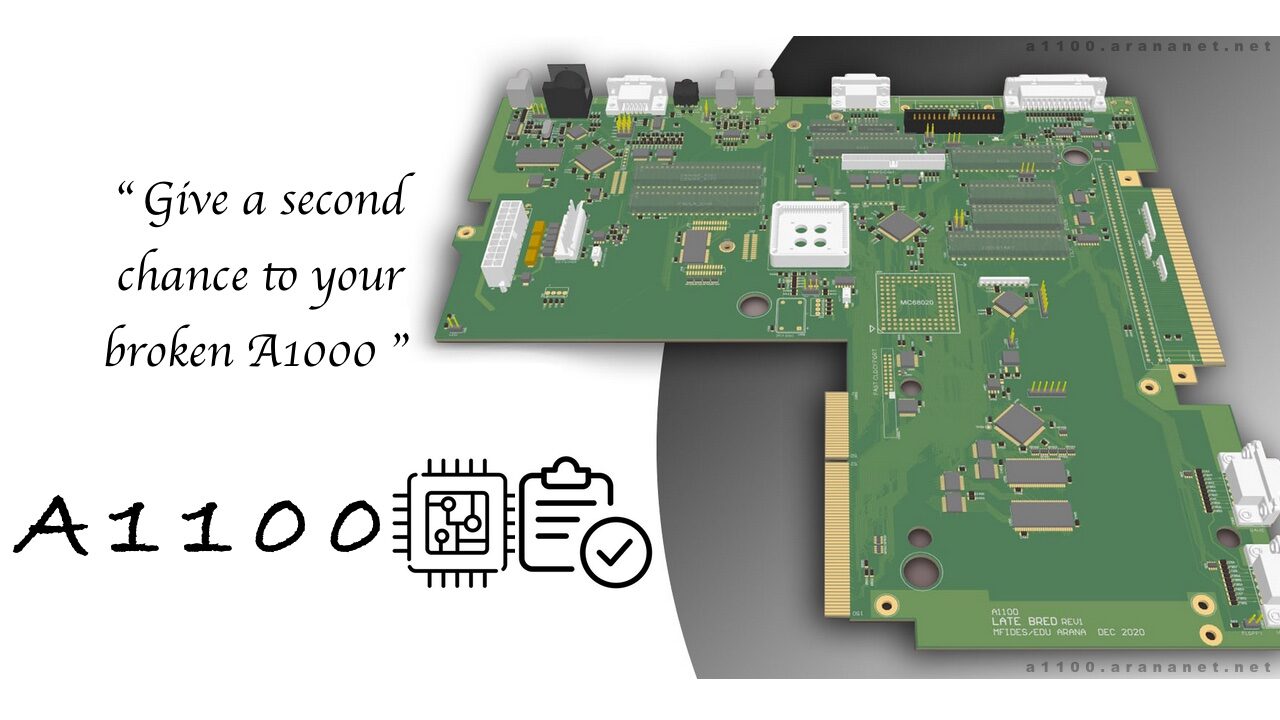 The A1100 project is capable of changing your trusty Amiga 1000 to Amiga 1200 without AGA. This gives the oldest Amiga computer important speedups and longer life. Once I have more information. I will post it. This project is really interesting. However, do read the Required parts section as this is a replacement alternative for Amiga 1000 users only.