Amiga A1100 by Miguel Fides is out. It was found on the Spanish retrowiki.es Forum site. Here the new Amiga A1100 was presented. In the news on Amiganews.de they reveal about the YouTube video too!
On the Wikiretro blog, the official presentation of the original Commodore Amiga 1000 housing motherboard was announced on the 9th of February 2021. The idea of the post that was made is to test the interest of making the new Amiga 1000 clone. It is an replacement for a motherboard that is damaged or that only have the casing, because the plate has died etc.
The initial idea of making the Amiga A1100 is to see if there are people interested and consider making a small print run for personal use. Never commercial.
Rules from the Forum!
– Only one plate per person
– The plates will be physically numbered
– The plates that are left to sell outside of retrowiki will be worth double
To think that this project is totally altruistic. At the slightest indication that someone acquires a license plate to trade with it and make a profit, it will be made public by citing the number of the plate and who bought it.
We are still doing calculations of how everything would come out in price, PCB, assembly, components, shipping, MC68020 … etc … (The interested party must have in his possession Agnus (2MB) + Paula + Denise + 2x Cia's + kickstart 3.1+) to puncture them in the sockets.
Please, post in this thread if you would be interested or could be interested according to the price, on a plate (without obligation)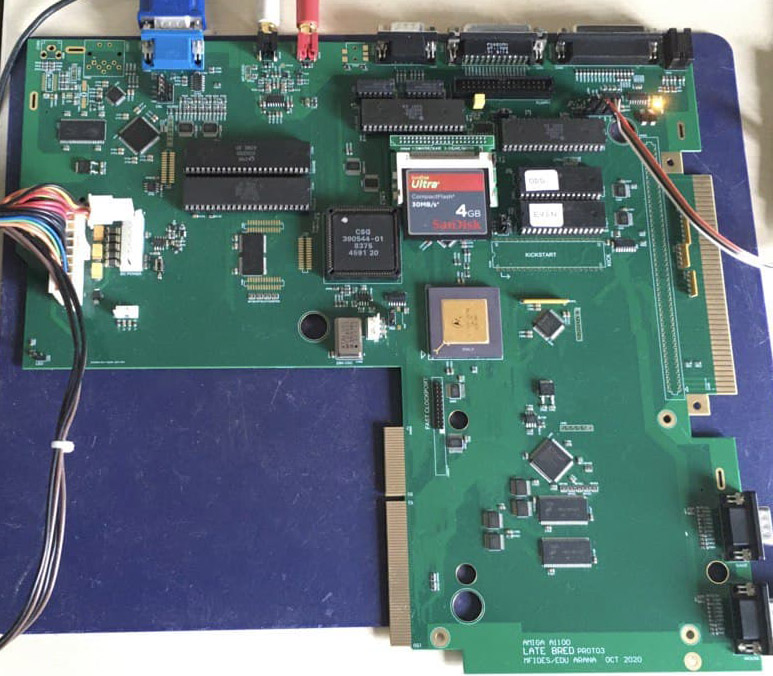 Amiga A1100 Specifications Revealed
CPU: 68020 with 14 MHz that is OCS and ECS compatible
MEM: Up to 2 MB of chip ram + 64 MB of Fast Mem
STORAGE: IDE controller (44-pin)
KICKSTART: Support for two different kickstart ROMs. Compatible with OS 3.1.4
VIDEO: Flicker Fixer and ScanDoubler. internal
CONNECTIONS: RGB, Cinch, SVGA
EXPANSIONS: Expansion slots for A1000 (86-pin) and A1200 (150-pin) expansion cards + A1200 compatible clock port connector
PSU: Connection for an ATX power supply
This Amiga A1100 by Miguel Fides is a very nice project. Goto the forum and show your interest or comment in the YouTube video by AmigaWave. The Amiga community never sleeps.