Did you know that Sonos Loudspeakers now works with any Amiga? It's not magic. It is fully possible with this SonosController application that is totally free to download.
The amazing Michael Rupp which is behind this remarkable application makes any Classic or Nextgen Amiga feel 2021 is beyond cool!
Use Sonos with Amiga
Classic Amiga owners can now use Sonos Loudspeakers as well with the 1.1 version update of the SonosController application for AmigaOS. So now it works with AmigaOS 4, MorphOS, WarpOS, and Classic AmigaOS.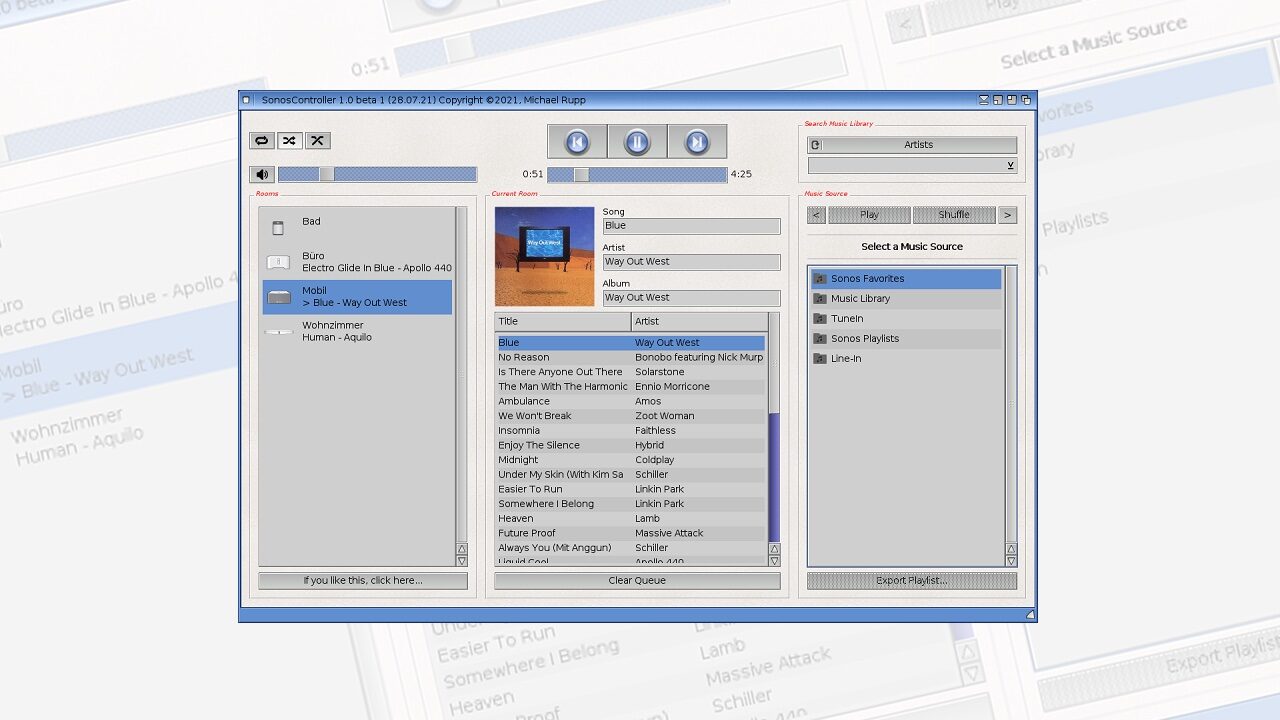 Here are all of the new improvements in SonosController 1.1
- NEW: first release for AmigaOS 3.x besides 4.1 and MorphOS
- NEW: lots of performance improvements to make it usable on a 68060 cpu, 
  resulting in being blazingly fast on PPC-Amigas.
- NEW: MUI 3.8 compatibility (instead of 5.0)
- NEW: zones (= rooms) are now saved in the config file so when starting the
  app the next time no network scan is necessary, resulting in a much quicker
  startup.
- NEW: to save on network traffic and CPU load, loading of the current queue
  can now be deactivated in the Preferences.
- NEW: network scan can now be cancelled and it's no longer possible to start
  a second scan while one is already running (this led to speakers being
  listed multiple times in v1.0).
- NEW: queue lists are now cached in memory and are only reloaded if a change
  has been reported by the according UPNP event.
- NEW: various zone values are now cached in memory and are no longer reloaded
  when switching between zones.
- NEW: loading of album art for radio stations
- NEW: timeout for UPNP subscription has been increased from 10 minutes to
  1 hour (same as with the original Sonos app).
- NEW: added progress in percent while loading a list in the music source
- NEW: added the possibility to cancel loading a list in the music source
- NEW: "Settings" menu to accomodate the menuitems "Preferences..." and "MUI..."
- NEW: "About MUI..." menuitem to follow the MUI styleguide
- CHANGED: shortcuts for "Next" / "Previous" from Ctrl-LEFT/RIGHT to Alt-
  LEFT/RIGHT because on an Amiga keyboard the Ctrl key is quite far away from
  the cursor keys.
- REMOVED: browsing the music library by song: it was useless and took ages,
  it's much better to use the search instead.
- FIXED: renewal of UPNP subscription as well as unsubscription
- FIXED: TV input is now handled correctly.
- FIXED: improved handling when clicking like mad into the track position
slider.
- FIXED: disable play button if action "Play" is not available
- FIXED: lots of minor bugfixes
Amiga can access your Sonos loudspeakers in 2021 is amazing. Who would think that this would be possible? Amiga community amazes me all the time and it is a pleasure to share this type of news with you.
You can get both the basic and FPU version of SonosController for Classic Amiga