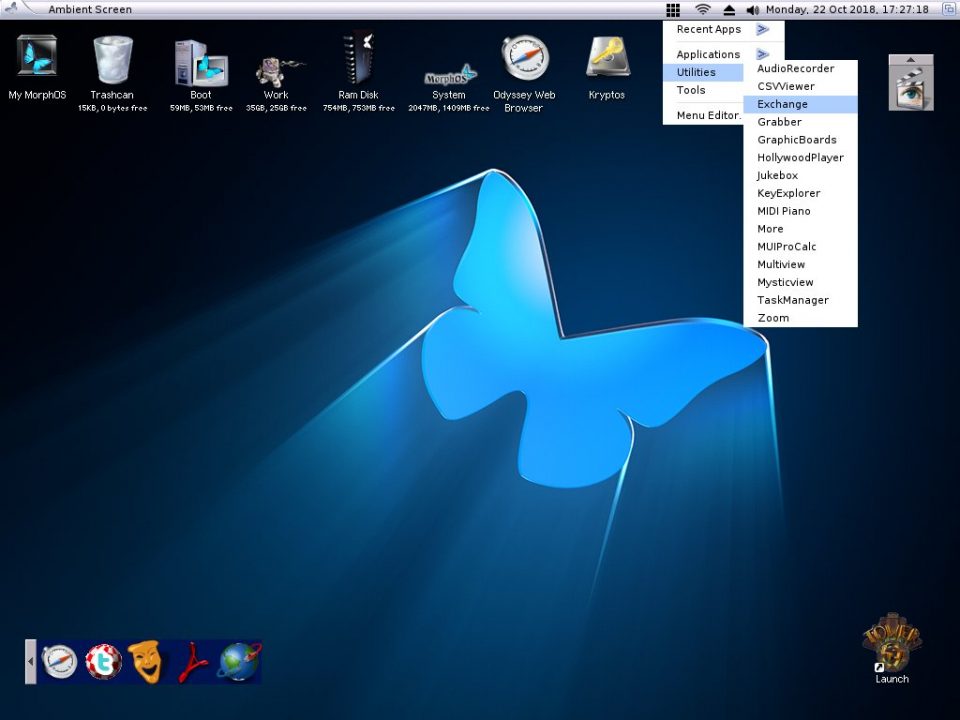 One of the best nextgen AmigaOS compatible operating systems is MorphOS. A neat little operating system that aims at bringing the best from AmigaOS and this new app introduce new 3rd party functions from a developer that cares about how you use MorphOS. You can download AppLauncher for MorphOS for free from Aminet. It brings new functionality to the Screenbar of MorphOS. With this app, you can simply launch any apps from it and it is easy to configure.
AppLauncher for MorphOS is easy to get and install
Just download the archive from Aminet. Then unpack the .lha archive and copy the directories to MorphOS SYS partition. There are also instructions about how to do it inside the archive.
Once you have transferred the files. Then go to the screen switching icon in the upper right corner. Click on the left mouse button and then rescan. Then when you hit it again, the AppLauncher should be available in the Screenbar of MorphOS desktop screen. The icon is nice too! Its full of dots. So, if you are used to Android phones. You know what it means. Nice touch!
When AppLauncher shows, you can then launch any MorphOS apps from it.
I was surprised when testing the app for the first time. All of the most important standard apps were already listed and ready to be used when the popup menu showed up for the first time. So, after installing this MorphOS extension, I didn't need to do everything from scratch. Which is a very nice thing to do by the developer!
You can configure Everything by using a simple text file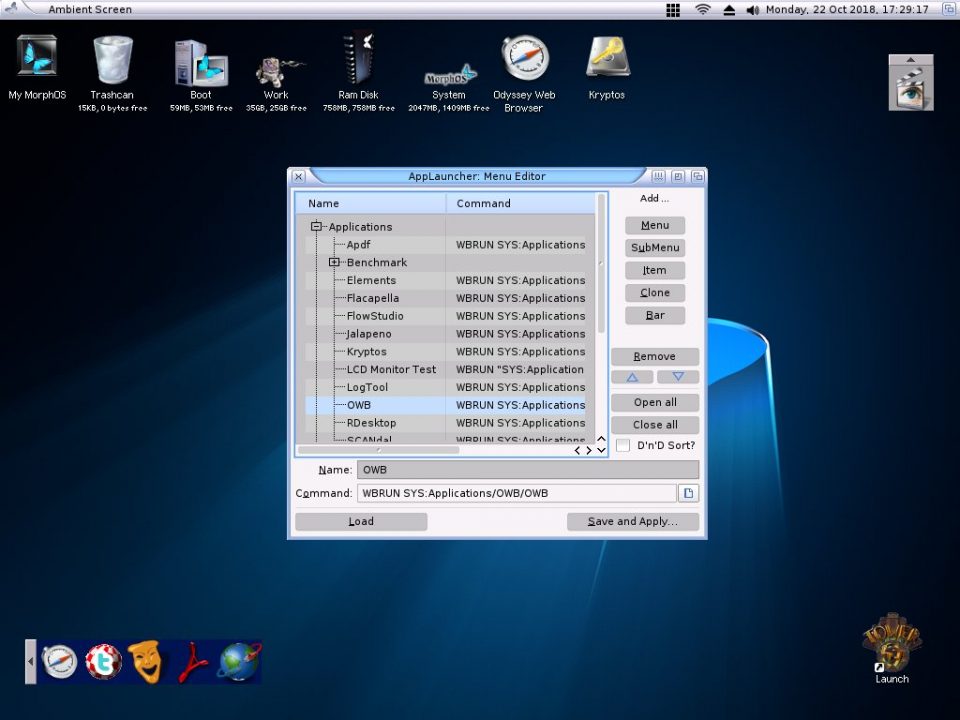 Not only is there a very nice and intuitive GUI window  (see above) for configuration of the AppLauncher app. But you also have full control by using a simple text file too. The text file is located in SYS:Data/Screenbar/AppLauncher/config So there you can go and study it if you want to configure the app in a text file.
Fantastic AppLauncher for MorphOS
I have been using it since the 20th of October and I have to reveal that my experience with this Screenbar launcher is that it is very nice to install and use.
Thomas Igracki shows that he has done a wonderful job with this app. MorphOS Team decision to make the Screenbar of MorphOS more interesting is paying off with apps like this giving this nextgen AmigaOS great addons to use. The best part about this app is that the default config file includes all standard Applications, Utilities, and Tools that comes with MorphOS. And this extension is for free? Kudos to Thomas for sure. I haven't found any flaws yet. Perfect app! Expands MorphOS usage, which many users out there will appreciate for sure.
[wp-review id="23985″]