The Amitopia AmiDev Team presents a totally new version of AmiFox for all Amiga home computers and AROS.
AmiFox 0.3 is made possible together with the amazing Amiga community that has contributed with intensive beta testing. The AROS version of AmiFox 0.3 is proof of that.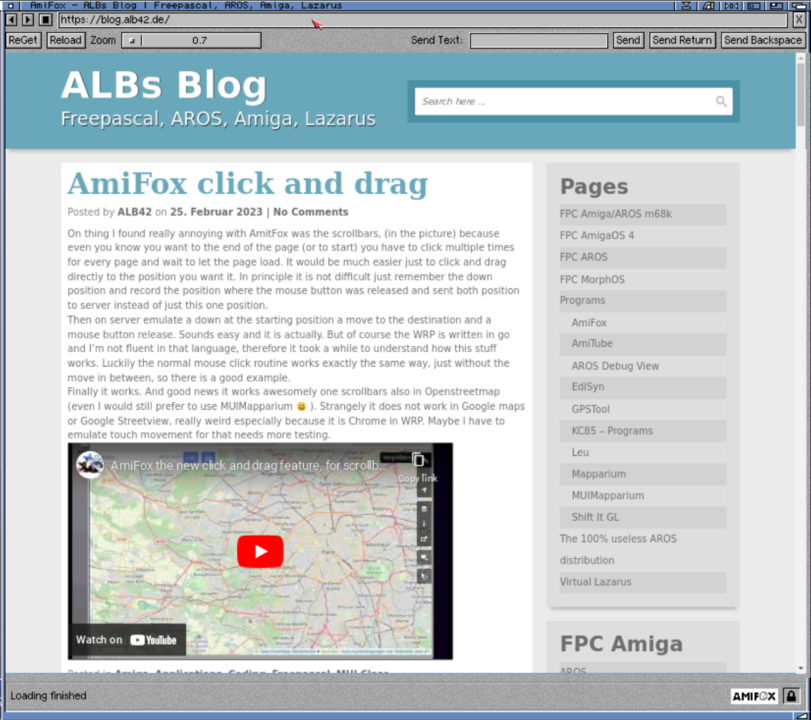 Here are the AmiFox 0.3 Improvements
Copy Text from the selected webpage (AmiFox-Server 0.2+)
Copy Clipboard from Server (AmiFox-Server 0.2+)
IFF Format (AmiFox-Server 0.2+)
Send longer texts to page (needs texteditor.mcc)
Mouse wheel support
Shift cursor up/down and send as Page up/Down (AmiFox-Server 0.2+)
Error message when Datatype could not load the image
Send Youtube URLs to AmiTube
Send Google Maps and OpenStreetMap positions to Mapparium
AROS Version atm i386 and 64bit ABIv11
Read the URL at the Mouse position
Direct download of catched URL at the mouse position
Save Webpage Image
Copy/Paste the URL
It is also important to know that If you using your own AmiFox Server. Then please note that you must update to the latest version to get all the Features, The Current Version should have the Version Number "AmiFox-Server 0.3" visible in the AmiFox about (after at least one page was loaded) or in the footer of the AmiFoxServer webpage, next to the WRP Version number.
AmiFox 0.3 is now a much more mature www browser. We hope you will use it together with Aweb or iBrowse. Also, I do recommend downloading the latest AmiSSL version. For sending longer texts, you also need texteditor.mcc for MUI 3.8 or later installed.